Shia LaBeouf Released From Jail After Getting Arrested Again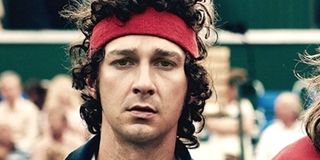 Shia LaBeouf sure knows how to raise eyebrows. Police in Chatham County, Georgia, recently arrested the 31-year-old actor on a public intoxication charge. He also faces disorderly conduct and obstruction charges. They released LaBeouf on a $7,000 bond.
The arrest occurred at 4:00 a.m. in a hotel lobby in Savannah, Georgia, where Shia LaBeouf is filming the movie The Peanut Butter Falcon along with Dakota Johnson. According to the Chatham County Sheriff's office, Shia LaBeouf became riled up when he asked a hotel guest for a cigarette and got denied. LaBeouf supposedly began cussing out the person in front of children, so police became involved. The Hollywood Reporter says LaBeouf refused to leave, and when the police stepped in, the actor ran to a nearby hotel to keep from getting arrested.
This recent arrest is by no means Shia LaBeouf's first brush with the law. In fact, he has been arrested a handful of times. In an essay called Error Breeds Sense, which LaBeouf wrote for a book of celebrity essays, he recounted his previous arrests. He said the first arrest happened when he was nine years old. Police in Pacoima, California, arrested him for stealing a pair of Nike shoes, and they detained him for six hours. Then LaBeouf got arrested again when he was 11 because he stole a Gameboy Pokémon from K-mart.
When Shia LaBeouf was 20 years old, police in Van Nuys, California arrested him for trying to stab his roommate, and for that offense, LaBeouf spent a couple of days in jail. He said the experience proved to him how terrible it could be behind bars. However, he found himself back in trouble in 2007 when he caused a scene while drunk at a Walgreens in Chicago. Police detained him overnight for that incident, but the problems continued.
Shia LaBeouf found himself back in jail for 24 hours in 2014 when he heckled Alan Cumming, Michelle Williams, and the cast of Cabaret in New York City. During that incident, LaBeouf screamed "Do you know who the fuck I am?" as he exited the theater, and LaBeouf even spit on a cop at the precinct. He later explained that he had to put on a jacket and a mask when the police took him. Then in 2016, LaBeouf got arrested at a protest of Donald Trump, and bystanders live-streamed the incident.
Earlier this year, Shia LaBeouf made headlines when he was kicked out of Pinz, a bowling alley in Studio City, Los Angeles. The Borg vs McEnroe actor had a verbal altercation with a server at a deli there, and several patrons caught the incident on camera. LaBeouf reportedly had been putting back drinks at the bowling alley before the argument went down. During the fight, LaBeouf called the server racist and dropped some expletives before rushing away from the scene. Luckily for LaBeouf, he did not get detained for that incident.
It sounds like LaBeouf has some work to do to get right in his personal life. Getting arrested that many times seems problematic, especially for an actor who wants to be taken seriously. Here's hoping he can do what he needs to do to keep from getting arrested again.
Your Daily Blend of Entertainment News
Thank you for signing up to CinemaBlend. You will receive a verification email shortly.
There was a problem. Please refresh the page and try again.