Why Sam Mendes Can't Wait To Watch The Next James Bond Film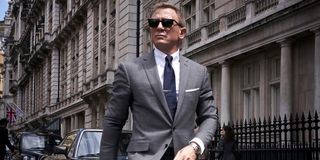 In a perfect world, every director would be able to say they're a fan of the movies they've made. Unfortunately, that's not always the case -- but luckily, it is for Sam Mendes. The director recently admitted that he's super stoked to see the next James Bond film, even though he had nothing to do with it.
Between 2012 and 2015, Sam Mendes directed two films for the legendary franchise -- Daniel Craig's Skyfall and Spectre. In 2016, he announced that he wouldn't be returning to the franchise, and he's since moved onto other projects, like his upcoming World War I drama, 1917. But there's clearly no bad blood between the director and the James Bond crew. In an exclusive conversation with CinemaBlend's ReelBlend podcast, Sam Mendes made it clear that he's just as excited to see No Time to Die as anyone else:
Even though Sam Mendes clearly has some connections within the James Bond world, he didn't try to get a sneak peek of the latest installment. He told ReelBlend that he's looking forward to seeing No Time to Die without any spoilers or insider information:
Sam Mendes seems eager to transition from James Bond director to fan, and we can't really blame him. While his tenure with the franchise proved to be very successful, it's easy to see how it would be stressful to hold the legacy of one of the most iconic characters of all times in your directorial hands. And the director will likely get his wish when it comes to going into the latest Bond installment blind. His successor, Cary Joji Fukunaga, has been pretty tight lipped about how No Time to Die will play out. The film hits theaters in the United States on April 8, 2020.
Your Daily Blend of Entertainment News