Sam Mendes Explains Why 1917 Needed To Feel Like One Long Shot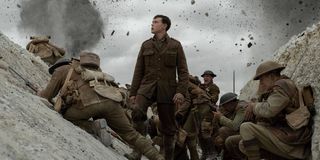 If you've heard of 1917, chances are you've also heard that it's a 2-hour long film that appears to play out over one continuous shot. The headline-grabbing filmmaking technique has been at the center of the conversation about Sam Mendes' World War I film. And ahead of its release, the director has spoken out about why he made that unique narrative choice.
The one-shot technique has been a part of 1917 since its inception. And though it has the potential to feel like a marketing gimmick, Sam Mendes explained to Variety that he viewed it as an essential part of telling the film's story effectively:
1917 is partially based on Sam Mendes' grandfather's experience during World War I. It follows two young British soldiers as they cross enemy lines, and face relentless danger, to deliver news about an incoming ambush. During their journey, they are exposed to the dangers and the destruction wrought during and immediately after Operation Alberich.
Keeping the viewer continuously in the moment definitely helps sustain the unique tension that comes from being in combat. And it presented a unique challenge for both Sam Mendes and the film's legendary cinematographer Roger Deakins, who created the one-shot effect by combining long takes with intricate moving camera shots:
Though at times frustrating, Sam Mendes' approach to 1917 gives viewers an idea of what life must have been like on the World War I front lines. The Great War rarely gets the cinematic treatment, so this intimate glimpse into harrowing conditions that soldiers faced is notable. The dedication to realism also drove the director's decision to cast two relatively unknown actors as the leads. He told Variety that if he'd had A-list actors play the main characters, viewers would automatically assume they will survive, and become less engaged in the film's outcome.
Sam Mendes' methodical approach to bringing 1917 to the screen wasn't for nothing. The film is bringing the director some of the best reviews of his career, and inspiring some Oscar buzz. 1917 begins a limited theatrical release on December 25.
Your Daily Blend of Entertainment News
Your Daily Blend of Entertainment News
Thank you for signing up to CinemaBlend. You will receive a verification email shortly.
There was a problem. Please refresh the page and try again.