Star Wars: The 10 Most Intense Lightsaber Duels From The Movies, Ranked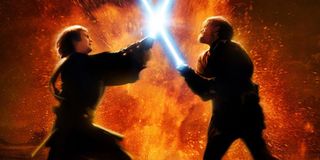 (Image credit: Disney/Lucasfilm)
There are countless movies featuring the typical shootouts, sword fights and car chases as their climactic action sequence, but only one franchise is famous for lightsaber duels. From George Lucas' 1977 original to Star Wars: The Rise of Skywalker, Star Wars movies have blessed audiences with heart-stopping battle scenes, and children with a new combat style to simulate at playtime, all involving the famed weapon wielded in honor of both sides of the Force.
Lightsaber duels are so frequent within the Star Wars saga, each one unique to the rest by its own execution and narrative relevance, that everyone has a favorite. Rarely do two respective fans end up having the same choice. It almost seems impossible to narrow them down and rank them.
However, we are going to try anyway, based on the main criteria of intensity. Which of the Star Wars franchise's lightsaber duels is the Force strongest with?
10. Obi Wan Kenobi Vs. Darth Vader (Star Wars: Episode IV - A New Hope)
From the perception of a Star Wars moviegoer circa 1977, this is not a very intense lightsaber duel. Taking into consideration that this is the bitter reunion of a disgraced Jedi Knight and his former Padawan-turned-Sith Lord, this is one of the most grasping moments of the Original Trilogy.
After infiltrating the Death Star, elderly Obi-Wan Kenobi (Alec Guinness) finds his presence discovered by Darth Vader (David Prowse, voiced by James Earl Jones), leaving him no choice but to engage in a face-off that can essentially be described as two old guys poking at each other's weapons. Aside from age slowing them down, this lightsaber is a crucial moment in Star Wars: Episode IV - A New Hope for how it changes Obi-Wan's role for the rest of the Original Trilogy, but the most intense battle between these characters, i.e. their first, would be revealed later.
9. Mace Windu Vs. Chancellor Palpatine (Star Wars: Episode III - Revenge Of The Sith)
Despite the threatening shadow he casts over the entire Star Wars saga, Emperor Palpatine (Ian McDiarmid) is not really a man of action. He's more well known for subtle manipulation through chilling monologues. However, in the third chapter of the Prequel Trilogy, we saw that he did have some skills with a lightsaber after all.
In a peak climactic moment of Star Wars: Episode III - Revenge Of The Sith, Mace Windu (Samuel L. Jackson) and the accompanying Jedi announce Chancellor Palpatine's arrest, prompting the secret Sith Lord to reveal his red-bladed weapon and literally spin forward to kill the surrounding Jedi before going mano a mano with Windu. This could have been the end of Palpatine's oppressive reign had Anakin Skywalker (Hayden Christensen) not sliced off Windu's hand in defense of his new master, giving this surprising sight of Galactic Empire's future leader in action a devastating conclusion with the birth of Anakin's new title: Darth Vader.
8. Kylo Ren Vs. Finn… And Then Rey (Star Wars: The Force Awakens)
J.J. Abrams' 2015 revival of the Star Wars franchise also marks the first sight of a non-Force-wielding person in a lightsaber duel with a follower of the Dark Side, and a damn powerful one at that. Finn (John Boyega), using Luke Skywalker's famed blue lightsaber, just barely holds his own against Kylo Ren (Adam Driver) in Starkiller Base's snowy forest near the end of Star Wars: The Force Awakens.
Saving the moment from bitter defeat is Rey (Daisy Ridley), demonstrating the full realization of her skills in the Force by sending the lightsaber straight to her hand to finish off Kylo Ren. The literally groundbreaking sequence is one of the most breathlessly entertaining moments of the new Star Wars trilogy.
7. Yoda, Obi-Wan Kenobi And Anakin Skywalker Vs. Count Dooku (Star Wars: Episode II - Attack Of The Clones)
As you will see further down this list, one of the best ways to heighten the intensity of a lightsaber duel is not to depict a battle between just two, but three people. But if you really want to up the ante, try four people.
During the third act of Star Wars: Episode II - Attack Of The Clones, Obi-Wan Kenobi (Ewan McGregor) and Anakin Skywalker take on Count Dooku (Christopher Lee), but both fail, and then Yoda (Frank Oz) steps in for his first lightsaber duel in a Star Wars movie. Of course, the Jedi master's comical hopping skills probably would have been hard to pull off with a puppet anyway.
6. Luke Skywalker Vs. Kylo Ren (Star Wars: The Last Jedi)
As we have previously established and will not yet cease to mention, no lightsaber duel is more intense than one between a Jedi and their former Padawan post-Dark Side turn. Not to mention that seeing a legend of Star Wars lore return in an effort to make things right is an undeniable pleasure, and the climax of Star Wars: The Last Jedi is no exception.
Luke Skywalker (Mark Hamill) comes out of exile to single-handedly take on the First Order, a one-sided face-off that Kylo Ren decides to make it personal. Ren dishes out his signature aggressive lightsaber duel move, each one gracefully dodged by Luke: an impressive feat that keeps you in rousing suspense until the bewildering reveal that Luke is actually on his island of solitude and Ren has been fighting his Force projection the entire time.
5. Rey And Kylo Ren Vs. Praetorian Guards (Star Wars: The Last Jedi)
Star Wars: The Last Jedi is the film of the new trilogy that is, comparatively, the lightest on action, but when they finally come around, they exhibit a grand deliver, due in part to the pivotal nature of their narrative relevance. That being said, one of the film's more shocking moments leads to what could be its most masterfully constructed action sequence, despite not being your traditional lightsaber duel.
Seconds after slyly slaying Supreme Leader Snoke (Andy Serkis), Kylo Ren is joined by Rey, after she gets her lightsaber back, in the slaughter of the surrounding Praetorian Guards in front of the breathtaking backdrop of the Imperial Throne Room's red walls. This beautifully choreographed sequence saw a rare alliance between the Dark Side and the Light Side, only to end in Ren gaining more power and giving Rey more reason to defeat him, thus making this next entry even more awkward for those involved.
4. Rey Vs. Kylo Ren (Star Wars: The Rise Of Skywalker)
Of the two big battles between Rey and Kylo Ren in Star Wars: The Rise of Skywalker, their Force-bound fight during the film's first act was a good candidate in this list by offering a lightsaber duel unlike any we have seen before. However, the clear winner was the face-off on top of the sunken remains of the second Death Star after Rey learns the dark secret behind her true origin.
The lightsaber duel is demonstrative to the strength of each characters' skill, seeing Kylo Ren and Rey dodging each other's furious blows with gravity-defying leaps over crashing waves before the scene reaches its peak of intensity when both adversaries sense the death of General Leia Organa (Carrie Fisher). Rey then puts a dent in the charade by stabbing Ren in the abdomen, before transferring some of her life force to heal his wound, inspiring a change of heart from him.
3. Obi-Wan Kenobi Vs. Anakin Skywalker (Star Wars: Episode III - Revenge Of The Sith)
We have already covered the second pivotal lightsaber duel between Obi-Wan Kenobi and Darth Vader from Star Wars: Episode IV - A New Hope. Now let us focus on their first face-off, when the Sith Lord was still a young man Obi-Wan knew as Anakin Skywalker.
Having renounced the Light Side and assisted Palpatine in the Jedi slaughter, Anakin is confronted by Obi-Wan in the Mustafarian mining complex, where they reluctantly engage in a lightsaber duel to the death (though, "from a certain point of view," Anakin is already dead at this point). The most intense moment does not even occur during their airborne, acrobatic battle over lava, but after Obi-Wan has left his former Padawan legless as he voices his devastation over his dreadful decision, before taking away his lightsaber and letting the lava burn him to near death.
2. Luke Skywalker Vs. Darth Vader (Star Wars: Episode V - The Empire Strikes Back)
The crowning moment of one of the Star Wars saga's most acclaimed chapters sees Luke Skywalker in his first confrontation with the Sith Lord. From a narrative standpoint, as well as a visual standpoint, the iconic climax to Star Wars: Episode V - The Empire Strikes Back is breathtaking.
Within the freezing chamber of Cloud City, they engage in a battle of wits and combat, as Luke Skywalker must dodge both Darth Vader's attacks and resist his Dark Side manipulations. Luke defies Vader's lure, but falls prey to his blade, as the Sith Lord puts the impassioned lightsaber duel to an end by claiming Luke's hand before revealing the untimely truth that they are father and son.
1. Qui-Gon Jinn And Obi-Wan Kenobi Vs. Darth Maul (Star Wars: Episode I - The Phantom Menace)
George Lucas's Star Wars prequel trilogy is not without its critics, with the first chapter taking the most heat. However, when thing most fans can agree on is that when it comes to lightsaber duels, the prequels are the real deal, with the first chapter receiving most praise. Quite the conundrum, is it not?
I cannot think of a time when a lightsaber duel thrilled me like when Jedi Master Qui-Gon Jinn (Liam Neeson) and his Padawan Obi-Wan Kenobi took on the insidious Darth Maul (Ray Park) and his double-bladed lightsaber near the end of Star Wars: Episode I - The Phantom Menace. With John Williams' rousing symphony "Duel of the Fates" and George Lucas' expert manipulation of time and environment crafting a perfect marriage of suspense, this intense quarrel, which leads to Obi-Wan's promotion to Jedi Knight, is the Star Wars duel to fight for.
Do you find our lack of your top pick for best lightsaber duel disturbing? Let's duke it out in the comments below!
This poll is no longer available.
Your Daily Blend of Entertainment News
Jason has been writing since he was able to pick up a washable marker, with which he wrote his debut illustrated children's story, later transitioning to a short-lived comic book series and (very) amateur filmmaking before finally settling on pursuing a career in writing about movies in lieu of making them. Look for his name in just about any article related to Batman.
Your Daily Blend of Entertainment News
Thank you for signing up to CinemaBlend. You will receive a verification email shortly.
There was a problem. Please refresh the page and try again.