Star Wars' Natalie Portman Honors End Of Skywalker Saga With Padmé Amidala Photo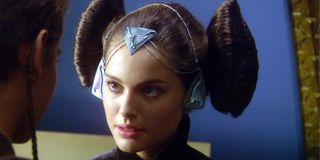 As the Skywalker saga draws to a close, there has been plenty of reminiscing about its legacy. Some Star Wars actors have taken time to share anecdotes and fond memories. And Padmé Amidala herself, Natalie Portman, just joined the fray to reflect on her own time in the franchise, and offer another dose of nostalgia.
On December 19, the actress shared a throwback photo on her Instagram account that should be familiar to Star Wars fans. It's a still from Attack of the Clones, with her character in that iconic all-white outfit. Along with the image, Natalie Portman shared a simple, but sweet, message: "End of an era…" She then asked her followers who was planning to see Star Wars: The Rise of Skywalker on opening night.
Natalie Portman is one of the most prominent figures from the Star Wars prequel era. Her portrayal of Luke and Leia's mother, Padmé Amidala, helped catapult her into worldwide stardom when she was still just a teenager. Episodes I through III remain divisive entries in the Star Wars canon. She and the rest of the trilogy's players have faced their fair share of backlash over the years, for everything from the integration of green screen and CGI to cheesy dialogue and occasionally over-the-top performances.
Natalie Portman has admitted that she had a hard time being swept up in the anticipation for the films, only for them to be faced with vocal disappointment. So, for her to acknowledge this important moment in Star Wars history feels especially significant.
Given her Star Wars experience, Natalie Portman might have some solid advice to offer the franchise's newest stars, who have faced their own wave of considerable backlash following The Last Jedi. After all, even though the prequels still have some detractors, many fans have warmed to them over the years, and they've enjoyed a bit of a renaissance. As for Natalie Portman, she's spoken honestly about how her performance as Padmé, and the subsequent attention she received, marked a turning point in her career. Though she said that initially directors were hesitant to hire her after Star Wars, she eventually went on to nab huge roles in films like Thor, and won an Oscar for Black Swan.
But even despite the potentially hard feelings she might have, Natalie Portman clearly has pride in the part she's played in cementing Star Wars' cinematic legacy. In 2018, she donned her Queen Amidala hair and make-up once more for a Saturday Night Live Digital Short (while warning people not to talk shit about the prequels). And even though she has no role in Star Wars: The Rise of Skywalker, she is still out here openly supporting the new era.
Your Daily Blend of Entertainment News
Thank you for signing up to CinemaBlend. You will receive a verification email shortly.
There was a problem. Please refresh the page and try again.