Bombshell: How Accurate Was The Movie About The Roger Ailes Controversy?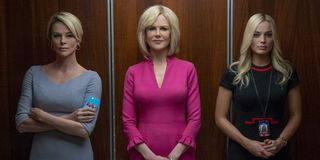 (Image credit: (Lionsgate))
It's rare to see a biopic that takes place so close to the current day. Jay Roach's Bombshell approaches a massive news story that dominated headlines just three years ago and reflects on current issues being discussed on a day-to-day basis around the country – President Donald Trump and the #MeToo movement. Before allegations against Harvey Weinstein fired up that conversation, Fox News' Gretchen Carlson filed a lawsuit against the all-powerful CEO of the broadcast network, Roger Ailes, in 2016. The movie tells this story and the women who came forward with additional sexual harassment allegations, including Megyn Kelly.
Like a handful of true stories adapted to film this season, Bombshell has started to get some serious awards buzz – including Golden Globe nominations for Charlize Theron and Margot Robbie. Clint Eastwood's Richard Jewell recently faced backlash for the depiction of its real people, but how does this Fox News bio drama fare? Although Megyn Kelly recently said she'd make "edits" to Bombshell, a ton of the content in the film actually checks out. Take a look at our fact check of the film below.
Megyn Kelly's "Poisoned" Coffee Before The Republican Primary
First off, Charlize Theron's Megyn Kelly is incredibly believable. From the first moment she comes on screen, it's clear the Long Shot actress researched the heck out of the former Fox News anchor. Not to mention she spent three hours in the makeup chair everyday on set to transform into her. The film follows her as she prepares to moderate the Republican Primary Debate on August 6, 2015, when her "feud" with Donald Trump began. In the movie, it shows that Kelly became violently ill ahead of the debate, but was she really?
It's a story that comes right out of Megyn Kelly's 2016 book, Settle For More (opens in new tab), where she describes her driver repeatedly insisting on getting her coffee despite her initial decline. She said within 15 minutes of drinking the coffee she became really ill, having symptoms of nausea and vomiting the day of the big debate. She says a trash pail was placed next to her desk while she was moderating too. There is one perhaps exaggerated detail – Kelly never comes out and blames Trump for "poisoning her coffee" as Theron quips about behind closed doors with Roger Ailes in the film.
The "Leg Cam" And Roger Ailes Twirl Requests
A few shocking claims about Fox News are illustrated in Bombshell, but perhaps more disquieting is its roots in actual claims by insiders from the station, such as the "leg cam." As introduced in Jay Roach's film, the station execs would line up women and purposely place those with the most "attractive" in the bunch for a camera to ogle them. The movie points out the use of glass desks and short-skirted attire of the women on camera. Lo and behold, NPR media correspondent and author of Murdoch's World, David Flokenflick, who has had close ties with Fox News, once revealed this.
As he claimed to Gawker, there was a "hierarchy" where they'd put the women with the best legs in front of certain camera on the Fox opinion panel show, The Five, where they'd put the women with the best legs in front of certain cameras. Another troubling example of Fox's predatory focus on women's bodies came from Roger Ailes frequently asking women to stand up and twirl for him. This is also based on real claims by women, including his justification for television being a "visual medium." What is unclear is the chilling moment between Margot Robbie's character, Kayla Pospisil, and John Lithgow's Roger Ailes when he asks her to lift up her skirt.
Gretchen Carlson's Lawsuit Against Roger Ailes
Getting into the nitty gritty of Bombshell's central plot, the story told of Nicole Kidman's Gretchen Carlson really seems to check out as shown in the movie. The Fox News anchor was demoted from her anchor position on the morning show Fox & Friends and given her own show at a 2 p.m. slot in 2013 after she rejected his sexual advances. Carlson then decided to bring her iPhone to meetings and record sessions with Roger Ailes for about a year before filing the lawsuit, including the quote "I think you and I should have had a sexual relationship a long time ago, and then you'd be good and better, and I'd be good and better."
She did speak to an attorney far in advance before filing the suit and decided to sue him instead of the network to avoid arbitration. Roger Ailes denied the claims and blamed her lawsuit as a retaliation for his decision not to renew her contract for "disappointingly low" ratings. As shown at the end of the movie, Gretchen Carllson had to sign a non-disclosure agreement to not publicly discuss her experiences of the case – therefore not allowing her to be involved in the movie. Carlson is bummed about this, calling it a "strange" and "frustrating" detail of her settlement.
Megyn Kelly's Own Harassment History
As Bombshell sheds light on as well, Megyn Kelly was subject to harassment years prior to Gretchen Carlson's lawsuit in 2016. In a recent interview with Business Insider, she recounts the incidents like Charlize Theron does in the movie. She explains how she'd only been at Fox for about two years when she noticed Roger Ailes' disturbing behavior. She didn't have "power" in the industry yet and she explains how she'd always play off his comments or pretend to be confused. She discusses how it was "quid pro quo sexual harassment," meaning Ailes was asking for sex and in exchange he'd give her a promotion. But, she didn't feel comfortable "explicitly" rejecting him for his behavior.
Megyn Kelly also talks about him frequently shutting and locking the door in his meetings. As shown in Bombshell, during the internal investigation was going on following the lawsuit, she contacted James Murdoch to share her experience and was asked to find more women to come forward. She made calls to former and current colleagues – over 20 women within Fox News made statements against the Fox CEO. Yet, as shown in the movie, it took some time before she used her platform to speak out.
Margot Robbie and Kate McKinnon's Characters Are Composites
The most creative liberties were taken with Margot Robbie's Kayla Pospisil and Kate McKinnon's Jess Carr. Both women are not real people being portrayed in the film, as Charlize Theron's Megyn Kelly or Nicole Kidman's Gretchen Carlson are. However, there's a solid reason why these central characters are fictional. They were written based on an amalgamation of interviews the members of the Bombshell production conducted themselves with the women who were victim to the scandal. This type of storytelling allowed for them to keep their anonymity and powerful moments Robbie has in the movie to come to fruition. Subjects actually violated their non-disclosures to help out the film, but remain anonymous!
Just as Megyn Kelly described, Ex-Fox news staffer Laurie Luhn once spoke out about Roger Ailes often "luring young female Fox employees into one-on-one meetings," which many knew would likely result in harassment. The particular relationship between Kayla and Jess that had the two hooking up, as well as Carr being a closeted lesbian and liberal with a Hilary poster in her apartment, are also likely fictional elements of the movie. But we will probably never know since it could be derived from these closed door interviews that director Jay Roach said helped "capture it authentically" including the "details you get."
Roger Ailes' Relationship With The Murdochs
The final major loose end to address here is the depiction of the Murdochs in Bombshell. As the movie shows, media mogul Rupert Murdoch (Malcolm McDowell) and his sons James and Lachlan (Josh and Ben Lawson) are above Roger Ailes on the Fox food chain. Interestingly enough, a shocking line at the beginning of the film where Roger remarks "Tell me that mouth hasn't sucked a cock" about James Murdoch as he smokes a cigarette on a video camera is word-from-word from a source who spoke to New York Magazine. As explored in the movie, Roger "sometimes clashed with Mr. Murdoch's sons," including that time on 9/11.
The Murdoch brothers were at a resort and conference in Sun Valley, Idaho when they found out about the lawsuit and supported an internal investigation within Fox News. The brothers were reportedly not fans of Ailes either. According to Time, Lachlan and Ailes had an agreement in 2005 and Roger didn't love the idea of reporting to the brothers over Rupert after some corporate restructuring. Yet, the brothers have differing political leanings, James currently behind a Democrat for the 2020 election and Lachlan aligning more with his father's right-wing interests. When the Murdochs forced Ailes to resign from Fox News a couple weeks into the lawsuit, it's true that Rupert barred Ailes from announcing his resignation to the newsroom himself.
Overall, Bombshell seems to have portrayed the Roger Ailes controversy at Fox News in 2016 accurately thanks to riches or sourcing on issue! Since this bio drama happened just three years, you'd imagine it to be more accurate than films of this sort with a history dating back to decades prior. What did you think of Bombshell? Sound off in the comments below!
YA genre tribute. Horror May Queen. Word webslinger. All her writing should be read in Sarah Connor's Terminator 2 voice over.
Your Daily Blend of Entertainment News
Thank you for signing up to CinemaBlend. You will receive a verification email shortly.
There was a problem. Please refresh the page and try again.