That Time Bombshell's Nicole Kidman Didn't Even Recognize Charlize Theron As Megyn Kelly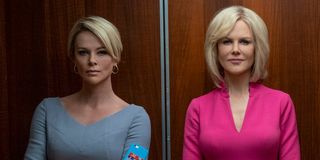 Charlize Theron underwent an uncanny makeover for her new film, Bombshell. And her metamorphosis into former Fox News anchor Megyn Kelly was so effective that she even fooled her co-star Nicole Kidman when they were making the film. In fact, during a recent interview, Theron told the full story about the snafu.
Charlize Theron revealed this behind-the-scenes tidbit to ET News' Nischelle Turner on the red carpet of the Elle Women in Hollywood Awards. She made it clear that despite the initial confusion, there's no bad blood between the two actresses. In fact, after years of admiring Nicole Kidman's own Oscar-caliber performances, Theron was thrilled to finally work with her on Bombshell. She also mentioned they had been "trying to make a movie for so long."
It's a wonder Charlize Theron was able to recognize Nicole Kidman, either. The Aquaman actress looks equally convincing as Kelly's former Fox News coworker Gretchen Carlson. While Bombshell is their first movie together, it's not the first time either actress has undergone dramatic physical transformations for a role. Charlize Theron shaved her head for Mad Max: Fury Road and took home an Academy Award after she made herself virtually unrecognizable for her Oscar-winning turn as Monster's Aileen Wuornos. And Nicole Kidman donned a prosthetic nose to resemble author Virginia Woolf for her own Oscar-winning performance in The Hours.
This time around, both Nicole Kidman and Charlize Theron play real women who should be familiar to viewers who've turned on a television in the last five years. If you haven't taken a look at these transformations yet, be sure to do so below.
Bombshell follows the behind-the-scenes drama surrounding Gretchen Carlson's 2016 lawsuit against Fox News and the allegations she, and other employees, made regarding the network's CEO Roger Ailes (played by a prosthetically-enhanced John Lithgow). Charlize Theron's Megyn Kelly is embroiled in her own scandal after a moment between herself and then-presidential-candidate Donald Trump goes viral. Birds of Prey's Margot Robbie is one of the only Bombshell stars who actually looks like herself - but plays a composite character who's stuck in the middle of the power play between Fox's newsroom and boardroom.
Early reactions to the film have been positive, and not just because of its A-list stars' makeovers. Even though the events that inspired Bombshell have long since faded from the headlines, both its players and their #MeToo experiences are still very relevant to the news cycle. Bombshell hits theaters nationwide on Dec. 20, 2019.
Your Daily Blend of Entertainment News