Joker Cut Joaquin Phoenix's 'Most Important Scene' Out Of The Movie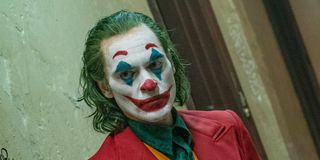 Joker has brought Joaquin Phoenix some of the best reviews of his career. And while the actor hasn't spoken frequently about his experience making the film, the behind-the-scenes insights he's offered have been fascinating. Most recently, he shared that he believes Todd Phillips cut the most important scene from Joker. And he explained exactly why that scene was so vital to his performance.
On January 3, 2020, Joaquin Phoenix appeared at the Palm Springs Film Festival to give Todd Phillips Variety's Creative Impact Award for Best Director. During his introduction, he took time to share an anecdote that illustrated why the Joker director deserves the accolade:
At that point, Joaquin Phoenix said he decided to stop all of his "actory stuff" and just to listen to the other actor in the scene and just be aware of the space he was in.
This type of tidbit is always fascinating -- because it shows how important a moment like this can be in informing their performance, even if it's not ultimately essential to the movie itself. We may never know exactly what this scene entailed, but it was clearly memorable to Joaquin Phoenix. This isn't the first time he's praised Todd Phillips, or spoken about the collaborative process on the Joker set. He's shared that the film underwent radical changes while they were filming, in part because they had the freedom to explore the character and his world.
And even if not everything made it into the final cut, that creative exploration is paying off in dividends for Joker. Watch the video of Joaquin Phoenix's speech to Todd Phillips:
Joker, Todd Phillips, and Joaquin Phoenix are all nominated for Golden Globes and could see even more recognition as award season kicks into high gear.
Your Daily Blend of Entertainment News