13 Quick Joker Reviews From Different CinemaBlend Staff Members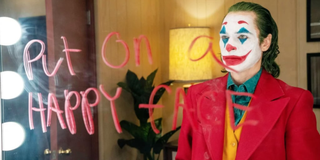 Warner Bros' latest DC film has garnered divisive opinions among fans, crushed it at the box office and has even caused a spike in some very specific NSFW searches. Feelings at CinemaBlend are aligned regarding the outstanding performance of Joaquin Phoenix and the impressive cinematography, but not everyone is buying into the hype. Some aren't sold on the entire story, while others wish the film would have spent some more time exploring bigger issues, such as mental health or the world of Gotham City. One thing we all agree on, though, is that this movie is a huge conversation starter and will definitely be talked about for a long time.
Events Editor Eric Eisenberg wrote the official CinemaBlend review for Joker, admitting that while not for the faint of heart, it's still impressive, stating...
Vice President of Product Mack Rawden agrees that not everything in the film works, but echoes that the overall sentiment of this film will not soon be forgotten.
Traffic Analyst Braden Roberts enjoyed the film so much that he plans on seeing it again in theaters, and he's is not alone in thinking this movie is one of the best of 2019.
Not everyone is fully sold on the latest DC installment, though. Senior Video Producer Jeff McCobb felt that this particular story almost didn't need to be specifically a DC story.
While Joaquin Phoenix's Arthur Fleck is clearly struggling with multiple internal and external issues, Senior Movie Contributor Mike Reyes wishes that the chaos of the third act had happened sooner.
Again, while most everyone can agree that is a great film on a technical level, not everyone is impressed by the overall story. Shift Editor Adam Holmes also feels that the film is not quite as clever as it wishes to be, claiming...
While not everyone was on board for one reason or another, Managing Director Sean O'Connell gave the film a perfect score, believing it stayed true to his expectations.
Features Writer Mick Joest advises to reserve judgment until you get all the way through the ending, and believes the film only gets better the more you watch it.
Joker was littered with scares and controversies from the very beginning, which drew attention from both fans and those against it. Video Producer Alli Ladd notes that there's a lot that sets this film apart, but that those reasons may very well make the film not work for everyone, saying...
A common theme with the Joker character has been mental health, regardless of the different iterations. And while some praise the performances, some still wish Todd Phillip's version had spent more time exploring this concept. Here's what Movies Editor Corey Chichizola had to say...
There's been a lot of hype about how this film would be different from other origin stories or from other Jokers we have seen in the past. But even after viewing, Project Manager Samantha LaBat is still unclear what type of film Joker is claiming to be...
Staff Writer and Associate Editor Dirk Libbey enjoyed the film, but doesn't see himself going back to a subsequent viewing anytime soon.
As for my opinion, I was pleasantly surprised with the film and didn't mind the dark road it took the audience down...
News Director Jessica Rawden thinks the film works overall, despite the occasional slips.
Joker is in theaters now, and continues to spark conversation and controversy with no end in sight. In the meantime, be sure to check out our 2019 release schedule to plan out the rest of your trips to the theater this year.
Morbidly curious pizza enthusiast with a heart of gold. Has no time to hear why you think The Office is overrated and is pretty sure the meaning of the Universe can be found in the movie Cats. Co-host of American Hauntings Podcast. Inaugural class of Enstitute, an entrepreneurial alternative education program written about by Forbes, The New York Times, and PBS.
Your Daily Blend of Entertainment News
Thank you for signing up to CinemaBlend. You will receive a verification email shortly.
There was a problem. Please refresh the page and try again.