The 10 Most Exciting New Movies Coming To Theaters In February 2020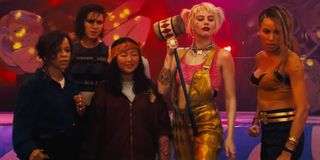 As the weather gets colder, the movies start to get hotter. That's right; February 2020 has a bunch of exciting new movies set to play in theaters near you, and we're here to look at 10 titles that have us excited for another month of prime movie-watching. Grab your popcorn and dig these films!
While February doesn't always have a bountiful selection of promising titles, this month's collection is certainly more exciting than most. Whether you are looking for action, comedy, thrillers, period dramas, romances, horror, family films, or anything in-between, it looks like February has got your well covered. Let's take a look at all the promising (and hopefully good!) new blockbuster and indie titles scheduled to hit a theater near you next month!
Birds Of Prey And The Fantabulous Emancipation Of One Harley Quinn - February 7, 2020
2016's ill-fated Suicide Squad wasn't the debut that Margot Robbie's fabulous Harley Quinn deserved. Thankfully, the Oscar-nominated actress has gotten another opportunity to play the popular comic book character in February's promising new DC adaptation, Birds of Prey And The Fantabulous Emancipation of One Harley Quinn. Featuring a starry ensemble that includes, but certainly isn't limited to, Rosie Perez, Mary Elizabeth Winstead, Ewan McGregor, and several others, this bright, colorful and fun-loving new movie certainly promises something spectacular. Hopefully, it does Harley Quinn justice and provides our first entertaining and fulfilling comic book adaptation for the brand new year — and, of course, the new decade too!
The Lodge - February 7, 2020
As the weather gets colder, what better time is there to get bundled up and watch a chilling new horror movie? Some folks might beg to differ, but if you like your winter season filled with a few seasonal freights, you'll want to keep your eye out for The Lodge, the newest film from directors Veronika Franz and Severin Fiala, best known for their haunting 2014 film, Goodnight Mommy. The film premiered at Sundance last year, and it has since been making an impression on the festival circuits. But it'll finally be playing in theaters nationwide on February 7th, 2020, courtesy of Neon. If reviews for this newest horror movie can be trusted, we're in for a creepy, chilling good time. If it is anything like Goodnight Mommy, we won't soon forget it.
Downhill - February 14, 2020
There's no doubt that Julia Louis-Dreyfus and Will Ferrell are two well-proven comedic and dramatic talents, and it's hard not to get excited when they decide to work on a project together. Their new film, Downhill, is certainly an intriguing one. A remake of 2014's acclaimed Force Majeure from Swedish director Ruben Ostlund (The Square), Downhill follows a married couple (Ferrell, Louis-Dreyfus) that has their relationship tested when the patriarch's response to a seemingly-deathly avalanche causes them to re-evaluate everything they thought they knew about themselves as a couple.
The sophomore directorial feature from Oscar-winning screenwriters Jim Rash and Nat Faxon (The Descendants), Downhill will soon be making its world premiere at the Sundance Film Festival. Moviegoers will get an idea of what we can expect from the new dark comedy from the directors behind 2013's sleeper hit, The Way, Way Back, before it hits theaters nationwide on February 14th, i.e. Valentine's Day, in a notably cheeky bit of counter-marketing on the romantic day. Nevertheless, we definitely hope Downhill is another triumph for everyone involved, and far from a disaster.
The Photograph - February 14, 2020
As Valentine's Day edges closer, you want to see something that's sweet, emotional, and, above all else, romantic. You're likely not getting that from something like, say, Sonic the Hedgehog. Therefore, your best bet is The Photograph, the newest romantic drama from writer/director Stella Meghie (Everything, Everything). Starring LaKeith Stanfield and Issa Rae, two of the hottest up-and-coming talents of the past few years, we're hoping to see the sparks fly between these two bright performers, and it looks like the kind of warm, romantic date night movie that is well-suited for snuggling up and possibly shedding a tear or two (don't forget the tissues) on February 14th. Hopefully, The Photograph proves to be a keeper.
Emma - February 21, 2020
There are no shortage of Jane Austen adaptations out there. Nevertheless, the author is a legend for a reason, and it's clear that her work is timeless for a reason. Indeed, we'll get another adaptation of her famous novel, Emma, later this year, and it's one that hopefully proves promising. It stars Anya Taylor-Joy in the title role, as well as Bill Nighy, Josh O'Connor, Mia Goth, Callum Turner, and many other talented performers filling out the cast, and it's the feature debut from music director Autumn de Wilde. Certainly, the trailer looks splendid, and we hope it is another fine Austen adaptation.
The Invisible Man - February 28, 2020
As you are probably aware, Universal's mangled attempt to start the Dark Universe, based on the studio's treasure trove of classic horror characters, started and ended in spectacular fashion with 2017's big-budget flop, The Mummy. Wisely, the studio has shifted gears and changed their focus, in an effort to keep the idea alive in cost-saving fashion, by giving these properties to the economic folks over at Blumhouse, starting with The Invisible Man, starring Elisabeth Moss. The re-imagining finds Moss haunted by the presence of her perceived-to-be dead abusive ex-boyfriend who has gone invisible, which certainly adds a timely new take on the material. From writer/director Leigh Whannell, who knocked it out of the park with his previous film, the sci-fi body horror-thriller, Upgrade, this is certainly one that we're eager to see when it makes its way into theaters on February 28th.
Wendy
While there have been countless re-imaginings of Peter Pan over the years, the exuberant trailer for Wendy suggests that we might be due for at least one more take on the classic tale. The sophomore film from writer/director Benh Zeitlin, the indie director behind 2012's Beasts Of The Southern Wild, for which he was nominated for Best Director and Best Adapted Screenplay, Wendy provides a vibrant, visually spectacular adaptation of the Peter Pan story from Wendy's perspective, as the more grounded, yet still whimsical, telling of the tale will still see the kids traveling to magical island where time and aging have seemingly ceased. Everything you can expect from the Peter Pan fable should be here, along with a few new surprises to boot.
Think more Where the Wild Things Are than 2015's Pan, though, for Wendy is certainly looking to keep its indie sensibilities in check, it seems, which might hopefully provide viewers with a fresh, inspired new take on the familiar tale. The sophomore film will make its world premiere at the Sundance Film Festival in a couple weeks before it hits theaters nationwide on February 28th. We're certainly hoping Wendy proves to be a magical experience.
Sonic The Hedgehog - February 14, 2020
Let's be honest. There's a good chance Sonic the Hedgehog won't be any good at all. The long-labored cinematic adaptation of the uber-popular Sega character, known for catching yellow rings and running at ridiculously fast speeds, hasn't been well-received during its first promotional rounds, with the director vowing to change the CG design of its title character before his first film came into theaters.
That's an extremely unprecedented move, especially for a major studio movie like Sonic the Hedgehog, and one that suggests the filmmakers maybe don't have the fullest confidence in their film. Nevertheless, there were several potential moviegoers who were won over by the re-design of Movie Sonic. Plus, if you're a fan of the character, it's hard not to get excited about the Sonic movie, particularly with Jim Carrey playing the villainous role of Dr. Robotnik and Ben Schwartz providing the voice of the lovable blue hedgehog. In any case, whether or not this blockbuster lives up to its potential, we're definitely going to make a point to see if. Hopefully, the speed demon video game character scores a win rather than another prolonged defeat.
Fantasy Island - February 14, 2020
Last year, the 1968 children's show The Banana Splits Movie became an unlikely source of inspiration for the R-rated horror-comedy The Banana Splits Movie. Something similar will happen in 2020 as well with ABC's 1978 series, Fantasy Island. What was once an amusing fantasy-drama will become the source of inspiration for Blumhouse's latest horror film with 2020's Fantasy Island. With a starry cast that includes Lucy Hale, Maggie Q, Portia Doubleday, Jimmy O. Yang, Michael Pena, Michael Rooker, and more, it certainly won't be your dad's Fantasy Island, and we hope it proves to be an odd-but-intriguing new take on the material. One that will hopefully bridge the gap between long-time fans of the show and fresh newcomers.
Admittedly, the trailer for Fantasy Island did not inspire a lot of wonder, but this premise is certainly intriguing enough that we hope co-writer/director Jeff Wadlow (Kick-Ass 2, Truth Or Dare) has produced a frightfully fresh horror flick that will live up to our dreams. Or, should we say, our nightmares.
Portrait Of A Lady On Fire - February 14, 2020
In addition to The Photograph, romantic viewers looking to see something spectacularly romantic at the movies this Valentine's Day should seek out Portrait of a Lady on Fire, the newest film from French director Céline Sciamma (Girlhood), which was recently nominated for Best Foreign Language Film at this year's Golden Globes. While the movie was given a limited release in New York and Los Angeles in December, it will hit theaters nationwide on Valentine's Day, fittingly enough, and it will allow moviegoers everywhere to see one of the most celebrated films of the previous year for themselves. Certainly, this is one that has earned no shortage of notice and acclaim, and we cannot wait to see it for ourselves on February 14th.
Which movies are you most looking forward to seeing in theaters this February? Let us know in the comments below. And get the full list of new movie releases here.
Your Daily Blend of Entertainment News
Will is an entertainment writer based in Pittsburgh, PA. His writing can also be found in The Playlist, Cut Print Film, We Got This Covered, The Young Folks, Slate and other outlets. He also co-hosts the weekly film/TV podcast Cinemaholics with Jon Negroni and he likes to think he's a professional Garfield enthusiast.