Why Robert Downey Jr. Decided To Make Dolittle After Avengers: Endgame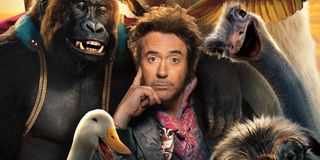 Some actors choose roles for a challenge. Others (let's be honest) do it for a paycheck. But when it came to Robert Downey Jr.'s decision to take on his latest role as the titular doctor in Dolittle, all of his reasons started at home.
Dolittle is Robert Downey Jr.'s first big post-Avengers (or maybe not-so-post?) project, so he had to choose carefully. Luckily, he had his wife Susan -- an accomplished film producer, and the co-founder of their production company, Team Downey -- to help him come to a decision. In addition to raising two children together, the Downeys have collected quite a menagerie of animals over the years at their Malibu home. So, it stands to reason that he'd be on board for playing Dolittle's famous veterinarian.
In an interview with Extra, the couple discussed the movie and RDJ explained that parallels from his own life helped him realize it was the right move:
Even though Dolittle was a bit of a no brainer for the couple, RDJ was open about the fact that it was still a bit of a challenge. He told Extra:
At the end of the day, RDJ has made it clear that Susan Downey helped steer the Dolittle ship. And for her part, she made it clear that her choices were rooted in their family. Here's how they answered when asked why this was the perfect film to make together.
The Downeys will be taking on another Sherlock adventure next. Dolittle hits theaters on January 17, 2020.
Your Daily Blend of Entertainment News