The 10 Highest Grossing Actors of All-Time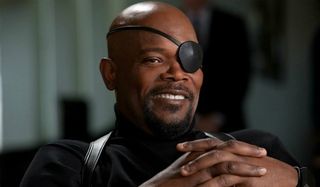 Records were made to be broken. That generally seems to be the overall theme surrounding the release of Star Wars: The Force Awakens. However, the film itself isn't the only party breaking records these days. According to Box Office Mojo, the film's immense success at the box office has allowed Harrison Ford to now officially become the highest grossing actor of all time. In order to achieve this highest of honors, Ford had to dethrone box office powerhouse Samuel L. Jackson to get there. Anyone who knows even a little bit about Hollywood knows this had to be no easy feat, considering the fact that Jackson has basically been in every movie produced since the early 1990s. (Slight exaggeration.)
But what about the others? In this age of record smashing blockbusters, a select group of actors have used these epic scale films to become box office greats. Allow us to take you through the top ten highest grossing actors of all time, starting with No. 10 and working our way down to Mr. Ford himself. Some you probably will see coming, while others may surprise you.
10. Gary Oldman
For years Gary Oldman developed a great career and a solid reputation portraying truly despicable bad guys. From The Fifth Element, to Leon: The Professional, and even Air Force One, the actor has a way of imbuing his characters with a truly disgusting sensibility. However, it wasn't until he switched over to the good side and donned the glasses of police commissioner James Gordon in Christopher Nolan's Dark Knight trilogy that his box office power truly made itself apparent.
Highest Grossing Movie: The Dark Knight
9. Michael Caine
A longtime veteran of the cinematic world, Michael Caine's diverse acting resume dates all the way back to the 1950s. Over the decades, he has gone from playing charming leading men, to father figures, to grandfatherly figures. His most notable contemporary role undoubtedly came in the form of loyal butler Alfred Pennyworth – a role he played dutifully from Batman Begins all the way through The Dark Knight Rises. Jeremy Irons has some big shoes to fill in replacing this box office great.
Highest grossing movie: The Dark Knight
8. Johnny Depp
Johnny Depp started his career has a young heartthrob and has since gone on to become one of the most flamboyant and exotic actors working today. He has never been afraid to take risks, and that notion perhaps made itself most apparent in his now iconic portrayal of Captain Jack Sparrow. Channeling Keith Richards for inspiration, the outlandish rogue became a fan favorite and eventually ended up becoming the central focus of the franchise due to Depp's performance.
Highest Grossing Movie: Pirates of the Caribbean: The Dead Man's Chest
7. Robert Downey Jr.
This is probably the greatest tale of redemption on this list. Bouncing back from years of addiction and criminal activity, Robert Downey Jr. funneled equal amounts of charisma and real-life tragedy into his portrayal of Tony Stark, which ended up making him a household name. The actor's work outside of the Marvel Cinematic Universe has cemented the fact that he has an inherent gift for his craft, but it's the role as genius, billionaire, playboy, philanthropist Iron Man that has made him a box office sensation as well as the highest paid actor in the world.
Highest Grossing Movie: The Avengers
6. Tom Cruise
Like RDJ, the story of Tom Cruise is also one of redemption; only, he has the added benefit of having already been a box office sensation before his career hit a rough patch in the mid 2000s. The actor has consistently pumped out high quality action blockbusters ever since the 1980s, such as Top Gun, Minority Report, Edge of Tomorrow, and obviously the Mission: Impossible franchise. While there undoubtedly exists some controversy surrounding his religious affiliation and personal life, we still can't deny his utter domination at the box office.
Highest Grossing Movie: War of the Worlds
5. Eddie Murphy
Eddie Murphy stands out when compared to the previous entries on this list. Unlike those who came before him, he has made the bulk of his box office money primarily through comedic roles. Although he hasn't been a very common sight at the box office recently – and some of his recent films are examples of what not to do as an actor – the fact remains that his comedic timing has helped carry many franchises such as Beverly Hills Cop and Shrek.
Highest Grossing Movie: Shrek 2
4. Morgan Freeman
The man has played God and narrated every great documentary you have ever seen; he belongs on this list. Like Michael Caine before him, Morgan Freeman has an incredibly long resume that extends decades into the past, and crosses numerous genres, with some of his best working coming from films such as The Shawshank Redemption and Se7en. However, also like Michael Caine, his most successful performance at the box office stems from his involvement in Christopher Nolan's Dark Knight trilogy as gadget master and powerhouse businessman Lucius Fox.
Highest Grossing Movie: The Dark Knight
3. Tom Hanks
The everyman actor, Tom Hanks began his career in offbeat comedies during the 1980s but eventually proved his immense dramatic chops in films like Philadelphia and Forrest Gump. It's his ability to convey pathos and tragedy whilst remaining endlessly loveable that has allowed him to remain one of America's most beloved actor's for the last three decades. I mean, the man can carry an entire movie while talking only to a volleyball; that is acting.
Highest Grossing Movie: Toy Story 3
2. Samuel L. Jackson
Samuel L. Jackson has been active in Hollywood ever since 1972, but it wasn't until his role as Jules Winnefield in Quentin Tarantino's Pulp Fiction that he became THE Samuel L. Jackson. He has made a career out of being endlessly prolific in his work, which has allowed him to involve himself in numerous franchises such as the Marvel Cinematic Universe and Star Wars – usually as chief badass among whatever ensemble he is working with. His absurdly colossal filmography served him well as the reigning box office champ… until just recently that is.
Highest Grossing Movie: The Avengers
1. Harrison Ford
Here we are at the man of the hour himself: Harrison Ford. As Indiana Jones, Jack Ryan, and numerous other action heroes, Ford has made it abundantly clear that he is not an action hero to be trifled with. He has even crossed several of the actors on this list throughout the course of his career. However, Ford's first major role – the one that catapulted him to stardom – is the one that has officially made him the highest grossing actor of all time: intergalactic badass, smuggler, and all around nerf herder Han Solo from the Star Wars saga.
Highest Grossing Movie: Star Wars: The Force Awakens
Your Daily Blend of Entertainment News
Originally from Connecticut, Conner grew up in San Diego and graduated from Chapman University in 2014. He now lives in Los Angeles working in and around the entertainment industry and can mostly be found binging horror movies and chugging coffee.