Birds Of Prey: All The Confirmed Characters, Including Harley Quinn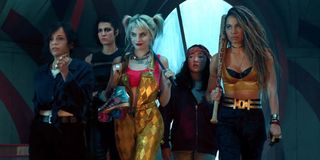 We are less than a month away from the release of the most female-driven DC movie yet. Bearing the excessive full title Birds of Prey (and the Fantabulous Emancipation of One Harley Quinn), the Suicide Squad spin-off sees Harley Quinn (reprised by Margot Robbie, who also serves as producer) on a new adventure, joined by a cast of female DC characters previously devoid of the cinematic treatment.
Despite being told from the point of view of Margot Robbie's quirky villainess, it is clear that Birds of Prey is more than just a Harley Quinn movie, given the team she assembles to take on one of Gotham's biggest gangsters, Black Mask (Ewan McGregor). But who are these women, who are the actresses portraying them, and how will their portrayals on the big screen compare to their DC comics origins?
We present to you a guide to every major character confirmed to appear in Birds of Prey (and the Fantabulous Emancipation of One Harley Quinn). The R-rated comic book movie bears a (quite literally) colorful cast, especially the woman of the hour:
Harley Quinn (Margot Robbie)
Created by Bruce Timm and Paul Dini, Harley Quinn was originally conceived as a romantic companion to the Joker for Batman: The Animated Series in 1992. The Arkham Asylum psychologist (born Harleen Quinzel) turned-jester-costume-bearing-criminal (first voiced by Arleen Sorkin) turned out to be so popular, she earned a spot in DC comics canon as an official Batman villain.
As first introduced in 2016's Suicide Squad, Oscar-nominee Margot Robbie's portrayal of Harley Quinn in Birds of Prey sees her out of prison, out of love with Jared Leto's "Mr. J," and in need of a new lease on life. She finds "emancipation" when she turns out to be one of several women targeted by crime lord Black Mask (Ewan McGregor), inciting a vengeful team-up.
Huntress (Mary Elizabeth Winstead)
Born Helena Bertinelli, Huntress is, like Harley Quinn, not a founding member of the comic book iteration of the Birds of Prey team, but can claim to be an honorary member of the Batfamily. Despite originally being introduced into DC comics as the daughter of Bruce Wayne and Selena Kyle, 1985's Crisis on Infinite Earths storyline erased that from history and Helena was later reimagined as a woman born into organized crime who takes up a vigilante identity after witnessing a rival mob kill her family.
Birds of Prey will reportedly touch on Huntress's mafia ties, according to Variety, as well as reveal her deadly skills with a crossbow. The rebellious crime fighter is played by Mary Elizabeth Winstead, who is no rookie to comic book movies after starring as Ramona Flowers in Scott Pilgrim vs. the World.
Black Canary (Jurnee Smollett-Bell)
The crime fighting alter ego of Dinah Laurel Lance got her name from her ability to convert her voice into a supersonic blast referred to as her "Canary Cry." In addition to that, Black Canary is a skilled musician-turned-street fighter whom fans of The CW's Arrow may recognize as the mentee and off-and-on-again lover of archer Oliver Queen, a.k.a. Green Arrow.
A founding member of the Birds of Prey in the comics, Black Canary will make her big screen debut in the Birds of Prey movie, played by star of Full House and Friday Night Lights Jurnee Smollett-Bell, as a singer in Black Mask's night club, at which the trailer sees her sharing a drink with Harley Quinn. Her inclusion could lay the groundwork for Green Arrow to make his debut in the DCEU as well.
Renee Montoya (Rosie Perez)
Like Harley Quinn, Gotham City police officer Renee Montoya was originally created for Batman: The Animated Series as an additional colleague of Commissioner Jim Gordon. She has since become a prominent character in DC canon, and has even been given the live action treatment on Fox's Batman prequel series, Gotham.
Renee Montoya will be brought to life in the DCEU by Academy Award-nominee Rosie Perez in Birds of Prey, which bears the unusual sight of the committed detective joining forces with someone like Harley Quinn. No word on if the film will make allusions to the character's lesbianism or if her work outside GCPD in this story is a hint that she will follow in the footsteps of her comic book counterpart's mentor Vic Sage and assume the title of faceless vigilante The Question.
Black Mask (Ewan McGregor)
Little is known about Roman Sionis to anyone whose exposure to Batman has been purely cinematic. The powerful Gotham crime lord who wears the broken skull of his father (whom he murdered), earning the nickname Black Mask, is one of the Dark Knight's most sadistic villains, but other than a subtle tease in 2017's Justice League, his life outside of the comics has only existed in television, animated movies, and video games.
What an honor it must be for the villain to have his DCEU debut brought to life by an actor like Ewan McGregor, the top antagonist of the Birds of Prey movie. Other than one quick shot, trailers have shown the Doctor Sleep star as Roman Sionis without his namesake headgear, but that should only make the reveal of the Black Mask that much more powerful.
Victor Zsasz (Chris Messina)
Yet another Batman villain whom the movies have mostly ignored, Victor Zsasz is one of Gotham's most disturbing criminals, mostly due to his lacking of some supervillain gimmick, unless you count carving a tally of your murder victims onto your own skin as one. Once a successful businessman, Zsasz gambled everything in his name away to The Penguin, causing him lose faith in life and start a career in taking lives.
I would not be surprised if Victor Zsasz's role in Birds of Prey, as played by star of Argo and The Mindy Project Chris Messina, is key to the film's R-rating. His screen time in the trailers has been subjected mostly to blink-and-you-miss-it glimpses, which, unless you want to go red band, is a smart marketing move, but it is evident that he is buddy-buddy with Ewan McGregor's Black Mask.
Cassandra Cain (Ella Jay Basco)
Cassandra Cain is yet another Batman character the casual fan may not recognize, but her inaugural superhero title will certainly ring bells for most. The Asian-American teenager, trained in martial arts since birth by her assassin father, became the first character to hold the title of Batgirl in her own continuing comic book series.
In Birds of Prey, Cassandra Cain (played by Ella Jay Basco in her major film debut) looks to be depicted as a much younger girl, whom Harley Quinn takes it upon herself to protect after Roman Sionis puts out a hit on the child. Perhaps, according to the DCEU timeline, this adventure could be what puts her on the path to fighting alongside the Dark Knight as Batgirl.
Birds of Prey (and the Fantabulous Emancipation of One Harley Quinn) is looking to have quite an impressive ensemble, not to mention having the potential of being the most bizarre trip to come out of the DCEU yet. Until its February 7, 2020, release, be sure to check back for more updates on this comic book extravaganza here at CinemaBlend.
Jason has been writing since he was able to pick up a washable marker, with which he wrote his debut illustrated children's story, later transitioning to a short-lived comic book series and (very) amateur filmmaking before finally settling on pursuing a career in writing about movies in lieu of making them. Look for his name in just about any article related to Batman.