DC's Birds Of Prey: Everything You Need To Know Before The Harley Quinn Movie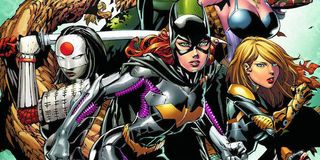 The DCEU is making its boldest move yet with Harley Quinn's Birds of Prey movie. Instead of getting her own solo film, the Suicide Squad standout is returning with a new badass squad.
The Birds of Prey are definitely a famous comic book team, but they aren't nearly as recognizable as the Justice League or The Bat Family. With that in mind, we have compiled a handy guide to help get you up to speed on the basics of Birds of Prey before the movie comes out in 2020. Let's start with the big trailer:
She's Harley frickin' Quinn! But let's focus...
What Is The Official Birds Of Prey Movie Title?
Margot Robbie, a.k.a. Harley Quinn, revealed in an Instagram photo that the full title of the movie is Birds of Prey (And The Fantabulous Emancipation of One Harley Quinn). It is a mouthful! Harley co-creator Paul Dini said he loves the title, and the photo Robbie posted of the script, calling it "classic Quinnsanity" for a character who often scribbles "wacky thoughts" all over things like her therapist's pad. The title also works as a tongue-in-cheek riff off the movie Birdman or (The Unexpected Virtue of Ignorance). Bird humor never gets old!
What Is The Birds Of Prey Release Date?
Birds of Prey is currently scheduled for release on February 7, 2020. It follows DCEU movie releases Aquaman (December 21, 2018) and Shazam! (April 5, 2019) and precedes Wonder Woman 1984 (June 5, 2020). Birds of Prey was previously set to open on Valentine's Day 2020, but it was moved back one week, so it wouldn't conflict with Bond 25, which was opening that February 14 but moved itself to April 2020 anyway.
What Is The Birds Of Prey Rating?
Birds of Prey is currently confirmed to be rated R. That's in line with what Margot Robbie wanted when she pitched the idea of "an R-rated girl gang film." She wanted her Harley Quinn to be part of it, but not have it be a solo film. If this R rating holds, it will be the DCEU's first R-rated release. Robbie's Harley first appeared in Suicide Squad, but that film had the usual PG-13 rating for DCEU films. This will be an edgy departure, following the successes of other R-rated comic book films like Fox's Deadpool and Logan.
When Did Birds Of Prey Start Filming?
Birds of Prey reportedly started filming in January 2019 in Los Angeles, under the working title Fox Force Five, and ended filming in April 2019. The working title intel came from Production Weekly (via Pursue News), and Pulp Fiction fans should recognize it. It's the name of the TV show Pulp character Mia Wallace (Uma Thurman) was working on, following an all-female team of secret agents. So between Birdman and Pulp Fiction, Birds of Prey is already off to an early start with sly pop culture references. The script for Birds of Prey was written by Christina Hodson and the film is being directed by relative newcomer, Dead Pigs director Cathy Yan. She's only the second woman to direct a film for the DCEU, after Wonder Woman's Patty Jenkins. She's also the first Asian woman to ever direct a superhero movie.
What Is The Plot Of Birds Of Prey?
Warner Bros. has yet to release an official synopsis for Birds of Prey, but here's what the film is reportedly about: Harley Quinn is said to bring this girl gang together, with Mary Elizabeth Winstead's Huntress, Jurnee Smollett-Bell's Black Canary, and Rosie Perez's Detective Renee Montoya protecting Ella Jay Basco's Cassandra Cain after she comes across a diamond belonging to crime boss Roman Sionis, a.k.a. Black Mask, played by Ewan McGregor. In DC Comics, the Birds of Prey lineup has expanded over the years, but the covert ops and crimefighting team is usually anchored by Batgirl/Oracle (aka Barbara Gordon), Black Canary (Dinah Laurel Lance), and the Huntress (Helena Bertinelli).
Harleen Quinzel a.k.a. Harley Quinn - Margot Robbie
Margot Robbie was a scene-stealer in Suicide Squad, and her Harley returns to lead this semi-spinoff. Before she met and fell in love with the Joker, Dr. Harleen Quinzel was a psychiatrist assigned to Arkham Asylum. The DC Comics villain was voiced by Arleen Sorkin in Batman: The Animated Series, and played by Mia Sara in The WB's 2002 Birds of Prey TV series. The DCEU is reportedly still working on David Ayer's Gotham City Sirens movie, with Robbie's Harley Quinn returning and working with Selina Kyle/Catwoman and Pamela Isley/Poison Ivy. But first, Harley is working with more traditionally heroic crime fighters, the Birds of Prey.
Margot Robbie's star has only risen since Suicide Squad was released in 2016. In the past two years, she has landed a series of high profile projects -- including Queen Elizabeth I in Mary Queen of Scots and Sharon Tate in Quentin Tarantino's Once Upon a Time in Hollywood. She also picked up her first Oscar nomination for I, Tonya, which she also produced. She's the perfect choice to lead her own film, but it says a lot about her collaborative spirit that she preferred this film to be an ensemble rather than a Harley spinoff.
Dinah Laurel Lance a.k.a Black Canary - Jurnee Smollett-Bell
Jurnee Smollett-Bell was cast as crime fighter Black Canary. The CW's Arrow-verse recently brought the Black Canary mythology into the mainstream with the character played by played by Katie Cassidy. Dinah Lance, a.k.a Black Canary, is one of the best hand-to-hand combatants in the entire DC universe, and her abilities are further bolstered by her sonic "Canary Cry" power, which can shatter glass and burst eardrums. The prospect of Black Canary making an appearance in a Birds of Prey movie is exciting on its own, but also because it also lays possible groundwork for the DCEU to introduce her mentor, Wildcat, as well as her longtime boyfriend, Green Arrow.
Smollett-Bell broke out as young Eve in the 1997 film Eve's Bayou, and had a lead role in Denzel Washington's 2007 film The Great Debaters. She followed that with series regular roles as Jess Merriweather on Friday Night Lights and Nicole Wright in True Blood. This superhero film will be a departure for her, but it should also be a great showcase.
Helena Bertinelli a.k.a Huntress - Mary Elizabeth Winstead
Mary Elizabeth Winstead will play Huntress, who has had several iterations in the DC world. According to Variety, Birds of Prey will show her as a former mafia princess who was devastated at a young age when her family was killed in a mob hit. That turns her into a vigilante, and ultimately leads her to join the Birds of Prey team. Typically operating out of Gotham City (and often considered an honorary member of The Bat Family), Huntress has become known for her generally violent tactics, as well as her trademark use of a crossbow as her primary weapon. Most non-comic book readers will likely remember the villainous portrayal of the character during the first two seasons of The CW's Arrow. Although she is not an original member of the Birds of Prey organization, she has become inextricable from the team, and generally considered one of its most recognizable members.
Winstead will reunite with her Fargo Season 3 co-star Ewan McGregor in Birds of Prey. She was a standout in 10 Cloverfield Lane, and already has comic book adaptation experience from Scott Pilgrim vs. the World, which helps get us excited to see her wield a crossbow as Huntress.
Detective Renee Montoya - Rosie Perez
Fearless Oscar nominee Rosie Perez has been cast as Gotham City Police Department Detective Renee Montoya. Renee Montoya was created for Batman: The Animated Series and returned for The New Batman Adventures. She has previously been depicted in Gotham, Batman: Bad Blood and Batman: The Telltale Series. In the comics, Renee is also one of the DC universe's most prominent gay characters. At one point in the comics, she became The Question, following her mentor Vic Sage.
It's not clear yet if Birds of Prey will include The Question aspect of Renee Montoya's story or if she'll stick to being a police detective. But, since Rosie Perez was interested enough to take the role, hopefully that means they gave her character a lot of good material.
Cassandra Cain a.k.a. Batgirl - Ella Jay Basco
Young Ella Jay Basco will make her film debut as Cassandra Cain. In the comics, Cassandra is a teenager/young adult, but in Birds of Prey the half-Asian Cassandra will be a child. Cassandra Cain was introduced in the comics as the daughter of assassins David Cain and Lady Shiva. The child prodigy was raised to become a skilled martial artist and assassin. Weirdly enough, Cassandra was taught not to speak; instead, the parts of her brain normally used for speech were trained to read other people's movements and body language. She ultimately became one of Barbara Gordon/Oracle's field agents. Cassandra is one of several characters who have assumed the role of Batgirl. In the comics, Cassandra also goes by the name Orphan.
This will be a breakout role for Ella Jay Basco, whose first credit was as 3-year-old Evelyn Yu in the "Perfect Storm" episode of Grey's Anatomy back in 2013. Since then, she's only had a few TV series roles, and this will be her first movie. What a way to make a debut!
Roman Sionis a.k.a. Black Mask - Ewan McGregor
Ewan McGregor will be playing Birds of Prey's villain, Black Mask, Deadline confirmed. His Roman Sionis is a mob boss who leads the False Facers gang. Roman came from a rich family, and his parents cared more about that wealth than him. They'd drag him to parties and force him to be friends with other rich young Gothamites like Bruce Wayne. Roman hated his parents' fakeness -- their masks. When they died in a suspicious fire he inherited the Janus Cosmetics Corporation but drove it into the ground, leaving the door open for a Wayne Industries buyout. So, Roman came to hate Bruce Wayne. He carved a mask from his father's black coffin, hence the name, and eventually became one of Gotham's most ruthless crime lords.
This won't be the first time Ewan McGregor plays a villain, or joins a blockbuster franchise, but he did play Obi-Wan Kenobi in the Star Wars prequels, so it's definitely a departure. Some of us still know the Scottish actor best from Trainspotting and singing in Mouin Rouge! He took a rare trip to TV to join fellow Birds of Prey star Mary Elizabeth Winstead in Fargo Season 3, and right before this movie opens he'll play grown-up Danny Torrance in Doctor Sleep. We're definitely looking forward to seeing what McGregor brings to the dark role of Black Mask.
Victor Zsasz - Chris Messina
The most recent addition to the Birds of Prey cast is actor Chris Messina as villain Victor Zsasz. In the comic, Victor is a self-mutilating serial killer. For every life he takes, he carves a mark on his body. Since his entire body is covered in cuts, you can see how many lives he's taken. Victor was once a successful business man in Gotham, but he gambled everything and lost to The Penguin. Victor was about to jump off a bridge when he was attacked by a homeless man. (Only in Gotham can you be attacked mid-suicide.) Victor murdered the homeless man in self-defense, and that inspired him to kill as many people as possible.
Chris Messina is one of those actors who seems to have been in everything, from Six Feet Under and The Mindy Project to Vicky Christina Barcelona and Away We Go. This is definitely a new direction for him, and it further illustrates the bold choices being made for this DC film.
Other Confirmed Actors
Two other actors have been confirmed to be a part of Birds of Prey (And The Fantabulous Emancipation of One Harley Quinn) at this point, but we don't know much about either of the characters they'll be playing. Comedian Ali Wong, who's best known for her two Netflix specials (Baby Cobra and Hard Knock Wife) and her work on ABC's American Housewife, has been tapped to play someone working alongside Renee Montoya in Gotham law enforcement. We don't know right now if this means she's another cop or someone else working for the GCPD, or if she's a lawyer, but it should be fun to watch Wong bring her manic energy to the film either way.
Actor Robert Catrini has also been added to the film, but his role is being kept super mysterious for now. Catrini is a character actor with over 100 film and TV credits dating back to 1995, and has appeared in shows such as Law & Order, Buffy the Vampire Slayer, Ally McBeal, General Hospital, 24, Criminal Minds, True Blood and Homeland.
Other Birds Of Prey Characters Who Could Appear
So far, Birds of Prey has yet to cast Barbara Gordon, and it's possible they will leave the daughter of Commissioner James Gordon behind. But, we'll see. Plenty of other characters have rotated through the Birds of Prey roster over the years. Potential additions to the cast include, but are certainly not limited to, Katana, Hawkgirl, Catwoman, and Poison Ivy -- although major roles for Poison Ivy and Catwoman may be saved for Gotham City Sirens, if that ever gets off the ground. It's also worth noting that the Birds of Prey team lineup is not inherently exclusive to women; male heroes like Nightwing and Blue Beetle have taken up honorary positions among the roster at various points throughout their publication history.
How Does Harley Quinn Relate To The Birds Of Prey?
Given the fact that the Birds of Prey often operate out of Gotham City, they have come into conflict with Harley Quinn numerous times over the course of their publication history. It's not clear yet how Birds of Prey will connect Margot Robbie's Harley Quinn to the heroines, but Mary Elizabeth Winstead said the movie is sort of a Suicide Squad spinoff, with Harley bringing the girl gang together. The Birds of Prey have worked with villains in the past, and Harley Quinn has definitely proven herself willing to cooperate with others when it benefits her.
How Does Birds Of Prey Connect To The DCEU?
Birds of Prey will be the eighth film in the DC Extended Universe, following Man of Steel, Batman v Superman: Dawn of Justice, Suicide Squad, Wonder Woman, Justice League, Aquaman, and Shazam! Birds of Prey will be released nearly a year after Shazam!'s April 5, 2019 opening, but -- as of this moment -- just four months before Wonder Woman 1984 arrives on June 5, 2020.
We'll have to see if Birds of Prey includes a connection to the Wonder Woman sequel. Wonder Woman 1984 started filming well before Birds of Prey, and it was originally scheduled to open toward the end of 2019, before Birds of Prey's current release. Now that the dates have been switched, Birds of Prey may include some kind of segue into the next chapter of Wonder Woman's story -- even if that story is another prequel, this time set in the 1980s.
Your Daily Blend of Entertainment News
Gina grew up in Massachusetts and California in her own version of The Parent Trap. She went to three different middle schools, four high schools, and three universities -- including half a year in Perth, Western Australia. She currently lives in a small town in Maine, the kind Stephen King regularly sets terrible things in, so this may be the last you hear from her.
Your Daily Blend of Entertainment News
Thank you for signing up to CinemaBlend. You will receive a verification email shortly.
There was a problem. Please refresh the page and try again.