Is Marvel Afraid To Make Doctor Strange In the Multiverse Of Madness A Horror Movie?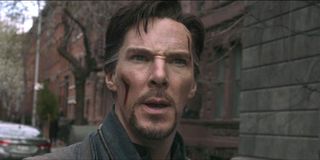 (Image credit: (Marvel))
Over the past decade of the MCU, fans have come to know how it feels to be in the dark leading up to their favorite characters hitting the big screen. But then Doctor Strange in the Multiverse of Madness was announced at San Diego Comic Con over summer, amongst the rest of the Phase Four lineup. With it came some newfound excitement about leaving the lights off and allowing the chills to creep in, because as director Scott Derrickson said to Hall H, Doctor Strange 2 would be the "first scary MCU movie."
As of last Thursday, Scott Derrickson is no longer helming Doctor Strange in the Multiverse of Madness. The director, who is well known for making horror films like Sinister, Deliver Us From Evil and The Exorcism of Emily Rose, will still be an executive producer on the sequel. Still, creative differences have left the Marvel sequel without a director. It's a changeup could be rooted in this question: Is Marvel afraid to make a horror movie?
Why Did Scott Derrickson Leave Doctor Strange 2?
Scott Derrickson is an active Twitter user, and since he left the project, fans have been trying to dig up clues to read between the typical line "creative differences." One tweet that particularly stands out among the rest comes from back in December. Here's what he said:
In the past few months, the director also took to the platform to air out some more feelings on the subject (he never names Doctor Strange in the Multiverse of Madness, but it was his only project in active pre-production). Scott Derrickson said "the worst choice is not choosing at all" a few days later before pointing to The Last Jedi director Rian Johnson for talking with him "at length" about a personal situation he'd been dealing with. Fans also dug up a tweet from September that was written a few weeks before Jade Halley Bartlett was announced to be a new writer on the Doctor Strange sequel. In his words:
It's a lot more to go on than usual. It appears like Scott Derrickson was being pressured by Marvel to adhere to a strict release date, and changes out of his control were starting to restrict his creative process as well. But then there's the matter of horror. Apparently, this sequel isn't a horror movie anymore, despite what Derrickson originally announced.
Kevin Feige Recently Clarified Doctor Strange 2 Isn't A Horror Film
In the midst of all of Scott Derrickson's comments on Twitter, Kevin Feige cleared things up about the tone of Doctor Strange in the Multiverse of Madness. Here's what he said:
That's a bummer! Strangely enough, it's a far cry from Scott Derrickson's words at last year's San Diego Comic-Con when the title was first introduced. Check them out:
It sounds a lot like Marvel doesn't want to make a horror movie anymore. Sure, it's a given that the sequel would be PG-13, but the studio wants to remain family friendly too! Kevin Feige referenced Indiana Jones and the Temple of Doom when describing Doctor Strange 2. The 1984 film was given a PG rating, but it too had "scary sequences" that were still within the parameters of the ages it was catering to.
Temple of Doom wasn't a horror movie either. It's an adventure blockbuster that delves into dark territory when Indy and the gang come across some ancient catacombs dealing with human sacrifice and monkey brains being served at dinner. Is this what Doctor Strange in the Multiverse of Madness is going for? Shock value? Because the first one certainly did that already.
But, Doctor Strange 2 Should Be A Horror Movie
It's kind of a shame, because if the word "horror" had never been said, then fans would be simply excited for another Doctor Strange movie. But it has been said and now that's what myself and many others would like to see! The horror genre is at an all-time high right now, so imagine if Marvel Studios made it's own contribution to it. The Doctor Strange source material certainly calls for such an approach, and it'd be awesome to see it play out on the big screen.
Think about Nightmare. The ruler of the Dream Dimension would be amazing to see on the big screen! He's literally a demon who singles out souls for torture and traps their "dream-selves" in his personal dimension for his entertainment. He's also gravitated toward well-known Marvel heroes like Hulk to create these nightmarish versions of them, gone mad by his powers. Oh, and what about Chthon? He's an Elder God who has possessed Scarlet Witch for her powers.
Sure, these characters or themes could certainly be implemented in the next Doctor Strange movie with or without Scott Derrickson. But wouldn't it be cool if Marvel leaned into the horror genre with its inclusion of the supernatural? It seems like the natural choice for the sequel to go.
Horror Is Good Step For Marvel's Future
Kevin Feige said it himself, as long as the MCU continues to stay fresh and take risks, "superhero fatigue" won't burn out fans. The introduction of more sub-genres to the superhero action flick is an inspiring idea. Captain America: The Winter Soldier served as a political thriller, Ant-Man as a heist film and Guardians of the Galaxy as a space opera. On the DC side, think about how well the dramatic character study of Todd Phillips' Joker did.
Let's also not forget what's on the horizon next, i.e. the Blade coming which will star Mahershala Ali. How sanitized will the vampire hunter's story be? This development for Doctor Strange in the Multiverse of Madness puts a damper on what fans were excited about it. Its title seemed to take roots in John Carpenter's In the Mouth of Madness and H.P. Lovecraft's At the Mountains of Madness. Will another horror filmmaker jump on or is the sequel less risky than we initially thought?
What do you think? Is Marvel afraid to make Doctor Strange In the Multiverse Of Madness a horror movie? Sound off in the comments below and vote in the poll below!
This poll is no longer available.
YA genre tribute. Horror May Queen. Word webslinger. All her writing should be read in Sarah Connor's Terminator 2 voice over.
Your Daily Blend of Entertainment News
Thank you for signing up to CinemaBlend. You will receive a verification email shortly.
There was a problem. Please refresh the page and try again.