Why Robert Downey Jr. Has A Welsh Accent In Dolittle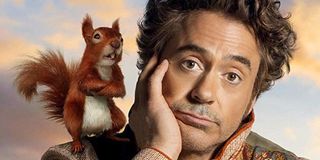 Sometimes, actors find inspiration in some pretty obscure places. That was certainly the case when Robert Downey Jr. took on the role of the titular veterinarian in Dolittle. The actor recently revealed that he chose to give his character a Welsh accent for a very specific -- and historical -- reason.
During a conversation on the Joe Rogan Experience podcast, Robert Downey Jr. offered a bit of background information about how he prepared for his performance in Dolittle. The actor told Joe Rogan that he drew inspiration from a 19th century Welsh doctor named William Price -- or, as RDJ put it, a "weird Welshman who believed we could communicate with nature and all that stuff."
Robert Downey Jr. said that he was wary of doing a British accent, because he wanted to differentiate his performance from previous actors. So after Googling and finding information about William Price, he decided he would try to pull off a Welsh accent instead. He admitted that mastering a new accent was, um, a bit of a challenge:
But he relied on a dialect coach. And Robert Downey Jr. said once he got the seal of approval from his Welsh co-star Michael Sheen, he felt more confident. William Price's influence on RDJ's Dolittle performance wasn't just limited to his accent, either. The actor told Joe Rogan that he also drew on the man's eccentric appearance:
William Price is one of Wales' most notorious personalities. In addition to carrying around an elaborately carved staff, he was known for his flamboyant wardrobe and his penchant for growing a long beard. Dolittle even tips its hat to the latter at the beginning of the film, when Robert Downey Jr. can be seen sporting some wild facial hair of his own.
He did more than just push sartorial boundaries, though. William Price was an archdruid and a surgeon who was chased by an angry mob and arrested for illegal disposal of a body after cremating his son -- a big taboo back then. Though he was controversial at the time, he now appears to be a revered historical figure -- there's even a statue of him in his hometown of Llantrisant.
Most of the more colorful aspects of William Price's life did not make it into Dolittle's story. But the film is still notable for being a pretty extreme adventure -- even if it's not exactly hitting the mark with critics. Dolittle is currently playing in theaters across the country.
Your Daily Blend of Entertainment News