The One Jay And Silent Bob Reboot Scene Jason Mewes Loves Watching With A Crowd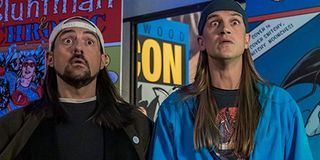 When it comes to taking a show on the road, it can be a bit of a grind to see the same moments play out across several towns on different stages. However, the man who helped bring Jay to life, actor Jason Mewes, has absolutely loved watching Jay and Silent Bob Reboot with the fans who have shown up to the roadshow. And it's all because there's a scene that receives one of the most consistent reactions, no matter which crowd it plays to: the very opening of the movie.
Talking with Jason Mewes during a conversation to promote the home video release of Jay and Silent Bob Reboot, I asked him if there were any moments that seemed to play well no matter where they dropped. With that question in the air, he told me the following story, direct from the still-going Jay and Silent Bob Reboot Roadshow:
As it plays in the film, and in the excerpt seen in the trailer for Jay and Silent Bob Reboot, our familiar felons are busted for illegal activity involving, what else, marijuana. With a new weed-centric chicken eatery, aptly named "The Cock Smoker," it only takes Jay and Silent Bob five minutes before trouble busts through their door with tear gas.
Like any good friend, they greet it with their usual grace and tact. Which means while Kevin Smith's Silent Bob steps out without a word, Jason Mewes' Jay enters in truly defiant fashion… and with his pants down. Cue the callback, the title card and the raucous applause that comes with it.
While it may seem like the opening to Jay and Silent Bob Reboot would be a natural place for a huge crowd reaction like that, it's even more appropriate considering Jay's declaration of hetero life love has been one of the many catch phrases that have endeared Jason Mewes' character to audiences throughout the years.
It couldn't happen at a better time either, as Kevin Smith's latest journey with these princes of New Jersey starts out like a typical adventure, but then turns into an equal mix of nostalgia, fan service and emotional heft.
But in the moment, hearing Jason Mewes' resident bad boy shouting his love of his best friend, while once again posing like Buffalo Bill from The Silence of the Lambs, you're reunited with these characters who feel like they could be friends of your very own. It's a killer opening to a movie that revives the universe that Jason Mewes and Kevin Smith last put into proper circulation with 2006's Clerks II.
That wave of good feelings radiates throughout the rest of the picture though, as Jay and Silent Bob Reboot is a cameo-laden affair, like any good Smith film in the View Askewniverse. Pulling out all the stops with the friends he could invite back into his playground, the director approached some really familiar faces to return to the fold for this big "reboot."
Most notably, of course, is the fact that after years of being estranged, this was the project that finally brought Kevin Smith back into contact with another old friend: movie star/director Ben Affleck. It's moments like that which really drive the crowd wild, and Jason Mewes has experienced it first hand throughout the Jay and Silent Bob Reboot Roadshow. Continuing to discuss the reasons why he loves to watch the film with a crowd, Mewes quickly described how this affected those in the audience as follows:
It isn't just about laughs with Jay and Silent Bob Reboot either, as Kevin Smith had the specific intention of drawing Jay as a more three-dimensional character, hopefully making his audience cry as planned. If anything, it sounds like going to see this movie on the roadshow circuit would be just as exciting in those moments, as the discovery that Jason Mewes' pot stirrer has grown up hits with a beautiful thud straight to the heart.
While Kevin Smith approached Jay and Silent Bob Reboot as if it'd be his last film, the recent influx of news pertaining to both Mallrats 2 and the ever elusive Clerks 3 would definitely speak to the contrary. It's a promising sign, as with both of those projects, it'd be an opportunity to bring these iconic hetero life mates back out for a couple more returns to the worlds that they helped create in the independent film landscape.
So if you've gone to the Jay and Silent Bob Reboot Roadshow, or if you're planning on catching the show during its final North American leg in the coming months, know that there's a very good chance Jason Mewes could be lurking about somewhere in the theater. Much like the Phantom of the Opera, the dude feeds off of crowd reaction, so be sure to give him a little something extra during these next few gigs.
Jay and Silent Bob Reboot is currently on Digital HD, Blu-ray, and DVD, should you want to see it in the safety of your own home. But if you want to get into the moment with your fellow View Askewniverse fans, you can still try to catch the Jay and Silent Bob Reboot Roadshow, which is making its way across North America through February 26, and prepping for an international leg to the tour.
Your Daily Blend of Entertainment News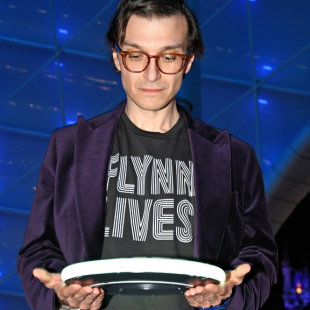 Senior Movies Contributor
CinemaBlend's James Bond (expert). Also versed in Large Scale Aggressors, time travel, and Guillermo del Toro. He fights for The User.