ReelBlend Host Reunited Ben Affleck And Kevin Smith For Jay And Silent Bob Reboot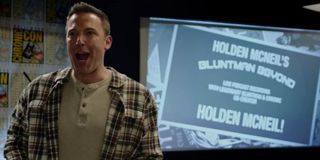 This whole entertainment industry thing that we do is a lot of fun, to be sure. Covering the art that is movie making is certainly not without value. But sometimes, someone in this business can do some real good in the world, like repairing an old friendship that had fallen on hard times. It turns out, that if you were overjoyed to see Ben Affleck in the trailer for Kevin Smith's Jay and Silent Bob Reboot, you have ReelBlend's Kevin McCarthy to thank.
Kevin Smith had made no secret that while he and Ben Affleck had once been close friends, the pair hadn't really spoken much in recent years. This made his appearance in the Jay and Silent Bob Reboot trailer quite a surprise to many fans. Kevin Smith took to Instagram to explain how it all came about, and it turns out that it all started when Kevin McCarthy of our own ReelBlend podcast asked Affleck about possibly appearing in Reboot. That one question started all the dominoes falling, and led to it actually happening. You can read Smith's full explanation below.
Just how awesome is this? It's amazing to think that such a simple question could have such a profound impact. Not only does it end up changing the movie in a significant way, but more importantly it reconnects two friends who had lost touch. There really does look to be pure joy on the faces of everybody in this picture.
There had been a brief hint that Ben Affleck might be returning to the ViewAskewnaverse when Smith recently revealed that three actors who have played Batman are in the movie. Affleck was an obvious candidate, but with the history, it was far from certain.
Kevin Smith has previously talked about how he and Ben Affleck had stopped talking to each other in recent years. Smith took full responsibility for it, saying that he had a tendency to talk too much and say things he shouldn't.
Smith was clearly hesitant to try and repair this breach, thinking your old friend doesn't want to talk to you sucks, finding out for sure could be painful, but in the end Smith reached out, and it looks like everything is ok.
It appears that Ben Affleck now has a single scene in Jay and Silent Bob Reboot, but the scene wasn't in Kevin Smith's original script, it was added only after Affleck and Smith repaired their relationship.
For those of us of a certain age (me), Mallrats might be the first time you remember ever seeing Ben Afflek in a movie, so seeing him back working with Kevin Smith again is pure joy. This is how things are supposed to be.
So well done Kevin McCarthy. You do us all proud. You can hear Kevin, along with Jake Hamilton and CinemaBlend's own Sean O'Connell, every week on the ReelBlend podcast.
Content Producer/Theme Park Beat
CinemaBlend's resident theme park junkie and amateur Disney historian. Armchair Imagineer. Epcot Stan. Future Club 33 Member.
Your Daily Blend of Entertainment News
Thank you for signing up to CinemaBlend. You will receive a verification email shortly.
There was a problem. Please refresh the page and try again.