The 10 Best Rachel McAdams Movies, Ranked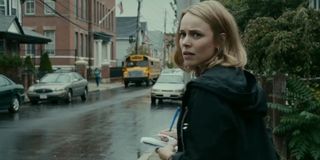 A commendably accomplished performer who has proven herself time-and-time again in a wide variety of high-grade movies, Rachel McAdams can easily be considered one of the exceptionally gifted performers working today. The Oscar-nominated film actress has proven her diverse expertise in dramas, comedies, fantasies, romances, and several other genres, and only continues to showcase her skills in several high-profile projects. She is a star for a good reason; if anything, McAdams is underrated as an actress. There are several movies where we see how adept she is as a screen talent.
When it comes to ranking Rachel McAdams' movies, it's worth noting that we paid careful consideration into Rachel McAdams' roles in the films. So, for instance, even though Doctor Strange is a solid fantasy-action superhero movie, McAdams' part in the Marvel blockbuster was widely criticized for being a one-dimensional character, one that wasn't fitting for such a talented, well-versed performer. With that in mind, we opted not to include that movie in the ranking.
Additionally, Netflix's The Little Prince is one of the best-reviewed movies in the star's filmography, and McAdams' voice-only supporting performance is strong in the animated film, but it's not as easily comparable to her live-action roles, wherein she gets more screen-time. We should also mention that Disobedience, A Most Wanted Man, The Family Stone, To The Wonder, and The Family Stone, to only name a few, were among the other titles considered for this top ten ranking. Even though they missed the cut, each of them should be considered honorable mentions.
Without further ado, let's take a look at our 10 favorite Rachel McAdams movies, ranked!
10. The Notebook (2004)
Quite easily among the most famous movies in Rachel McAdams' resume, The Notebook played a substantial role in turning the talented actress into a household name, and it's easy to see why based on this beloved 2004 romantic drama. While it can get mushy and melodramatic in many different moments, this Nicholas Sparks' adaptation is given a tremendous spark due to the radiant on-screen chemistry between Ryan Gosling and McAdams. Even when the material gets hokey, there is a believable, palpable romantic tension between them, one that grows hotter and colder all throughout the film, and it's all the more remarkable that the stars reportedly had a contentious off-screen dynamic. A testament to their talents, one should suppose. Nevertheless, this Valentine's Day-friendly film is on regular rotations for a reason, and it's a credit to their engrossing, involving on-screen relationship.
9. Wedding Crashers (2005)
It's hard to find the balance between raunchiness and sweetness, especially in the '00s studio comedy scene. While Wedding Crashers isn't without its faults, it's a quotable, consistently funny, and ultimately charming film, and the material-at-hand is enhanced by the performers involved, including Owen Wilson, Vince Vaughn, Christopher Walken, Jane Seymour, a pre-fame Bradley Cooper, and Rachel McAdams. While McAdams is a well-proven comedic talent, notably in a few titles we'll mention later in this article, Wedding Crashers has McAdams adding some much-needed sweetness to the movie's crude elements, balancing out the tone and thus playing a key role in why this raunchy, foul-mouthed comedy stole so many people's hearts.
8. About Time (2013)
A charming, winning romantic comedy with an inspired sci-fi twist, About Time brings romance and time travel together to create a witty, likable, and heartfelt new spin on the well-revisited genre's familiar formulas. The result is both familiar and fresh, like going back in time but creating a new future, and the movie's warm, endearing story is enhanced not merely by its sharp screenplay but also by its appealing leads, Domhnall Gleeson and Rachel McAdams. Together, they have dynamic chemistry, and McAdams' exceptional acting range is put to great use as she is meant to revisit the same sequence of events over-and-over but play up the different results created by our time-hopping male lead. The result is an inventive, emotional rom-com that can appeal to a broad audience. And it, once again, proves that McAdams is a great talent who is well-worth watching time and time again.
7. Sherlock Holmes (2009)
Robert Downey Jr. might take the center stage in Guy Ritchie's surprisingly inspired 2009 re-imagining, Sherlock Holmes, but the lead actor often has the spotlight stolen by his co-stars, namely an impeccably good Jude Law as Dr. John Watson and the splendid Rachel McAdams as Irene Adler. The character is one of the most famous in Sherlock Holmes' storied history, but the actress made the role her own, providing wit, charm, and sensuality in equal measure to provide an invigorated, steamy interpretation of the quick-witted character, one who often finds the otherwise observant Holmes at a loss. The entertaining film is filled with quite a few engaging moments, but McAdams' all-too-short sequences help bring more sparks and rousing fun.
6. State Of Play (2009)
Before she went on to play real-life journalist Sacha Pfeiffer in 2015's excellent Spotlight, Rachel McAdams worked inside the newsroom in 2009's underrated political thriller, State of Play. Based on the British serial of the same name, director Kevin Macdonald made an exciting, pulpy American remake with a star-studded cast and gripping twists-and-turns. Among State of Play's strongest turns is Rachel McAdams in the role of Della Frye, a reporter/blogger who helps to report the surprising news updates that sprinkle throughout the story's rousing turn of events. McAdams' confidence and charm shine once more, providing audiences with yet another showcase for the star's wide-ranging talents in a commendably well-crafted thriller.
5. Game Night (2018)
While there's no denying Rachel McAdams' impressive talents as a dramatic performer, it's safe to note that a number of the actress' best, most lively performances come from her comedies. One recent-but-shining example is 2018's Game Night, where McAdams teamed-up with Jason Bateman to play one-half of a game-loving married couple who soon get in over their heads when they discover that their murder-mystery game isn't a game at all. The dark comedy is more stylish, creatively inspired, and therefore, funnier, more likable, and much more satisfying than your average studio comedy. McAdams plays no small part in the movie's surprise success, nailing the movie's bouncing tone with ease and providing moviegoers with yet another quotable comedy led by her presence. While McAdams is great in dramas, the talented movie star should consider playing more comedic characters.
4. Midnight In Paris (2011)
In 2011's whimsical Midnight in Paris, we follow an American screenwriter/wannabe novelist (Owen Wilson) who is forced to come to terms with his disconnected relationship with his fiancee (Rachel McAdams), and try to find his sense of purpose, when he finds himself magically transported back to the roaring '20s in Paris whenever the clock strikes midnight. It's a lively, inspired rom-com, and one that's bolstered by its star-studded ensemble, which includes another impressive turn from Rachel McAdams. Reuniting with her Wedding Crashers co-star, McAdams makes what could've easily been a one-dimensional character into a more fully fleshed-out personality, one that helps to elevate the story and the material into something even richer than what's presented on the page. While her role in the movie is limited compared to her main co-star, there's no denying her cinematic magic.
3. Mean Girls (2004)
Ever since it came to theaters in 2004, Mean Girls has taken on a life of its own. It became one of the most quotable comedies of the '00s, played a key role in making screenwriter/actress Tina Fey one of the biggest names in the comedy scene, and it was recently turned into a major Broadway hit musical that, weirdly enough, will soon became a major motion picture. That doesn't happen by accident. Through luck and fate, such circumstances occur, but it was mainly because Mean Girls is a richly funny and rewarding comedy, and it's certainly benefitted by Rachel McAdams' performance.
In the role of Regina George, McAdams' perfectly embodied the role of one high school's most popular bully, playing up the comedy factor while never sacrificing the believability — which is an incredibly difficult accomplishment that McAdams handles quite well in one of her earliest (and most famous) roles. While she made sure fetch never happened, Rachel McAdams' back-to-back success in this and The Notebook certainly turned her into a star.
2. Red Eye (2005)
Arguably among the best final works of the late Wes Craven, Red Eye is a taunt, engrossing thriller with a simple premise but a lot of punch. Centered predominately on Rachel McAdams and Cillian Murphy, who must carry the movie while mostly contained in an airplane setting, Red Eye could've been a recipe for disaster, but it's a credit to Craven's skilled, honed talents as a filmmaker that he keeps it compelling throughout, and it's also a testament to our lead performers, notably McAdams, who carry this pulpy premise to the max and keeps the audience in suspense and engaged — even when it starts to get turbulent. The result is a white-knuckled thrill ride with two exceptional performances, and it gave us one final look at Craven's greatness.
1. Spotlight (2015)
While Rachel McAdams has proven herself in a number of outstanding, accomplished movies, 2015's Spotlight remains one of her greatest triumphs. The Best Picture-winning film follows a team of Boston Globe reporters in their harrowing investigation of widespread child sex abuse in the Boston area by Catholic priest, for which their series of articles won the team a Pulitzer Prize. Director Tom McCarthy's film is stark and deliberate in its presentation, refusing to ignore the gravity and depth of the situation, yet its nuanced, reserved, and often gentle approach produces an impactful, devastating drama, one that is only elevated by Rachel McAdams' Oscar-nominated performance as journalist Sacha Pfeiffer.
While everyone in this ensemble is excellent, McAdams' commendably honed, intelligently crafted character work is striking, making it no wonder that she received an Oscar nomination. Though, of course, after years of great work in many exceptional films, McAdams was due to receive this prestigious acknowledgement.
What is your favorite Rachel McAdams movie? Let us know in the comments below!
Your Daily Blend of Entertainment News
Will is an entertainment writer based in Pittsburgh, PA. His writing can also be found in The Playlist, Cut Print Film, We Got This Covered, The Young Folks, Slate and other outlets. He also co-hosts the weekly film/TV podcast Cinemaholics with Jon Negroni and he likes to think he's a professional Garfield enthusiast.