How The Last Christmas Ending Changes Thanks To An Alternate Ending On The DVD And Digital Release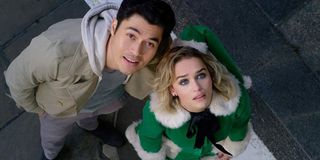 CinemaBlend participates in affiliate programs with various companies. We may earn a commission when you click on or make purchases via links.
When Last Christmas hit theaters just in time for the holiday season in 2019, there was a lot of talk about the movie's twist ending, as it's not exactly what I would say is "typical" for your average rom-com. So, when Universal Pictures Home Entertainment announced there would be an alternate ending to the Emilia Clarke and Henry Golding starrer with the Blu-ray and DVD release, I was obviously intrigued.
If you wondered whether or not the alternate ending would totally take Last Christmas' big twist ending and go in a different direction, much of the way the movie ends is left intact. What the alternate ending does do is add one more callback to Kate and Tom's conversations and how they impacted Kate's life, which gives fans of the movie a little more of an understanding of what happens to Kate after the events in the movie. From this point on spoilers for the movie will abound, so don't say I didn't warn you.
What Happens In The Last Christmas Theatrical Release's Ending
In Paul Feig's movie, the ending takes a huge turn when Kate realizes Tom Webster is actually the young man who died the same night she had a medical emergency following a bicycle accident. She was the person who had accepted his heart. We learn the relationship they'd cultivated was due to the connection they shared through the heart, which enabled his ghost to touch her and help her to move forward after the health emergency leaves her emotionally stunted and, honestly, a bit of a mess.
The movie then flashes forward to two weeks later. Back at the homeless shelter Kate had been volunteering at, she and her newfound friends put on the performance of the George Michael song "Last Christmas" after a little speech nodding back to what she learned during her time with Tom. Per Kate:
The closing scene features the whole family eating together and trying to find ways to put aside their differences and maintain close relationships after some disconnect between them earlier in the movie. But the biggest point in the movie is the reveal that Tom Webster is no longer alive and that the bench Kate sits on at many points in the movie had been dedicated to the character -- it just took a while for Kate herself to put the pieces together.
Which brings us to the alternate ending.
What Happens In Last Christmas' Alternate Ending
Instead of a scene with the family, the alternate ending on the Blu-ray flashes forward four months. The alternate ending scene does not negate any of the stuff we learned about Tom at the end of the movie. Basically, the big twist is still intact. In fact, I'd assume this alternate scene was intended to unfold after the big Christmas pageant scene and the final moment spent with Kate's family, when Kate's mother (played by Emma Thompson) accepts Kate's sister's partner into the fold.
In the alternate ending available with the set, Emilia Clarke's Kate has become a tour guide. We see her holding the phones of everyone in their group so that they are able to take in their surroundings with no distractions. At one point she asks people to "look up" as she tells one of her stories, which is something Tom asked her to do and pay attention to during their acquaintance. It's a nice callback and one of a couple callbacks to the "look up" moment found in the bonus features on the disc.
Other Last Christmas Extended Scenes
The importance of "look up" also becomes apparent in one of the extended scenes. In it, Kate's already familiar with the concept. As she and Tom wander around the city, she mentions she has a crick in her neck and jokes that "this is why people don't look up."
There's actually a slew of these scenes that come with the Last Christmas Blu-ray, including an extended scene with Tom and Kate where they almost kiss and then he pauses before telling Kate he's "not playing" hard to get, before mentioning there's actually something else going on.
A slew of other scenes are also on the disc, including plenty where Kate is still a mess. We see an extended version of her terrible audition and more from a scene where Kate's mother makes her donuts. We also see more of the fire that took out her friend's husbands ship, her messing up and showing up late for work and her getting drunk and messing around with a Frenchman.
Quite a bit was cut from the movies, and director Paul Feig said in the introduction that they simply felt there "are all the things we shot that we couldn't use" or "that we loved but were maybe too long."
The full version of the song is also available too with an introduction from Paul Feig that should be fun for fans who liked Last Christmas and supported it already at the box office.
Ultimately, I thought there might be an alternate ending to Last Christmas that was totally different from what we got in the theatrical version of the movie. That's not the case and I can see why director Paul Feig ended the movie where he did. That said, the idea that Kate and Tom fostered a relationship over wandering the city and really paying attention to their surroundings was cut in the movie and I like the idea that the first draft of the movie had more of this cutesy connection.
Last Christmas is available on Blu-ray, DVD and Digital on February 4, coming just a hop, skip, and a jump before Valentine's Day. I know it's Christmas themed, but that release date sounds about perfect. Pre-order it now or catch Henry Golding in the other film he shot at the same time as Last Christmas, aka The Gentlemen, in theaters now.
Reality TV fan with a pinch of Disney fairy dust thrown in. Theme park junkie. If you've created a rom-com I've probably watched it.
Your Daily Blend of Entertainment News
Thank you for signing up to CinemaBlend. You will receive a verification email shortly.
There was a problem. Please refresh the page and try again.