Emilia Clarke Is Frustrated By Last Christmas' Twist Getting Spoiled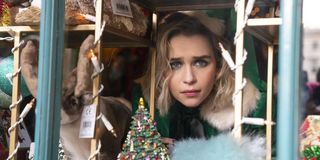 On the surface, Last Christmas doesn't seem like the kind of movie that would generate an enormous amount of social media buzz. But after word got out that Paul Feig's latest film features a huge twist, fans online gathered together with the singular goal of figuring it out. It's not the first time fans have gone wild over spoilers, but for star Emilia Clarke, the obsession is a huge pain.
The actress spoke with IndieWire ahead of the movie's release. And she was particularly blunt when asked about the hubbub over the twist, telling the magazine:
Okay, message received. And her irritation is somewhat understandable, since the fervor over Last Christmas' twist has more or less dominated conversation about the movie ever since the trailer was released. Emilia Clarke said that she wishes fans wouldn't focus so much on spoilers, explaining:
This isn't the actress' first encounter with obsessive social media trends. Following the Game of Thrones final season, in which her character Daenerys Targaryen's storyline experienced some, well, controversial developments, the cast and crew were at the center of a Twitter maelstrom. Emilia Clarke weighed in on the fandom backlash, and saw a common thread between the two events:
Despite her frustration, Emilia Clarke does have some sympathy for spoiler hounds, given what she views as the current state of affairs. She told IndieWire:
Last Christmas, which also stars Emma Thompson and Henry Golding, premiered this weekend. So we'll have to wait a little longer to find out whether the spoiler-hunting energy translated into actual box office interest.
Your Daily Blend of Entertainment News
Thank you for signing up to CinemaBlend. You will receive a verification email shortly.
There was a problem. Please refresh the page and try again.