13 Megastars Who Should Join The Fast And Furious Family After F9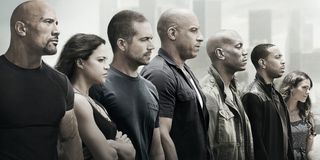 Over the course of eight movies, plus a recent spin-off, the Fast & Furious franchise went from being a B/C-rate Point Break rip-off with cars to one of the most exciting, enthusiastic, and profitable movie franchises in modern cinema. That doesn't happen accidentally. It's through the persistence, talent, and willingness of the filmmakers to go balls-to-the-walls nutty that this franchise has kicked itself into high gear. That madness continues with this year's Fast & Furious 9 (i.e. F9), which could be the penultimate chapter in this prolonged car-friendly, action-oriented movie series. Should that be the case, then it should be the priority of the filmmakers involved to stack the cast of the tenth movie with a variety of major superstars.
There are a lot of acting legends who would be wonderful for this fast and furious series, and we've rounded up a list of 13 megastars who we think should be considered for the final installment. Certainly, the likelihood of some of these superstars appearing in the 10th Fast & Furious movie are slim. But can't we dream? This franchise is all about defying the odds. Without further ado, here's who we'd like to see inside the Fast & Furious franchise.
Keanu Reeves
Much like the Fast & Furious franchise, Keanu Reeves was once seen as kind of a joke in pop culture until he proved himself in a major way. While he was a seasoned action star with movies like Speed and The Matrix trilogy, it was the John Wick franchise that really pushed Reeves into superstar territory. He knows how to commit himself to impressive stunts and action choreography, and he has a good sense of humor about himself, as made evident by his years of making comedies. Plus, the John Wick series also proves that he knows how to drive stylish cars. It'd be an easy win for Reeves and the Fast & Furious franchise. I'd love to see the busy A-list actor find a way to make an appearance in the 10th Fast & Furious movie.
Zoe Saldana
In case you haven't noticed, Zoe Saldana has lent her talents to damn nearly every major, money-making movie franchise out there in the 21st century. Her involvement in Avatar, the MCU, and Star Trek have turned the actress into a very lucrative performer, and Saldana should continue this trend by appearing in the Fast & Furious franchise. The actress has the action chops to pull it off, as she proven in Colombiana and The Losers, in addition to the films mentioned above, and she would only be a blessing to a franchise that continues to bring in the dough after 10 movies. If she were able to make the time in her busy schedule to make it work, she'd certainly be a great addition to the family, and she would help to make the series only more success.
Nicolas Cage
At their best, the Fast & Furious movies are wild at heart and drive angry. They like to keep things bonkers and kooky, and who better to bring things up to another level than Nicolas Cage? The Academy Award-winning actor is a one-of-a-kind talent, and his signature blend of absurd brilliance shouldn't be dismissed (even though, admittedly, he has starred in a few not-so-great movies over the years). The man is a genius in the right role, and he's also more self-aware than he seems — much like the Fast & Furious franchise (before everyone caught on to its pumped-up energy). The sole practitioner of nouveau shamanic can really drive thing up a notch or ten, and it would play to Fast & Furious' ultimate benefit to get Cage in Rage mode. Possibly as a villain? There are certainly lots of possibilities at play with Nicolas Cage in the Fast & Furious films. Let's give a go and find out!
Danny Trejo
With 397 acting credits (and counting!) on his IMDb page, there's no denying that Danny Trejo is one of the hardest working actors in the moviemaking business. Yet, the Machete actor hasn't made an appearance in the Fast & Furious franchise. That's a shame because, if he were given the chance, it would be to everyone's benefit. The action actor is one of the roughest, toughest working actors out there, and he can be funny as can be as well. The actor is seemingly game for anything, and that would certainly work in F&F's favor. Whether it's a major role or a brief appearance, he would be a welcome presence.
Samuel L. Jackson
Samuel L. Jackson is one of the most famous, hard-working actors in Hollywood. He has appeared in a lot of big movies over the years, most notably the Marvel Cinematic Universe. It's rather surprising, then, that Jackson has not been courted (so far as we know, at least) for the Fast & Furious films. It would make a good deal of sense. The actor can command great gravitas, but he's also very self-aware and extremely funny. The Snakes on a Plane star should have no problem challenging the goofy tone of the long-driving series, though the Oscar-nominated A-list actor would need to limit his four-letter vocabulary in this PG-13 movie series. No matter. Even if he can't use his signature curse words, Jackson would kick a lot of ass in here.
Salma Hayek
A well-proven talent with a lot of experience in action and comedy to boot, Salma Hayek would make a wonderful addition to the Fast & Furious films. The performer has what it takes to sell any sort of role in the popular movie franchise, and she could lend her skills to any number of different roles. If the producers behind Fast & Furious were smart, they could have Salma Hayek be either a long-lost member of the family, a stealthy new member of the heist-loving team, or a villainous part. Or something else. Get creative! Certainly, Hayek has the range to ace any character she'd be given in here.
Dave Bautista
With the Fast & Furious franchise set to come to its rip-roaring end with its 10th installment (or eleventh, depending on whether or not you could the spin-off, Hobbs & Shaw), there are a lot of actors who want in on the pie. Nevertheless, Dave Bautista isn't one of them. When asked if he wanted to part of the franchise on social media, his response was, well ... less-than-enthusiastic. Yet, the professional wrestler/Guardians of the Galaxy actor has certainly surprised us in the past. With The Rock and John Cena involved in the series, it wouldn't be out-of-the-question to get Bautista involved. But it would probably take some convincing, which might be difficult. Nevertheless, if the muscle-bound actor gets involved, his mix of action experience and comedy chops would play to the franchise's advantage. Some folks want him to play a villain, but I'd rather see Bautista work his magic in the Toretto family.
Daniel Radcliffe
Ever since his finished his decade-long commitment playing the title boy wizard in the Harry Potter series, Daniel Radcliffe has used his celebrity and high profile to make some bold and audacious movies. Think Horns, the excellent Swiss Army Man, and the forthcoming Guns Akimbo. This is a clear sign that Radcliffe wants to push himself in weird and wild directions as an actor, and that would make him an excellent addition to the Fast & Furious franchise. The actor has publicly expressed interest in joining the series, though he made the caveat that he'd have to play a non-driving character in the films. That should (hopefully) not be a problem. The actor could play anyone from a mysterious tech villain or a comedic relief rider in the midst of the action. Certainly, Radcliffe has the range to play an assortment of different characters in the franchise. Hopefully, they will find a way to put him in.
Donnie Yen
A major international superstar, Donnie Yen finally got his overdue recognition stateside with Rogue One: A Star Wars Story, and the actor should be given another major American movie franchise to prove his talents. Enter Fast & Furious. While the action-comedy series excels at dangerous stunts and car-related mayhem, the action choreography can sometimes be lacking in comparison. But that certainly wouldn't be a problem should Donnie Yen should the scene. The martial arts star knows how to kick butt and takes names, and his talents would only benefit the money-making franchise. Most especially when it comes to its international appeal. Though, of course, with Yen involved, everyone wins, right?
Arnold Schwarzenegger
At his peak, Arnold Schwarzenegger was one of the biggest movie stars on the planet. The actor/politician has one of the most recognizable faces in the entertainment industry, and he's built his career not only from being a larger-than-life action star but owning up to his figure and atypical size with a good, knowing sense of humor. Those qualities would play wonderfully in the Fast & Furious movies. The series has only gotten better as it has gotten more tongue-in-cheek goofy, and Schwarzenegger's big, beefy presence would definitely play to the series' advantage. Can you imagine a fight sequence between Vin Diesel and Arnold Schwarzenegger? How awesome would it be to hear one of Schwarzenegger's signature catchphrases after he performs a (CG-created) high-speed action sequence? There are many great opportunities to be found with Schwarzenegger in these movies.
Jackie Chan
Jackie Chan is a legend. The martial arts superstar is one of the biggest movie stars in the world for a damn good reason, and the dedicated, proven superstar has whatever it takes to pull off the comedy, action, and dangerous stunts audiences expect to find in a Fast & Furious movie. He's gifted in every category, even as he gets older, and he would provide a lively, enthusiastic presence in this ultra-successful franchise. Get Jackie Chan in there!
Tom Cruise
Admittedly, the chances of Tom Cruise making time to appear in a Fast & Furious movie are not very high. The A-list actor is exceptionally busy with the last couple Mission: Impossible movies, and he might not want to play second-fiddle in an action-comedy ensemble that doesn't find him at the forefront. Nevertheless, should fate allow it to happen, Tom Cruise would make a great addition to the Fast & Furious franchise. The actor clearly loves to test fate with his dangerous stunts, and the superstar already proved back in1990's Days Of Thunder (and, more recently, in 2012's Jack Reacher) that he knows how to drive a slick and stylish car. Can you imagine if Fast & Furious found a way to go into Cruise Control? (You see what I did there?)
Meryl Streep
Hear me out: the Fast & Furious franchise has always prided itself on upping the ante and steering in ridiculous directions. It loves to put the pedal to the metal and go nuts at any given opportunity, whether it involves gravity-defying stunts, breaking any law of possibility, and casting some wild stars. In The Fate of the Furious, moviegoers were delightfully surprised to see Helen Mirren join the fun in an entertaining supporting turn. When it comes to the future of Fast & Furious, it would be in the franchise's best interest to add another high-caliber, Oscar-winning acting legend into the fold. Why not go big and ask Meryl Streep to join? After years of making serious-minded dramas (and the Mamma Mia movies), Streep could use this opportunity to cut loose and have fun. She deserves it, and it'd give the Fast & Furious series the pedigree that it deserves. At the very least, it would not hurt to ask.
Who are some acting megastars that you'd love to see lend their talents to the Fast & Furious franchise? Let us know in the comments below!
Will is an entertainment writer based in Pittsburgh, PA. His writing can also be found in The Playlist, Cut Print Film, We Got This Covered, The Young Folks, Slate and other outlets. He also co-hosts the weekly film/TV podcast Cinemaholics with Jon Negroni and he likes to think he's a professional Garfield enthusiast.
Your Daily Blend of Entertainment News
Thank you for signing up to CinemaBlend. You will receive a verification email shortly.
There was a problem. Please refresh the page and try again.