F9: Vin Diesel Says Paul Walker Inspired John Cena's Casting As Brother Jakob Toretto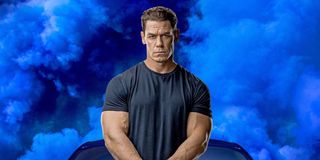 The Fast and Furious franchise's legacy hasn't fully been written yet, but it's already far-reaching. It includes Paul Walker's incredible impact on series' actors and its stories, even years after his death. In fact, star Vin Diesel is reminding fans that he believes Paul Walker played a pivotal role in helping him cast John Cena in F9.
After the first Fast 9 trailer premiered on Friday, January 31, fans were excited to get a glimpse at returning characters (Mia! Han?!?!!), as well as some new faces. Among the most anticipated reveals was John Cena's Jakob Toretto -- a.k.a. Dom's brother. While fans still aren't entirely sure how John Cena's character will fit into the framework of the long-running series, Vin Diesel has now explained that he feels like he has his late friend Paul Walker to thank for helping get the actor and former WWE star on board (via ET):
The post in question, made in April 2019, was the first real hint fans got that John Cena would be involved in Fast 9. In a short video, Vin Diesel revealed that he was hanging out with John Cena as he spoke about his passion for Fast and Furious:
Vin Diesel has been very open about both his love for and his grief over Paul Walker, who died in a car accident in 2013. And his absence shook the Fast and Furious franchise, as the crew had to make tough choices about how to keep it going -- or whether to keep it going at all. At an event for the trailer reveal, Vin Diesel also reflected on how far the series has come -- and what that would mean to Paul Walker:
As for Fast 9, it looks to be every bit as exciting as you'd expect. And now that John Cena has joined the Fast and Furious family, he could play a key role in helping bring the series toward that next incredible milestone. We'll see how he fits into the story -- and what happens when he and Dom go head to head -- when F9 hits theaters on May 22, 2020.
Your Daily Blend of Entertainment News