Paul Walker's Life: Everything Fans Should Know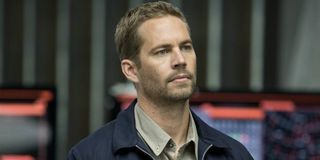 (Image credit: Universal)
The Fast and Furious film series will see the release of its first spinoff, Hobbs & Shaw, featuring Dwayne Johnson and Jason Statham reprising their eponymous roles, in August. However, mention of the adrenaline-fueled adventure franchise only reminds us of its late star, Paul Walker.
Until his shocking death at the age of 40 on November 30, 2013, the actor, born Paul William Walker IV on September 12, 1973, thrilled audiences as the Fast and Furious movies' former FBI agent Brian O'Conner since the beginning of the franchise in 2001. Yet, the actor had more on his plate than outrunning drug lords with suped-up muscle cars.
Outside of his work in the Fast and Furious movies, Paul Walker was a child model, teen movie heartthrob, a father and a philanthropist. His charity Reach Out Worldwide, which he founded in 2010, has helped countless victims of natural disasters all over the world.
A superhuman action star and a super-charitable humanitarian? It looks like there is a lot more to know about Paul Walker than you realized. Let's take a look at the beloved, late actor's journey down the road to international stardom.
What Was Paul Walker In Before Fast And Furious?
He may have been known best for high-octane car races and incomprehensible heists, but before Paul Walker starred as Brian O'Conner in the Fast and Furious franchise, the model-turned-actor endured a mixed bag of roles in his early career. He had his first taste of fame as a toddler, appearing in a Pampers commercial.
In his later youth, he made appearances in low budget B-movies in the mid 1980s, such as Troma's Monster in the Closet and gender-swap Terminator rip-off, Programmed to Kill, later retitled to The Retaliator. Probably Paul Walker's most infamous B-movie appearance, though, was 1994's Tammy and the T-Rex, in which an evil scientist puts the brain of Tammy's (Denise Richards) slain boyfriend Michael (Walker) into the body of a robotic dinosaur… Yeah.
Paul Walker really began to make a name for himself from his television appearances, taking smaller roles in hit series like Highway to Heaven, Who's The Boss?, or CBS after school specials (his first acting credit in 1984) before landing a starring role on The Young and the Restless in 1992. In 1998, he starred as a dimwitted surfer dude in Disney's family comedy Meet the Deedles and a high school stud in the critically acclaimed Pleasantville, which led him to star in teen hits She's All That, The Skulls, and Varsity Blues.
Everything changed in 2001, when, at 28, he was cast as a young undercover FBI agent infiltrating the world of illegal street racing in The Fast and the Furious. From that point on, Paul Walker became a sought after action star of the big screen and the small screen, starring in many straight-to-video releases as well.
Paul Walker's influence and popularity rose as The Fast and the Furious became one of the most enduring franchises in Hollywood. He reprised his role as Brian O'Conner in five more sequels before November 30, 2013, when tragedy struck.
How Did Paul Walker Die?
Paul Walker was attending an event by his charity Reach Out Worldwide, which was raising money to benefit victims of Typhoon Yolanda in the Philippines. At around 3:30 that afternoon, he left the event, driven by his friend Roger Rodas, 38, in his Porsche Carrera GT.
Rodas was going somewhere between 80 to 93 mph in a 45-mph speed zone on Hercules Street in Valencia, Santa Clarita, California, when the tires, apparently, gave out and the car crashed into a concrete light post, then hit two trees, causing the vehicle to burst into flames. The trauma and burns caused by the crash claimed the lives of Roger Rodas and Paul Walker.
Following his death on November 30, 2013, the internet flooded with tributes to Paul Walker from fans, family, friends, and his Fast and Furious co-star, such as Vin Diesel (who nicknamed him Pablo) and Tyrese Gibson, who posted this heartbreaking love letter to his Instagram:
Paul Walker's cremated ashes were buried at Forest Lawn Memorial Park in Southern California. Two films starring Walker, Hours and Brick Mansions, were released within months after his death.
Furious 7, the seventh entry in the Fast and Furious franchise directed by James Wan, was still in the middle of filming at the time of Paul Walker's death. To help finish the film and give Walker a proper send-off, the studio enlisted the help of two people very close to the actor.
Did Paul Walker Have Brothers?
Paul Walker was the oldest child of parents Paul William Walker III, a sewer contractor and prize-winning boxer, and Cheryl Walker, a former fashion model. He had two brothers, Cody and Caleb, and two sisters, Amie and Ashlie.
After Paul Walker's death, Universal asked Cody and Caleb to fill in for their brother for unfinished scenes of Furious 7. Paul's likeness was superimposed onto Cody's face via CGI to film the movie's emotional finale which sees Brian O'Conner driving side-by-side with friend Dominic Toretto (Vin Diesel) before driving off into separate directions.
Cody Walker has since followed in his brother's footsteps by continuing his acting career after Furious 7. He is known to almost exclusively play military personnel, beginning with his first starring role in the 2016 World War II drama USS Indianapolis: Men of Courage opposite Nicolas Cage, only excluding the 2017 golf club comedy series In The Rough.
In addition to acting, Cody Walker runs his brother's charity, Reach Out Worldwide. Cody and Caleb Walker have both expressed interest to appear in another future Fast and Furious movie, perhaps as relatives of Paul Walker's Brian O'Conner, but plans to cast either of the siblings have yet to be officially made.
Was Paul Walker Married?
Paul Walker could be called a family man, as he made it his "number one priority" to be a committed father to daughter, Meadow (more on her later), but never a married one.
Paul Walker reportedly had a relationship with his Tammy and the T-Rex co-star Denise Richards in 1993. The pairing was Walker's first celebrity romance before he met actress Christina Milian and, later, Playboy playmate Amanda Paige in the early 2000s.
In 1998, as his career was picking up speed, Paul Walker began dating Rebecca Soteros (now McBrain), who became the unexpected mother of his daughter, Meadow Rain Walker. Their relationship only lasted about a year, but they both remained committed to raising her until Walker's death, which led to a highly publicized custody battle between Rebecca and Walker's mother, Cheryl.
Even though Paul Walker never married, he was engaged to longtime girlfriend Jasmine Pilchard-Gosnell at the time of his death. The pair began dating when the actor was 33 and she was just 16.
Who Is Paul Walker's Daughter?
Meadow Rain Walker, the daughter of Paul Walker and Rebecca McBrain, was born November 4, 1998. She lived in Hawaii with her mother for 13 years before moving to California to live with Walker in 2011.
Paul Walker chose his friend and Fast and Furious co-star Vin Diesel to be godfather to Meadow. She now works as a professional model, represented by Women Management.
In addition to her day job, she has also made multiple efforts to honor her father since his death. Inspired by her father's passion for aquatic beings, in 2015, she launched The Paul Walker Foundation with the simple goal to "do good," but with a particular emphasis on rewarding those working in favor of improving marine life and education, as she announced in this Instagram post:
Also in 2015, Meadow was just 16 when she filed a lawsuit against Porsche, the car manufacturer that built the vehicle Paul Walker was in at the time of his tragic death, alleging that he would have survived the crash had his seatbelt properly opened. The suit was settled in 2017 with a deal that has been kept confidential.
How Much Was Paul Walker's Net Worth?
At the time of his death, Paul Walker's net worth was recorded to be $25 million. That is a pretty sweet deal for doing what you love to do: acting and driving fast cars during his 12-year stint as Brian O'Conner in the Fast and Furious movies.
Following the tragedy, Paul Walker's daughter, Meadow, became the sole beneficiary of his estate at just 15 years old. She currently resides in her father's home with her mother.
What Happened To Paul Walker In The Fast And the Furious 8?
In the wake of losing Paul Walker, fans of the Fast and Furious movies could not help but wonder how the franchise would (or if it should) go on without its Brian O'Conner. After Furious 7 gave the late actor, and his character, a proper farewell, it seemed that fans and the series' cast were ready to move on for the next film, 2017's The Fast and the Furious 8, officially known as The Fate of the Furious.
Of course, Paul Walker did not make an appearance in the eight entry of the Fast and Furious series, but his presence is not ignored, especially in the end. The Fate of the Furious ends with Dominic Toretto (Vin Diesel) introducing to the rest of his crew his newborn son, whom he names after his friend and brother-in-law, Brian O'Conner.
In regards to fans' initial questions about the one character sadly missing from the cast, it is clear that they need not worry. Brian O'Conner will always be a part of the Fast and Furious movies in some form, and Paul Walker will be forever immortalized by their legacy.
If you're a Paul Walker fan, let us know in the comments below.
Your Daily Blend of Entertainment News
Jason has been writing since he was able to pick up a washable marker, with which he wrote his debut illustrated children's story, later transitioning to a short-lived comic book series and (very) amateur filmmaking before finally settling on pursuing a career in writing about movies in lieu of making them. Look for his name in just about any article related to Batman.