Fight Club's Edward Norton Says Janeane Garofalo Is 'Mistaken' To Blame Him For Losing Role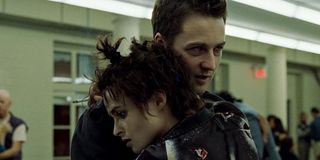 Actors are constantly vying for roles with their peers -- so they're no strangers to rejection. That doesn't mean it doesn't sting a bit when an actor misses out on a role, especially if it's in a film that goes on to become legendary. That's exactly what happened to Janeane Garofalo with an important role in Fight Club -- although if you ask Edward Norton, she is mistaken to blame him for what happened behind the scenes.
Earlier this week, Janeane Garofalo revealed that she had almost been cast as Marla Singer, the incredibly unstable woman Edward Norton's Narrator meets in David Fincher's Fight Club. But, she said during an interview on the Build Series, to her recollection, Norton put the kibosh on her casting.
Janeane Garofalo said that David Fincher told her she could play the part if she wanted to. But according to the actress, she was later told Edward Norton wanted Courtney Love (his girlfriend at the time) to play Marla. She also heard that he didn't believe she was a skilled enough actress to take on the role, which was ultimately played by Helena Bonham Carter. She even said that years later one of the film's other stars, Brad Pitt, had personally expressed regret about the fallout with her casting.
Edward Norton has now responded, refuting her recollection of events in a statement to CNN:
The actor went on to explain that in his experience working with Fight Club's director, David Fincher tends to make all the decisions himself, and does not ask for actors' input on casting matters:
And just for good measure, Edward Norton seemed to indicate that he would have been on board for playing opposite Janeane Garofalo:
It may be difficult to ever totally discern what did or didn't happen with regards to Marla's casting. Fight Club was released in 1999, and at the time, Janeane Garofalo may have wondered if she'd dodged a bullet. Though it's now cemented itself as a cult classic, the film was controversial at first, and underperformed at the box office. Still, it can't have been easy to feel a role that she wanted slip through her fingers, regardless of the circumstances surrounding how it happened.
David Fincher has yet to respond to either Janeane Garofalo or Edward Norton's conflicting comments.
Your Daily Blend of Entertainment News
Thank you for signing up to CinemaBlend. You will receive a verification email shortly.
There was a problem. Please refresh the page and try again.