The Crown's Helena Bonham Carter Claims She Spoke With Princess Margaret's Spirit Through Psychic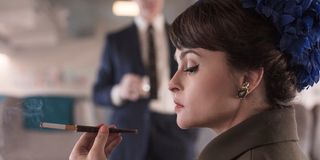 Season 3 of The Crown is coming soon to Netflix, with Helena Bonham Carter is set to play the older version of Princess Margaret, who was formerly portrayed by Vanessa Kirby. Usually, when actors are cast in a role where they're playing real-life people, research into their lifestyle and mannerisms are par for the course. However, Bonham Carter went one step further and reportedly consulted the deceased spirit of Princess Margaret. Yes, you read that correctly.
When fans discuss Netflix's The Crown, necromancy doesn't usually come to mind. In an appearance at the Cheltenham Literature Festival, Helena Bonham Carter admitted to wanting Princess Maragaret's blessing. The only thing getting in the way of that is the fact that she's been dead for 17 years. Enter the psychic, who helped Bonham Carter reach out to the monarch through spiritual means.
If that doesn't sound strange enough, Helena Bonham Carter (who will forever be known as Harry Potter's Bellatrix Lestrange) went on to reveal that Princess Margaret even offered her advice about smoking in character onscreen.
Probably not a lot of entertainers out there who went into new gigs after receiving smoking advice (and some light criticisms) from a royal otherworldly entity. It would certainly be amusing if it happened more often, though.
Per Hollywood standards, visiting a psychic prior to taking a role isn't necessarily unusual, but considering that Helena Bonham Carter is portraying a real-life person, it's more than a little creepy. But don't worry, the actress also did other kinds of research for the role, reading about her and reaching out to those who knew Princess Margaret. I guess we'll have to see if the psychic's visit helped when Bonham Carter makes her debut as Margaret in Season 3.
The Crown, which followed the life and reign of Claire Foy's Queen Elizabeth II in its first two seasons, is a staple on Netflix. With a new season, however, comes an entirely new cast, including Olivia Colman's take on Elizabeth II. It's bold for a show to jump so far ahead in any given character's life, but considering that The Crown's Elizabeth is based on an actual monarch, there's a lot of material to mine from this time jump.
The Crown Season 3 will be available to stream on Netflix on Friday, November 17. In the meantime, be sure to check out our complete guide to every new and returning show this fall.
Your Daily Blend of Entertainment News
Thank you for signing up to CinemaBlend. You will receive a verification email shortly.
There was a problem. Please refresh the page and try again.