Mindhunter Season 3 Just Got Some Bad News From Netflix And Fans Are Not Happy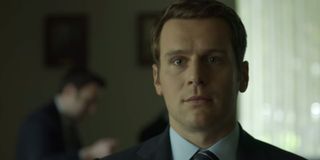 The last time I woke up and noticed Netflix's Mindhunter was trending on Twitter, it was a good day. The network had just dropped Season 2 with little fanfare, but people online were pumped and losing their minds over the show's return. Given the reception of the series, it seemed as if Mindhunter would be a shoe-in for a third season, that is, until Netflix made an unexpected move with the David Fincher series this week.
Unfortunately, Season 3 of Netflix's Mindhunter has been put on hold. It's worth noting the streaming series was already not expected to come out in a timely fashion. We've been mentioning for months that David Fincher has a movie coming up about Herman Mankiewicz, so a hiatus would not have been super alarming news.
However, what has people commenting is that Jonathan Groff, Holt McCallany and Anna Torv, who lead Mindhunter, have all been released from their contracts, per TV Line. Now, it's worth pointing out that unlike programming like The OA, Mindhunter has not been unexpectedly cancelled. Instead, it's just in limbo right now.
Netflix also released a statement basically pointing the finger at David Fincher and his busy schedule.
I don't know if that's meant to be reassuring but that "may" is a little worrisome. That's not a "we'll definitely pick their contracts up down the line." That's a, "Hey maybe this will happen at some point, but we're Netflix and we give creative freedom to our content producers." I'm not complaining that Netflix gives its creators free rein. It also would have been a jerk move to keep Jonathan Groff and co. on hold if the series was just gestating and not moving forward.
Still, unlike network TV which is fairly reliable with its release dates at least (cancellations are another story), streaming TV does not always give the fans what they want.
As it could be expected, many people are not pleased about this turn of events. However, some of them have been more reactionary about it than others.
A lot of people are taking the tact that Mindhunter is one of the few really sharp, incredibly acclaimed shows that Netflix currently has in its lineup.
And some people definitely took Netflix's statement to heart and have decided David Fincher is to blame for this Mindhunter Season 3 decision.
Enough people are upset that Twitter tells me there have recently been 5,341 Tweets on the topic at the time of this writing. I know Twitter is only a small subset of the population, but if this many people are upset about the news, you have to think Mindhunter is at least fairly popular on the streaming service, right? Which means Netflix would likely want more programming if it felt David Fincher was on board and ready to roll. All this would fit with the idea that maybe he's not, and square with Netflix's statement above.
The last time we checked in with Mindhunter Season 3 it was basically already on hold thanks to Mank, David Fincher's movie about famed Hollywood writer Herman Mankiewicz, who famously wrote Citizen Kane. At the time, it sounded like the situation was a "when" and not an "if," given allegedly David Fincher had planned the exact number of seasons for the series, which was five, not two.
Regardless, this latest statement from the subscription streaming service muddles that a bit. It also means that tease for a new serial killer in Season 2 may have been moot. Still, it's not over 'til it's over, and being put on indefinite hold isn't as much of a giant middle finger as it is a nail biter for fans. We'll just need to be patient and see what happens next.
Reality TV fan with a pinch of Disney fairy dust thrown in. Theme park junkie. If you've created a rom-com I've probably watched it.
Your Daily Blend of Entertainment News
Thank you for signing up to CinemaBlend. You will receive a verification email shortly.
There was a problem. Please refresh the page and try again.