Who Should Win Best Original Screenplay At The 2020 Oscars, According To CinemaBlend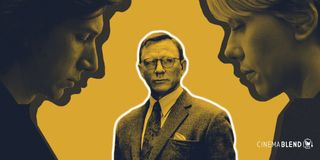 For one nominee in the category of Best Original Screenplay, Sunday's 2020 Oscars is going to be the evening of a lifetime. History, and notoriety rides on the moment – and the contest determining which writer or writers wove the best narrative of 2019 is a pretty tight one. But if we here at CinemaBlend were the voting body deciding who would be awarded Best Original Screenplay, what you're about to read would be the endgame of the 2020 Oscars. Thanks to our own in house election, we've come up with not only our winner for this prestigious honor, we also have a ranking of all the other candidates as well.
Before we start, a quick note on how we arrived at these standings. The CinemaBlend staff was polled in the major Oscar categories, and only allowed to vote if they had seen all five films in the specific category they were voting on. Each vote ranked the five nominees from most to least deserving (a "1" being the best, and a "5" being the lowest). Those scores have been averaged, and those averages have generated the order you see below.
#5. Sam Mendes & Krysty Wilson-Cairns, 1917
Average Rank: 4.2941176
Inspired by the stories director/co-writer Sam Mendes heard from his grandfather, World War I veteran Alfred Mendes, 1917 was written as a real time thriller that follows two messengers (Dean-Charles Chapman & George MacKay) as they try to deliver an important message to the front. With an intense focus on continuous action that stays with its protagonists every moment of its story, 1917 was not only meticulously written with that specific structure, it was tweaked every day on set to stay that way. This approach created a really difficult, but rewarding experience when it came to Mendes' collaboration with co-writer Krysty Wilson-Cairns.
An emotional experience about the rigors of war and the value of duty, 1917 makes you cry one moment and gasp the next. If there was any weak spot in this particular nominee, it'd have to be the fact that while the action and visuals are well coordinated by this story, they also do their part to overshadow the script, and the dialogue is standard grade in comparison. It's a worthy nominee, but not CinemaBlend's top choice to take home the Best Original Screenplay prize.
#4. Noah Baumbach, Marriage Story
Average Rank: 3.529411765
The subject of divorce isn't a simple or easy event when it's experienced in real life. There are some ways, however, that is even more difficult to capture in the world of the movies, where escapism typically comes into play, and emotions can derail even stories with the best intentions. It makes Noah Baumbach's Marriage Story quite an achievement.
The film manages to be somewhat lighthearted in its own take on the matter, and it helps even the tone of the entire film to a certain degree. But when the occasion calls for it, Baumbach's story, loosely based on his real life divorce from actor Jennifer Jason Leigh, can be a blisteringly emotional portrait of love gone wrong. It's a script so human that it made Laura Dern cry for a solid half hour after she read it, and had Adam Driver saying that "every day" was the hardest day on set. Marriage Story cuts real deep in some places, which helps offset the times when it doesn't cut deep enough. And while it may not be the staff's top pick for Best Original Screenplay, it's a well-appreciated piece of work.
#3. Quentin Tarantino, Once Upon A Time In Hollywood
Average Rank: 2.647058824
Atypical from the work we usually expect from auteur Quentin Tarantino, Once Upon A Time In Hollywood is the writer/directors' most personal work, and another 2020 Oscar hopeful in the category of Best Original Screenplay. While there are some uniquely Tarantino moments in this script, it's a new experience for die-hards who felt they knew everything that could come from the filmmaker. Showcasing Leonardo DiCaprio and Brad Pitt palling around 1969 Hollywood, the movie is a huge hangout between the two actors, with their stories branching out into interesting solo adventures that explore what life was like in the world in that era. It's as nostalgia soaked as it is a love letter from Tarantino to the Hollywood of yesteryear.
Once Upon A Time In Hollywood could make history at this year's Oscars if Quentin Tarantino wins, as it would be his third trophy for Best Original Screenplay, tying him with Woody Allen for the most ever. That being said, the CinemaBlend staff has two more films pegged as potential upsets in this category.
#2. Rian Johnson, Knives Out
Average Rank: 2.5625
Mixing witty wordplay and top notch twists, Knives Out feels like a modern version of the sort of classic murder mystery Agatha Christie wrote during her career. It's also a film that's script is so well constructed that writer/director Rian Johnson is pretty high up on our internal rankings of the Best Original Screenplay nominees.
It's not easy to both keep track of whether or not that handsome asshole in the sweater is a murderer or not, as well as whether that donut hole analogy that Daniel Craig's Benoit Blanc is too far or just far enough in terms of how ridiculous it sounds, but as much as the movie tries to pack in, the script gets the job done. For a film to beat Knives Out in the Best Original Screenplay category, it'd have to be even sharper than this dramedy on class disparity and The Haves versus The Have Nots, which is rather fitting in the CinemaBlend staff's view...
#1. Bong Joon-ho & Jin Won Han, Parasite
Average Rank: 1.823529412
Ask and ye shall receive. If you were to take the fun and games mixed with class warfare that Knives Out brings to the table, and pump up the tension and violence into the next rating bracket, you'd have the R-rated success that is director/co-writer Bong Joon-ho's Parasite – our staff's choice to take home the Best Original Screenplay Oscar at the 2020 Academy Awards.
Playing out its own twisty mystery that the audience is let into from square one, Parasite sees a lower class family infiltrate a perfect example of an upper crust clan. Posing as workers that help the wealthy Park family function as the best of the best, the Kim family eventually becomes friends with their employers, before stumbling into a mess that no one could have ever predicted. But that's only the set-up, as the second half of the movie takes a shocking left turn. Bong Joon-Ho's deadly black comedy, co-written with collaborator Jin Won Han, has become somewhat of a front runner for the Best Original Screenplay honors at the 2020 Oscars, and we can't help but agree. It's a film that's both playfully silly, and deadly serious, rolled into an expertly crafted cinematic experience that could just as easily be turned into a play.
And there you have it, the rankings of the Best Original Screenplay nominees, according to the CinemaBlend staff! We'd like to thank the Academy of Us for the results, and we wish the best of luck to all the competitors that are battling it out on Sunday for these, and all other, Oscar honors.Don't forget to tune into The Oscars, which air Sunday night at 8 PM ET on ABC, and stay tuned here on CinemaBlend in the coming days as we dive into more of the major categories!
This poll is no longer available.
Your Daily Blend of Entertainment News
Senior Movies Contributor
CinemaBlend's James Bond (expert). Also versed in Large Scale Aggressors, time travel, and Guillermo del Toro. He fights for The User.