One American Pie Scene That Definitely Wouldn't Fly Today, According To Jason Biggs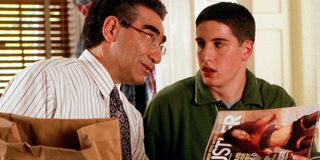 American Pie star Jason Biggs is out and about promoting his new series Outmatched on Fox, but while he's successfully made the transition to television in recent years, he's still known for his early roles in teen comedies like American Pie. Speaking on how the film "represented a generation," Jason Biggs had a lot of nice things to say about the franchise, although there's at least one scene that would never fly now.
And if you were thinking he'd be talking about the time he shoved his penis in a pie in the original American Pie movie, that scene still holds up. Instead, he's talking about the scene with the web cam and Biggs' Jim records exchange student Nadia (played by Shannon Elizabeth) without her knowing. He said:
We live in a time now where people have gotten into trouble for secretly recording people in spaces like gym changing rooms or tanning beds. This includes that infamous case with Playmate of the Year Dani Mathers recording an elderly woman in a gym and later getting sentenced to community service after she shared an image on social media.
But it just wasn't really even an idea in people's minds that this could be a wide-ranging and longterm problem in 1999 when American Pie was filming. In fact, Jason Biggs even recalled on AM to DM that his big takeaway at the time was finding out a computer could have a camera on it. The Internet and even computers and phones were not sophisticated at the time and this was pre-social media, as well. I mean look at that old school computer formatting at the start of the scene in question.
Nowadays, the hero of a given movie would be unlikely to spy on a naked young woman with a webcam and come out unscathed. But Jason Biggs still iterates he's "proud" of American Pie and the franchise as a whole and says that people still respond positively to the film, even if there are one or two scenes that haven't aged quite so well.
Jason Biggs also touched on the fact that American Pie fans are mostly similarly aged to him these days (he's 41 and a dad), so "it's wild to meet people that are 40+." But it's perhaps worse when teenaged kids walk up to him to declare their parents love his movies. Time passes and things change and nowhere is this more apparent than when watching movies years later.
Amazing Race & Top Chef superfan with a pinch of Disney fairy dust thrown in. If you've created a rom-com I've probably watched it.
Your Daily Blend of Entertainment News
Thank you for signing up to CinemaBlend. You will receive a verification email shortly.
There was a problem. Please refresh the page and try again.