How Much Black Widow Could Make Opening Weekend Compared To Past MCU Box Office Debuts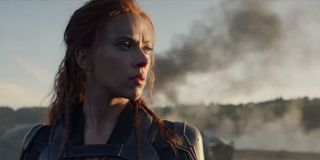 Black Widow is still a couple of months away from hitting theaters. But fans are already wondering how the long-awaited standalone film will fare at the box office, especially in comparison to its MCU counterparts. And in order to guess how much Black Widow could make in its opening weekend, our best bet is to look to past Marvel big screen debuts.
Opening weekends certainly aren't everything when it comes to a movie's success. But box office figures from those first few days definitely play a huge role in how much a movie will ultimately make. They also set the tone for how the movie's success will be perceived (just look at Birds of Prey). According to early estimates from Box Office Pro, Black Widow could make somewhere in the range of $90 to $130 million domestically in its opening weekend.
That puts it in the same range as the most recent MCU film, Spider-Man: Far From Home, which pulled in $95.5 million over the Fourth of July weekend in 2019, per The Numbers. It's notably below the last female-led Marvel film, Captain Marvel, which hit $153.4 million in its opening weekend. But it's also considerably above 2018's Ant-Man and the Wasp, which garnered $75.8 million.
These estimates feel pretty realistic given the unique situation that Black Widow will find itself in. On the one hand, it's a Marvel and Disney release, which should automatically drive interest in the average moviegoer. And though it bows a bit before the Memorial Day weekend, Black Widow will be the first big tentpole release following March's Mulan and the first Marvel film in nearly 10 months, so fans' enthusiasm and excitement should be pretty high.
Black Widow also brings with it its own unique momentum. Fans have been clamoring for a movie that centers on Natasha Romanova for years. And the general consensus surrounding the first teaser has been positive, so expectations will be high.
However, there are a few factors that could temper overall enthusiasm for Black Widow, too. There's a question as to whether fans will fully buy in to a presumed MCU prequel when we already know Black Widow's ultimate not-so-great fate. And growing anxieties about COVID-19 have caused some to wonder whether Disney will be the next studio to push back its big release dates in response to the virus' spread. Thus far, though, it seems like Disney has no plans to make any changes to Black Widow's release.
Beyond Black Widow's opening weekend, the true measure of its success is in its overall performance at the box office. In 2019, three Marvel films crossed the $1 billion worldwide box office threshold, including Captain Marvel. If all goes well for Black Widow, it could become the first MCU film to hit that milestone in the new decade. Black Widow is scheduled to hit theaters on May 1, 2020.
Your Daily Blend of Entertainment News
Thank you for signing up to CinemaBlend. You will receive a verification email shortly.
There was a problem. Please refresh the page and try again.