Tom Hanks, Rita Wilson Continue To Be Delightful While Under Quarantine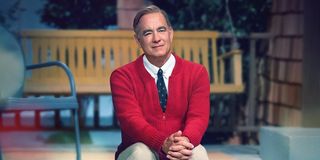 People are handling the coronavirus pandemic in a number of productive (and not-so-productive ways). Some are raiding the toilet paper aisles at their local big box store. Some are ignoring it all together. And some, like Tom Hanks and Rita Wilson, are making the best of a horrible situation by spending their time on social media, religiously documenting their self quarantining strategies and encouraging others to follow their lead.
On March 11, news broke that Tom Hanks and Rita Wilson had tested positive for coronavirus. The actors, who have been married for over 30 years, apparently contracted the pandemic-inducing virus in Australia during pre-production for Baz Luhrmann's upcoming Elvis Presley biopic. Because Tom Hanks seems to know how to read a room perhaps better than any other person on earth, he quickly shared a personal update from both himself and Rita Wilson on social media. He offered up a straightforward explanation of what happened, confirmed that they would be quarantined until they were given the all clear, and offered some calming words and encouragement to fans.
In the days since, both he and Rita Wilson have used their Twitter and Instagram accounts to offer up some levity, even as growing anxiety and tension about the pandemic has spread across the globe. Rita Wilson has set an example for how to take the coronavirus in stride. First, she retweeted The Daily Show's "this is not a drill" report on their diagnosis, thanking Trevor Noah for giving her a laugh. Then on March 13, she sent out a lighthearted tweet about her current predicament:
Rita Wilson also showed she's trying to make the best of being cooped up by soliciting recommendations for a self quarantining-themed Spotify playlist. Nearly 2,000 fans responded, offering up song suggestions. She then shared the crowdsourced playlist -- dubbed Quarantunes by a clever fan -- with her followers.
Tom Hanks has taken a slightly more reflective but no less friendly approach to self-quarantining. On March 12, he shared a sweet selfie of himself and Rita Wilson to assure fans they were okay. In the accompanying message, he stressed the importance of following the guidance of health experts (and reminded us there's no crying in baseball).
On March 15, he offered another photo featuring a stuffed animal kangaroo holding an Australian flag, a koala stuffed animal clinging to a tube of Vegemite, and two (apparently very controversial) pieces of Vegemite-ified toast. Along with the photo, he sent another warm message to fans all over the world:
While the sentiments are lovely all on their own, they also were likely inspired by a famous quote from Fred Rogers, whom Tom Hanks recently portrayed in the Oscar-nominated A Beautiful Day in the Neighborhood. It's exactly the kind of gentle reminder we can all use right now. Both Tom Hanks' and Rita Wilson's willingness to turn a scary situation for themselves into something that can help other people is incredibly commendable. Here's hoping they get well soon.
Your Daily Blend of Entertainment News
Thank you for signing up to CinemaBlend. You will receive a verification email shortly.
There was a problem. Please refresh the page and try again.