'Quarantine And Chill': James Gunn Suggests 10 Great Movies To Watch Amid Coronavirus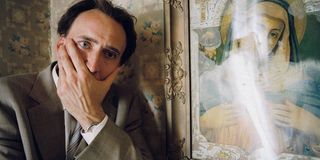 Let's be honest: Coronavirus has made things feel pretty chaotic right now. With the growing threat of a global pandemic, the way the whole world works seems to be shifting for the moment. As films halt production, studios push back big movie releases, and theaters around the world shift their policies to aid in a push for social isolation, the film industry is definitely feeling the effect. But James Gunn has offered up a solution for cinephiles -- his own personally curated list of 10 movies to watch while we all "Quarantine and chill."
Like many other celebrities and public figures, James Gunn used his Twitter account to encourage fans to stay calm and lay low in an attempt to minimize the impact of the coronavirus:
But the Guardians of the Galaxy and The Suicide Squad directed didn't stop there. He shared his list of 10 movies that can help fans wile away the hours while they're busy self-quarantining:
Bob & Carol & Ted & Alice (1969) – directed by Paul Mazursky
Uber-'70's dramedy with some of the greatest dialogue of all time. The naturalistic acting was a huge influence on me, and the Elliot Gould/Dyan Cannon bedroom scene is one of my all-time favorites.
Villainess (2017) – directed by Jung Byung-gil
As revolutionary to actions films as was The Matrix, Fury Road, and The Raid, and yet this South Korean film was seen by so many fewer people in the States.
Pretty Poison (1968) – directed by Noel Black
Dark comedy starring Tuesday Weld as a coquettish sociopath and Anthony Perkins as a lonely dude caught in her web. Shockingly funny and not dated.
The Wanderers (1979) – directed by Philip Kaufman
The strangest and most beautiful street gang film ever (yes, EVER) – in turns exciting, touching, and surrealistic - a populist art film.
Mother (2009) – directed by Bong Joon-ho
Long before Parastite, and after the Host, Bong Joon-ho made this film about a mother's undying – some would say almost psychotic – love for her son. My favorite of his films.
One Cut of the Dead (2017) – directed by Shinichirou Ueda
To tell you anything about this movie could hurt it – but if you love zombies and filmmaking and joy, this is the movie for you while you #Quarantineandchill.
The Bad Lieutenant: Port of Call – New Orleans (2009) – directed by Werner Herzog
I've recommended this to some friends who thought I was nuts. But to my mind it's one of the greatest films of the 2000's. Leave it up to Herzog to use off-the-rails Nic Cage to full effect.
The Yellow Sea (2010) – directed by Na Hong-jin
Another great South Korean action film, gritty and over-the-top and practical where Villainess is stylized. Perhaps the greatest non-car chase scene ever.
Hail the Conquering Hero (1944) - directed by Preston Sturges
I could probably just recommend every Preston Sturges movie ever – but this little gem is one of the least-seen and probably my favorite. He is the true pioneer of what writer-directors like me do today.
Duck You Sucker (A Fistful of Dynamite) (1971) – directed by Sergio Leone.
Leone is one of my favorite directors. This is probably my second favorite film of his after Once Upon a Time in the West, and is the one that's been the most forgotten.
James Gunn's film recommendations are varied enough that there's pretty much something for everyone. And he's chosen films that tend to fly under the radar, which ups the chance of there being at least a couple you've never seen. He ended the thread asking fans to share their own recommendations, and even weighed in to endorse a few.
What movies are on your Quarantine and Chill list? Let us know in the comments below -- and keep an eye on our 2020 Guide for updates on movie releases impacted by coronavirus.
Your Daily Blend of Entertainment News