The Real Stories Behind That Alleged Harry Potter Book And Other J.K. Rowling Rumors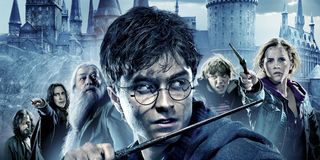 The last book in the Harry Potter series, Harry Potter and the Deathly Hallows was published all the way back in 2007. Since then, J.K. Rowling has kept up a prolific pace with her writing. However, one thing we haven't gotten in the time since is another novel set in the world of Harry Potter. Yet, that doesn't seem to have stopped the rumor mill very much.
In fact, over the past year, fans have speculated and rumors have swirled that a new book in the universe could be coming. Obviously, there are people who have been excited about the prospect; however, unfortunately, it doesn't seem to be accurate. The good news is that even when a rumor gets started about a potential Harry Potter-based novel, the author is on it and seems ready and willing to answer any questions. In fact, it's only one of several rumors J.K. Rowling and her publicity team have sat down to address.
But how did the Harry Potter book rumor get started in the first place?
The News That Made Some Believe More Books Were Coming
Back in 2019, there was an announcement that four more e-books would be produced based on the Magical World of Harry Potter. At first glance –and via certain headlines -- this sounds awesome and as if brand new Harry Potter content is incoming, but that's not exactly what happened.
First and foremost, four new e-books are being published set in the Harry Potter world, but as J.K. Rowling even said on her own website the rumors that ran around were misleading for two reasons.
Instead, the books will be called A Journey Through and will be non-fiction e-reads "each themed by Hogwarts lessons." Nothing really to do with Harry or J.K. Rowling at all, but the rumors pervaded so much the prominent author had to dedicate a page on her website about them.
J.K. Rowling has previously been open about not wanting to write more about Harry Potter. She's basically said her main hero's story was closed after the events in the Harry Potter and the Cursed Child play, noting to Variety previously:
So, obviously other characters from her original series of books have popped up in movies like Fantastic Beasts: The Crimes of Grindelwald and could potentially pop up in a book or book series down the line, but now's not the time to expect more works of fiction from the author, at least where Harry Potter is concerned. She has movie scripts to work on after all!
Why The Rumors Almost Seemed Plausible
Look, Harry Potter fans are still avid, eager and everywhere. I personally really wish that J.K. Rowling would commit pen to paper in regards to more stories set in her magical wizarding world. In particular, it would be cool if the stories that were being told in Fantastic Beasts and Where to Find Them and its subsequent sequels (that have been penned by J.K. Rowling) were told in a fictional book format. Right now, they're just being seen via screenplay/ movie, and the actual Fantastic Beasts and Where to Find Them book penned by J.K. Rowling is not the same.
People want to see more of this content and if there's a chance, it's easy to see how misinformation gets bandied about a bit. It's gotten to the point where J.K. Rowling actually has a penned tweet meant to help with information, though, so if you are ever curious and hear rumors that you need answers to, they are often easy to trace:
Other Popular J.K. Rowling Rumors
Look this wasn't the first or the last time that a rumor will likely be bandied about regarding a J.K. Rowling popular title or property. There's a question that crops up every few months about whether or not we will ever get a Harry Potter and the Cursed Child movie, for example.
Back in September of 2019, J.K. Rowling posted a somewhat innocuous tweet about "darkness coming from unexpected places.'
Fans latched onto the tweet, thinking it could be indicating a movie series (not even the first time that's happened) specifically given Harry Potter and the Cursed Child is popular and features a timeline in which Harry Potter, Hermione Granger and Ron Weasley are all grown-ups with children at Hogwarts.
Then some outlets picked up the vague rumor. Ultimately, J.K. Rowling had to again go to social media to explain we won't be getting a movie based on her popular stage play, which has been running since 2016.
Right now, the Fantastic Beasts franchise is in full swing and there is just as much interest in the character J.K. Rowling started penning decades ago as ever. Many people in the fanbase would like to see more of the authors work both in book and movie form – although the desire for more books may even supersede that of the desire for more movies, as The Crimes of Grindelwald did have a somewhat middling response. We'll have to wait and see exactly what the future holds, but in the meantime, at least these particular rumors have been debunked.
Still, we should be happy that Fantastic Beasts 3 is on the way and that J.K. Rowling is still engaging with the fanbase as often as ever. There's a lot to look forward to, even if it's not about the Boy Who Lived.
Amazing Race & Top Chef superfan with a pinch of Disney fairy dust thrown in. Theme park junkie. If you've created a rom-com I've probably watched it.
Your Daily Blend of Entertainment News
Thank you for signing up to CinemaBlend. You will receive a verification email shortly.
There was a problem. Please refresh the page and try again.