Tom Cruise Wanted Mission: Impossible Sequels, Director Thought It Was Hollywood 'Corruption'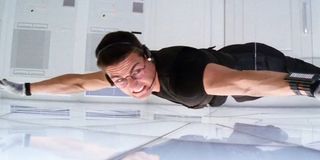 It's hard to believe it's been nearly 25 years since the first Mission: Impossible movie hit theaters. In that time, the franchise has taken its time with new installments and the upcoming 2021 movie will only be the 7th Tom Cruise starrer to come out. But if you ask the original Mission: Impossible director, the sequels are mere Hollywood corruption.
In a wide-ranging interview, Mission: Impossible and Scarface director Brian De Palma talked about his time on the 1996 Tom Cruise starrer. After filming the first movie, apparently Tom Cruise really wanted to make sequels, but De Palma was not interested in the list. He recently said:
For Brian De Palma, working on new and interesting projects was always more important to him than sticking with characters and properties that are better monetary guarantees. As part of the interview with the AP, he also talked about the Hollywood pushback against directors and how everything seems to be "endless streaming" these days, noting, 'The directors, who knows who directs one of these things from another?'
While Brian De Palma has had more trouble getting financing for movies these days, at the time he filmed Mission: Impossible he was still a pretty hot commodity as a director. After the 1996 film he went on to direct Mission To Mars and The Black Dahlia, but Mission: Impossible was a standout, big budget movie and among the last of those the director made.
Tom Cruise, of course, really loved playing Ethan Hunt. Whether or not Brian De Palma was on board or not he wanted to make more Mission: Impossible movies. Make more he did, starting with Mission: Impossible II in 2000. Cruise has also been open about how the Mission: Impossible franchise is the only one he's been super excited about revisiting with sequels, although a sequel to Top Gun will come out later this year.
In more recent years, names like J.J. Abrams, Brad Bird and Christopher McQuarrie have all helmed various movies in the franchise, and a slew of big names have appeared in the franchise, as well, from staples like Simon Pegg, Ving Rhames, Michelle Monaghan and Rebecca Ferguson, to one-offs like Henry Cavill.
Meanwhile, Brian De Palma did say he feels he has no regrets over his long career and he looks back fondly over the decades when he was given big budget projects, also noting,
It's difficult to imagine the Mission: Impossible movies without Tom Cruise and Christopher McQuarrie leading the charge these days, so perhaps everything worked out as it was meant to. Brian De Palma never had to work on no stinkin' sequels, while Cruise and McQuarrie have expanded the franchise in previously unimaginable ways.
I mean remember when people hiked up a cliff for four hours to watch Mission: Impossible-Fallout from great heights? Inconceivable, but it happened. And that's not even getting into the stunt work in the actual movies. I suppose this is a very good example of the old saying, "Alls well that ends well."
Amazing Race & Top Chef superfan with a pinch of Disney fairy dust thrown in. Theme park junkie. If you've created a rom-com I've probably watched it.
Your Daily Blend of Entertainment News
Thank you for signing up to CinemaBlend. You will receive a verification email shortly.
There was a problem. Please refresh the page and try again.