Star Wars: The Rise of Skywalker Concept Art Gives Kylo Ren A Darth Vader-Inspired Helmet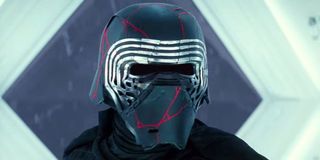 For most of Star Wars' Sequel Trilogy, Kylo Ren attempted to emulate and honor the legacy of his grandfather, Darth Vader. He even went as far as to create his own signature helmet, which he would destroy in Star Wars: The Last Jedi. However, the young Sith Lord eventually had it repaired in The Rise of Skywalker. This may have always been the plan for the film but, based on some early concept art, Ren could have received some brand-new headgear.
Luke D. Fisher, a concept artist and sculptor who's worked on the Star Wars films, recently revealed concept art on Instagram of a helmet he drew for Kylo Ren's look in The Rise of Skywalker. While not a far cry from the original, it has a number of key similarities to Darth Vader's iconic helmet. You can check out Fisher's work down below:
Luke Fisher's design serves as a natural evolution of Kylo Ren's helmet and would have been interesting to see on the big screen. Still, the rebuilt helmet audiences did see in the finished film wasn't essential to the plot. There was also never a clear reason provided as to why Ren decided to repair it in the first place.
Though one could argue that he was attempting to regain the identity he had established by the time audiences first saw him in Star Wars: The Force Awakens.
When it comes to Star Wars, concept art has really helped to illuminate a number of development aspects in each of the franchise's installments. Early art from The Force Awakens revealed that Luke Skywalker was to come face to face with his father's helmet. In other cases, the choices made by concept artists can have lasting effects on a project, as was the case with Rogue One: A Story Wars Story.
The recent release of The Art of Star Wars: The Rise of Skywalker has also helped shed light on some of the elements that were planned for the final installment of the Skywalker Saga. This included an omitted character, a BB-8-like tank and a plot point that would have created an internal struggle for General Leia Organa.
These details, along with Luke Fisher's helmet, are only a few of the things that were planned for The Rise of Skywalker. In The Art of Star Wars: The Rise of Skywalker, co-writer Chris Terrio is quoted, saying he'd never had to rewrite a film more than Rise of Skywalker.
Tidbits like unused concept art and omitted are sure to keep fans guessing about what was initially planned for Star Wars: The Rise of Skywalker. Nevertheless, they also give us a clearer look at the development process – and can just be plain cool to learn about. Star Wars: The Rise of Skywalker is now available on Digital HD, DVD, Blu-ray and 4K Ultra HD.
Your Daily Blend of Entertainment News
Covering superheroes, sci-fi, comedy, and almost anything else in film and TV. I eat more pizza than the Teenage Mutant Ninja Turtles.
Your Daily Blend of Entertainment News
Thank you for signing up to CinemaBlend. You will receive a verification email shortly.
There was a problem. Please refresh the page and try again.