The Best Movies Streaming On HBO Right Now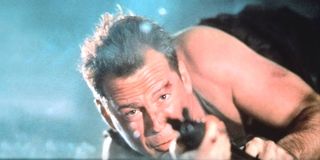 Have you been sitting on your HBO Now or HBO Go account for what seems like forever, looking for something new before you end up starting The Wire for the fourth time? Don't worry, we've all been there before, but fear not because I've put together a list of the best movies that are streaming on HBO and the premium channels multiple platforms.
This list of awesome action movies, comedies, tales of romance, horror classic, and some big budget science fiction flicks will surely give you at least one option to prevent you from digging deeper and deeper into the endless abyss that is HBO's movie library. Pop some popcorn, turn down the lights, and sit back and relax because we're going to the movies…
Us (2019)
Jordan Peele's 2019 followup to Get Out, Us follows Adelaide Wilson (Lupita Nyong'o) and her family as they visit the beach town where she grew up, only to come face to face with a group of masked strangers who look oddly familiar.
Stream it on HBO here.
Die Hard (1988)
You could argue whether Die Hard is a Christmas movie until we're all blue in the face, but one thing that's for sure is that this 1988 explosive and iconic action movie featuring Bruce Willis as New York cop John McClane whose attempt to pick up his wife from work ends with a lot of shooting, some bonds, and a towering inferno.
Also Try: Die Hard 2, Die Hard With A Vengeance
Stream it on HBO here.
The Mighty Ducks (1992)
Powerful attorney (and former youth hockey star) Gordon Bombay (Emilio Estevez) is knocked down a few pegs after he is pulled over for driving under the influence and forced to coach an inner-city youth hockey team in the family sports classic The Mighty Ducks.
Also Try: Home Alone 2: Lost In New York
Stream it on HBO here.
Alien (1979)
Ridley Scott's classic horror film set in space follows the crew of the spaceship Nostromo after it receives a distress call from a distant planet. Watch out because this chiller is terrifying, especially when you remember that no one can hear you scream in space.
Also Try: Aliens, Alien 3, Alien Resurrection
Stream it on HBO here.
Love Actually (2004)
With an ensemble cast too long to type out, the 2004 British holiday classic Love Actually follows nearly a dozen different characters as they all seek love and companionship around Christmas. And with such grand love stories, you don't have to wait for Christmas to watch this one again.
Also Try: How To Lose A Guy In 10 Days, Notting Hill, Reality Bites
Stream it on HBO here.
John Wick: Chapter 3 - Parabellum (2019)
John Wick: Chapter 3 - Parabellum picks up right where the second movie in Keanu Reeves' most recent blockbuster franchise left off with the most sought after hitman in the world on the run from his old friends and allies.
Stream it on HBO here.
Fight Club (1999)
After two new friends start an oddly therapeutic underground fighting group, things start to get out of hand rather quickly in David Fincher's 1999 cult classic Fight Club. Just make sure to not break the first rule of fight club...
Stream it on HBO here.
The Others (2001)
Starring Nicole Kidman in one of the most chilling performances of her career, The Others follows a mother during World War II after her family moves into an old English house that has its share of secrets and unwelcome inhabitants.
Stream it on HBO here.
Apocalypse Now (1979)
Francis Ford Coppola's Vietnam War epic Apocalypse Now tells the story of an army captain sent into the heart of the jungle to locate and neutralize an unhinged and dangerous superior officer.
Stream it on HBO here.
Armageddon (1998)
Michael Bay's 1998 disaster blockbuster Armageddon offers a look at a scenario in which offshore oilmen are better equipped to the destroy an asteroid before it hits the planet than say a group of NASA astronauts.
Also Try: War Of The Worlds, Rise Of The Planet Of The Apes, The Day After Tomorrow
Stream it on HBO here.
Boys Don't Cry (1999)
Boys Don't Cry tells the heartbreaking true story of a young transgender man searching for love, and himself, in rural Nebraska. Based on the real-life story of Brandon Teena as portrayed by Hilary Swank, who took home Academy Award for Best Actress in 1999.
Stream it on HBO here.
For Love Of The Game (1999)
Kevin Costner plays an aging pitcher who thinks back on the "one who got away" while he's in pursuit of the perfect game in the 1999 romantic baseball hybrid For Love Of The Game.
Also Try: 61*
Stream it on HBO here.
Requiem For A Dream (2000)
Darren Aronofsky's Requiem For A Dream probably isn't the happiest movie to watch, but this brutal and pessimistic look at addiction is definitely one you'll never forget.
Also Try: The Diving Bell And The Butterfly
Stream it on HBO here.
Slumdog Millionaire (2008)
As a poor young man in Mumbai answers question after question on a television quiz show, he looks back on this life and and his long-lost love that he has to find in Danny Boyle's Slumdog Millionaire.
Stream it on HBO here.
A Star Is Born (2018)
Bradley Cooper and Lady Gaga appear as star-crossed lovers in the 2018 remake of the classic Cinderella story A Star Is Born. Bring the tissues because this one is an emotional gut-punch.
Also Try: Moulin Rouge, Chocolat
Stream it on HBO here.
The Town (2010)
Ben Affleck, Rebecca Hall, and Jeremy Renner star in Affleck's love letter to the city of Boston and the notorious bank robbers who call New England home in The Town.
Also Try: Prisoners, Gangs Of New York
Stream it on HBO here.
Big (1988)
After a young teenager wishes to be big, his wish is granted. But when he is transformed into a fully grown man (Tom Hanks), he soon realizes that being an adult isn't everything it's cracked up to be.
Also Try: All Of Me, Arthur, Defending Your Life
Stream it on HBO here.
Bridesmaids (2011)
Kristen Wiig and Maya Rudolph prove that you don't have to be a man to lead a rude and crude comedy in the 2011 hit Bridesmaids.
Also Try: Good Boys, Grandma's Boy
Stream it on HBO here.
Crazy, Stupid, Love. (2011)
Ryan Gosling, Steve Carell, and Emma Stone star in the surprisingly funny and heartfelt 2001 romance Crazy, Stupid, Love. about a middle-aged man trying to get his groove back with the help of a ladies man who ends up being closer to home than he thought.
Also Try: Bye Bye Love, The Family Stone
Stream it on HBO here.
The Nice Guys (2016)
Russell Crowe and Ryan Gosling star as two down on their luck private detectives on the trail of a missing girl in the Shane Black-directed dark comedy The Nice Guys.
Stream it on HBO here.
Punch-Drunk Love (2002)
Before he was earning Oscar buzz for his turn as a obsessive gambler in Uncut Gems, Adam Sandler was first viewed as a serious actor following his performance in Paul Thomas Anderson's Punch-Drunk Love about a lonely man who falls in love with a mysterious woman.
Also Try: Muriel's Wedding
Stream it on HBO here.
Raising Arizona (1987)
Nicolas Cage and Holly Hunter star as a couple on the rocks who snatch a baby from a local celebrity in the Coen brothers' 1987 offbeat comedy Raising Arizona.
Also Try: A Fish Called Wanda
Stream it on HBO here.
Casino Royale (2006)
The James Bond franchise was in need of a serious facelift and that's exactly what it got with Daniel Craig's debut as 007 in the 2006 spy thriller Casino Royale. See where it all started for Craig's Bond before he calls it quits following the release of No Time To Die.
Also Try: Fast Five
Stream it on HBO here.
Bohemian Rhapsody (2018)
Fans of the iconic rock band Queen, or at least their flamboyant and troubled lead singer Freddie Mercury will enjoy the 2018 biopic Bohemian Rhapsody, which takes audiences on the hard to believe journey from the formation of the band all the way to their legendary Live Aid performance in 1985.
Also Try: Blinded By The Light**,Yesterday
**Stream it on HBO here.
Shazam! (2018)
If you like comic book movies and Big, then Shazam! is the movie for you. When BIlly Baston has a chance encounter with a sorcerer, he is given the ability to turn into an all-powerful, and fully grown, superhero by saying one word: Shazam!
Also Try: Bruce Almighty
Stream it on HBO here.
The Land Before Time (1988)
The Land Before Time (and its countless sequels) is a cherished animated classic about a young brontosaurus who sets out on one of the most epic prehistoric adventures alongside his growing cast of friends and the terrifying T-Rex who wants nothing more than to stop the young dino in his tracks.
Also Try: Homeward Bound: The Incredible Journey, The Wizard, Babe
Stream it on HBO here.
Your Daily Blend of Entertainment News
Philip grew up in Louisiana (not New Orleans) before moving to St. Louis after graduating from Louisiana State University-Shreveport. When he's not writing about movies or television, Philip can be found being chased by his three kids, telling his dogs to stop barking at the mailman, or yelling about professional wrestling to his wife. If the stars properly align, he will talk about For Love Of The Game being the best baseball movie of all time.