The Best Non-Horror Movies To Stream On Shudder - April 2021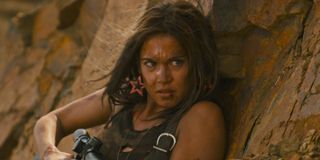 When it comes to horror, fans know exactly where to stream some of the best in the genre: Shudder. However, the self-described "world's best horror and thriller steaming service (opens in new tab)" added that extra category to its slogan for a reason. In addition to its countless terrifying titles, Shudder has a plentiful collection of non-horror movies available to stream.
Discounting the majority of Shudder's feature-length non-fiction pieces and docuseries (since those usually comes with close ties to the genre in question), the service's library includes a relatively strong selection of films that may not have the same tone and traditional inner workings of horror classics like the slasher masterpiece 1978's Halloween or Hell House LLC, one of the best found footage thrillers ever, if you ask me. However, in the eyes of its curators, they are just as essential.
Ranging from grounded crime dramas to intense mysteries and even laugh-out-loud satire, these are the best movies available on Shudder that more easily scared subscribers might be able to handle. By some miracle, I was actually able to find more than 10 of them.
Coherence (2013)
A group of adult friends (including the Buffy the Vampire Slayer cast's Nicholas Brendan) reunite for a dinner party as a comet passes overhead, causing a strange predicament that puts the guests at odds with each other and, in a particularly startling way, with themselves. I will not reveal anything else about Coherence, and not just to prevent spoilers, but to put you at the same speed as the cast, who actually went into the production almost completely blind to how the events would unfold. Writer and director James Ward Byrkit had them improvise almost everything they said and did, making this thoroughly engrossing sci-fi brain teaser an especially astonishing achievement.
Stream Coherence on Shudder (opens in new tab).
Turbo Kid (2015)
Rarely has such a recent film received admiration from '80s cult classic obsessives as passionately as this story of an orphaned teen (Munro Chambers) emulating his favorite comic book hero to defeat a sadistic tyrant (Top Gun star Michael Ironside) in a dystopia devoid of motor vehicles, but overrun with standard bicycles. In fact, it earns comparisons to '80s B-movies by setting itself in the post-apocalyptic year of 1997. As a surprisingly perfect balance of child-like fantasy with relentless gore, Mad Max fans will love Turbo Kid, which apparently has a sequel in the works.
Stream Turbo Kid on Shudder (opens in new tab).
Empathy Inc. (2018)
Some would call the experience of walking in another person's shoes to be the ultimate fantasy. However, after getting involved with a new tech start-up that claims to offer that service in a more realistic manner than ever, disgraced investor Joel (Zack Robidas) learns what a nightmare it can be. For anyone fearing when and how virtual reality could cross the line separating virtual from reality (and can withstand grayscale cinematography), Empathy Inc. is the sharp, Black Mirror adjacent thriller for them.
Stream Empathy Inc. on Shudder (opens in new tab).
Lizzie (2018)
While she was acquitted for the murder of her father and stepmother in 1892, many believe that Lizzie Borden is the one who took that axe after all. This Shudder exclusive from Channel Zero: No End House director Craig William Macneill attempts to imagine what could have driven the Massachusetts socialite to commit the act and how. As the infamous suspect and the family maid she allegedly shared an affair with, respectively, Chloe Sevigny and Kristen Stewart make Lizzie a fascinating tale of forbidden romance as well as a brutal "true crime" drama.
Stream Lizzie on Shudder (opens in new tab).
Revenge (2018)
The action thriller genre has thankfully evolved into a more prominent vessel for female empowerment in cinema, and one of the most definitive, yet underrated, examples of that is this aptly-titled Shudder original. When her married boyfriend's hunting buddies interrupt a romantic getaway in the Moroccan desert, things take a traumatic turn for Jen (Matilda Anne Ingrid Lutz). She then decides to give the men a taste of their own medicine in Revenge - a bold, bloody, and beautiful cat and mouse game from French writer and director Coralie Fargeat.
Stream Revenge on Shudder (opens in new tab).
Tigers Are Not Afraid (2017)
Imagine if The Goonies was a depressingly grim Spanish-language crime thriller with a unique fairy tale twist. This Shudder original about a group of children forced to fend for themselves in Mexico City while caught up in an ongoing drug war would most likely be the result. We may be focusing specifically on films outside of the horror genre here, yet Tigers Are Not Afraid teeters that line - not just by its frightening fantasy elements, but its upsettingly grounded depiction of urban horrors that often go unseen.
Stream Tigers Are Not Afraid on Shudder (opens in new tab).
WNUF Halloween Special (2013)
When in the mood to celebrate Halloween with a movie that is not that scary, WNUF Halloween Special may be just what you are looking for. Framed as a live broadcast from inside a supposedly haunted house (a la infamous found footage thriller Ghostwatch) recorded to VHS in 1987, it seamlessly maintains that illusion with grainy video quality and hilariously convincing faux commercial breaks. It serves as a fun, meta satire of spooky holiday traditions and local news media before curdling into an expose of the dark side of both that you will not see coming.
Stream WNUF Halloween Special on Shudder (opens in new tab).
Tammy And The T-Rex (1994)
While it technically qualifies as a horror-comedy movie, I could never, in good conscience, associate this cult favorite with the root genre because the concept alone is just too hilarious. It stars a young Paul Walker as a high school football player who tries to reach out to his cheerleader girlfriend (Denise Richards) after his brain is placed into a mechanical dinosaur by a mad scientist. Of all the trashy guilty pleasures available on Shudder, Tammy and the T-Rex may be the most shamelessly cheesy of them all, and it only came on in the '90s.
Stream Tammy and the T-Rex on Shudder (opens in new tab).
A Bluebird In My Heart (2018)
French filmmaker Jérémie Guez is known for penning many films of an eclectic variety, but almost equal intensity - perhaps, most notably the acclaimed Paris-set zombie flick The Night Eats the World. His feature-length directorial debut, however, is a Shudder exclusive of an unusually more earnest and realistic nature, yet still appropriately bleak. Based on the novel by Dannie M. Martin, A Bluebird in my Heart stars Roland Møller (whom you might recognize from Skyscraper) as Danny, an ex-con seeking redemption while on parole in Belgium, until the teenage girl he recently befriends is assaulted, reawakening his violent tendencies.
Stream A Bluebird in my Heart on Shudder (opens in new tab).
Dogtooth (2009)
If you have ever seen a movie by The Favourite director Yorgos Lanthimos, you know his work can be shockingly or laughably bizarre (or even a mix of both), but still thought-provoking, nonetheless. In that regard, the Oscar-nominated filmmaker's most defining effort must be this Greek-language family drama following three siblings nearing adulthood who have been kept in lifelong isolation from the outside world (and the mere basis of reality in general) by their parents, who give the phrase "overly protective" a new, infuriatingly devout meaning. Having seen Lanthimos' twisted 2016 rom-com The Lobster, I still cannot claim to have to have witnessed a more brutally honest, suffocatingly grim, and yet, oddly funny social satire in my life than the brilliany, otherworldly absurdity that is Dogtooth.
Stream Dogtooth on Shudder (opens in new tab).
Heathers (1989)
Veronica (Stranger Things' Winona Ryder) is a typical good girl simply trying to navigate the Darwinian social jungle that is high school, if not for her "friends" (a clique of snobbish, upper class, high-profile prisses who all happen to be named "Heather") exacerbating her attempt. She finds a potential solution to her struggle when she crosses paths with a rebellious sociopath named JD (Christian Slater), who convinces her that things might be easier if she just killed them. If 2004's Mean Girls was just not mean enough for you, director Michael Lehmann's razor-sharp lampooning of high school culture is profoundly wicked.
Stream Heathers on Shudder (opens in new tab).
Flowers In The Attic (1987)
Before there was the over-protective isolation of the unnamed family from Yorgos Lanthimos' aforementioned Dogtooth, there was the Dollanganger children, four siblings who spent a good portion of their youth holed up in a bedroom and attic of their crazy grandmother's mansion. In the first adaptation of V.C. Andrews' shocking bestseller, Jeb Stuart Adams and Scream Queen Kristy Swanson play Chris and Cathy, the elder brother and sister whose captivity in Grandmother's (Louise Fletcher) attic gives them a case of cabin fever bad enough to unlock some forbidden desires within, which is as far as I will go in detailing that. Some may call Lifetime's 2014 remake a better adaptation of Flowers in the Attic, but the 1987 version has its fans for a reason, that being its scandalous, memorably disturbing subject matter.
Stream Flowers in the Attic on Shudder (opens in new tab).
Stuck (2007)
Stuart Gordon, the late, legendary cult filmmaking icon behind such classics as the Shudder available Re-Animator and Castle Freak, turned away from his Lovecraftian obsessions for an equally macabre and mischievous take on of this hard-to-believe true story. Mena Suvari plays Brandi Boski, a young nurse who accidentally hits recently homeless deadbeat Thomas Bardo (Stephen Rea) with her car, but instead of killing him, his still-breathing body becomes lodged in Brandi's car windshield, putting her on a desperate quest to maintain her moral code and her freedom. As his last feature-length film before his death in March 2020, Stuck sees Gordon go out with one more darkly humorous, devilish grim bang.
Stream Stuck on Shudder (opens in new tab).
Chopping Mall (1986)
This cult favorite produced by B-movie monarch Roger Korman may commonly be associated with the slasher genre and "uniquely" crossed with science fiction. However, I have a hard time calling this piece of ludicrous, '80s-tastic trash anything more than a comedy because there is not a damn thing in this movie that will scare you, but more than enough to make you laugh. Chopping Mall, about a group of clueless teens trapped in a shopping center and stalked by its army of killer security robots (yep, that's the plot), is a definitive staple of "so bad it's good" cinema... I mean, I'd say it's certainly more "bad" than "good" but still…
Stream Chopping Mall on Shudder (opens in new tab).
Sometimes a movie that does not necessarily qualify as horror can be just as good as the scariest offerings on Shudder. However, would you agree that is it called Shudder for a reason and should stay that way? If not, is there a non-horror movie on the platform that you prefer?
This poll is no longer available.