Dwanye Johnson Has Some Blunt Thoughts About Being Passed Over For Jack Reacher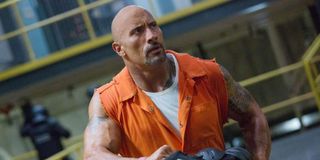 Every actor has at least one role that they desperately wanted and didn't get. Some may never reveal theirs, because the wound is still too deep. Others, like Dwayne Johnson, have no problem sharing their career disappointments -- in fact, he recently got real about what it felt like to lose out on Jack Reacher.
In between his daily home workouts, Dwayne Johnson has been spending his time online, much like the rest of us. In the proces, he's been opening up to fans in a series of live chats on his social media. During a Q&A session on his Facebook page, a fan asked him if there was a role he ever wanted but didn't get, and he didn't hesitate to answer: yes, with the role being the titular hero in Jack Reacher. He told fans he really thought he might have a shot, given the character description, but that he was left disappointed. He was also pretty blunt in his assessment of how casting works:
Dwayne Johnson didn't get where he is based on luck. He's worked hard,and has proven himself to be incredibly savvy and knowledgeable about how Hollywood operates. So, it's not a surprise that he can look back on this career low and understand why it happened:
Despite his initial disappointment, Dwayne Johnson is actually glad he didn't get the role since he wouldn't have been given much room to change aspects of Jack Reacher due to him being an established figure:
It's easy to see why he'd see the Jack Reacher loss as a blessing in disguise. Because he wasn't tied to that role, he had room in his schedule to join the Fast & Furious franchise, which helped propel him to further stardom. So even though losing out on the movie may have temporarily hurt his feelings, it definitely didn't hurt his career. Fans who want to see Johnson's latest Fast & Furious outing, Hobbs & Shaw, can stream it on Hulu now.
Your Daily Blend of Entertainment News
Thank you for signing up to CinemaBlend. You will receive a verification email shortly.
There was a problem. Please refresh the page and try again.