10 Highest-Grossing Dwayne Johnson Movies
The Rock makes a lot of money.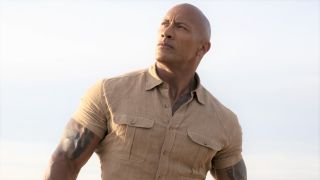 (Image credit: Sony Pictures)
Dwayne Johnson's professional career has come a long way from his heyday as WWE superstar The Rock. He already had fans who adored him, but now he has even more of a dedicated fanbase. Johnson began building his movie career in 2001 with The Mummy Returns, and nearly 20 years later, he has appeared in over 40 studio films and has become one of the highest-grossing actors around the world. His films' box office successes have made him a bona fide movie star.
The movies starring the actor occassionally known as The Rock have grossed billions of dollars worldwide, which usually leads to sequels and spin-off movies. Dwayne Johnson's action-hero status turned him into someone that studios can count on to help launch or revamp a franchise. With so many successful projects is his past, it's easy to wonder which of his box office hits actually achieved the most financial success. So let's go down the list of his top ten.
10. Rampage ($428 Million)
In the 2018 action-adventure Rampage, Dwayne Johnson plays primatologist Davis Okoye, who teams teams up with George, an intelligent gorilla that he cared for since birth, to stop a wolf named Ralph and a crocodile named Lizzie. An experiment gone wrong turns all three creatures into gigantic versions of themselves. As Lizzie and Ralph wreak havoc, Okoye and Georgie team with the military and a genetic engineer to try to stop the destruction and save Chicago.
Rampage marked the third pairing of Johnson and director Brad Peyton. Dwayne Johnson and Peyton had already achieved two box office successes prior to rampage. Their first film together, Journey 2: The Mysterious Island, grossed over $335 million worldwide, and their second film, San Andreas, shows up later on this list. Peyton and Johnson have proved that they're a winning combo for studios, but monster films, especially those involving King Kong like creatures, have also historically been proven as box office success.
9. The Mummy Returns ($443 Million)
The Mummy Returns marked Dwayne Johnson's first acting role in a featured film. In it, he plays the Scorpion King, a ruler who sells his soul to Anubis, the God of death, in order to defeat his enemies. The Scorpion King faces off against Imhotep (Arnold Vosloo), who has returned to try to take control over Anubis' army of the dead. The Mummy uses the O'Connell family as pawns in this battle. The Mummy Returns is the sequel to Brendan Fraser's surprise hit, 1999's The Mummy.
The original The Mummy film had already earned the franchise $415 million worldwide, so of course Universal Pictures wanted to capitalize on its success. The Mummy Returns went bigger and bolder, and adding The Rock made fans of The Mummy even more excited to see what the wrestler could bring to the acting world. The success of The Mummy Returns resulted in Dwayne Johnson getting his own spin-off film, The Scorpion King, which unfortunately wasn't as big of a financial success as the three original Mummy movies.
8. San Andreas ($473 Million)
Director Brad Peyton and Dwayne Johnson paired up again for this disaster action film San Andreas. San Andreas follows LAFD search and rescue helicopter pilot Raymond Gaines (Dwayne Johnson) through Los Angeles and San Francisco as he tries to navigate the destruction caused by a 9.1 magnitude earthquake. His main mission is to bring his estranged wife Emma (Carla Gugino) and daughter Blake (Alexandra Daddario) to safety.
Moviegoers love big and explosive action films, especially during the summer, and even more so with big destruction sequences involving The Rock. San Andreas became one of Warner Bros. Pictures biggest box office successes as one of their highest-grossing films of 2015, according to Box Office Mojo. The success of San Andreas led to a sequel being in the works, though nothing has come of it yet.
7. Fast Five ($626 Million)
Fast Five follows franchise regulars Dominic Toretto (Vin Diesel), Brian O'Conner (Paul Walker), Mia Toretto (Jordana Brewster), Roman Pearce (Tyrese Gibson), Tej Parker (Ludacris), and Han Lue (Sung Kang) as they try to steal $100 million from Hernan Reyes (Joaquim de Almeida). While planning and trying to execute the heist, U.S Diplomatic Security Service Agent Luke Hobbs (Dwayne Johnson) plans to take them down and arrest the team. Fast Five marked Johnson's debut into the franchise.
Before Johnson joined the crew, The Fast and The Furious franchise was already four-films strong. The first Fast and The Furious film made over $207 million worldwide, and the three following films continued to grow the series' box office numbers, with a slight dip with Fast Furious: Tokyo Drift. The fourth film, Fast & Furious, earned the franchise over $360 million worldwide. Despite the gradual global success of The Fast and the Furious franchise, Fast Five is when the series grew to a massive commercial success, gaining nearly $300 million more than the previous film. The Fast and Furious films have continued to gain box office success, possibly leading to unlimited sequels.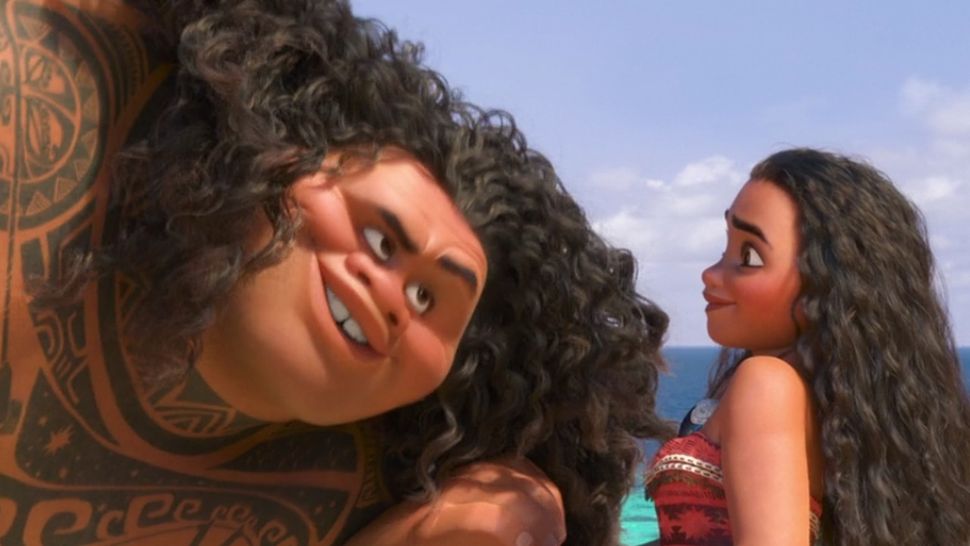 6. Moana ($643 Million)
In Disney's animated hit Moana, Dwayne Johnson plays Maui, a shapeshifting demigod. Moana (Auli'i Cravalho) is a young girl who leaves her island to restore the natural order and save her people. She finds Maui and he guides her along her journey.
As a Disney production film, Moana seemed destined to be a box office success. However, the film exceeded expectations and became one of Disney's biggest animated hits. During the five-day Thanksgiving weekend, Moana gained over $82 million in North America, making it the 7th biggest Thanksgiving opening of all-time according to Box Office Mojo, and the $643 million total is certainly nothing to sneeze at. It's even funnier when you hear that Dwayne Johnson's daughter still doesn't believe he was Maui.
5. Hobbs & Shaw ($758 Million)
Hobbs & Shaw is the first spin-off series from The Fast and The Furious franchise. It follows Dwayne Johnson and Jason Statham as they reprise their roles of Luke Hobbs and Deckard Shaw. In Hobbs & Shaw, the titular badasses become an unlikely and unwilling duo when they must team up to stop a genetically modified terrorist, Brixton Lore (Idris Elba). Helen Mirren, Eiza Gonzalez, Vanessa Kirby, and Cliff Curtis also star.
The Fast and Furious franchise already proved that it had massive box office appeal by the time Universal Pictures released Hobbs & Shaw, but all those action movie fans were definitely just as excited to watch Jason Statham and Dwayne Johnson team up in this stand-alone offshoot.
4. Fast And Furious 6 ($788 Million)
Dwayne Johnson returned to the Fast and Furious franchise in this sixth installment. In Fast and Furious 6, DSS agent Luke Hobbs seeks help from Dominic Toretto (Vin Diesel), Brian O'Conner (Paul Walker), and their crew. He offers them amnesty in exchange for them helping him stop Owen Shaw (Luke Evans), the leader of a mercenaries group who plans to steal high-tech devices and sell them on the black market.
Fast and Furious 6 became the second highest grossing film in the Fast and Furious franchise. It gained most of its initial box office success during Memorial Day weekend of 2013. This gave Furious 6 the fourth biggest Memorial Day weekend opening of all-time according to Box Office Mojo, and it topped out just under $800 million.
3. Jumanji: Welcome To The Jungle ($962 Million)
Dwayne Johnson joins Kevin Hart, Jack Black, Karen Gillan, and Nick Jonas in this reboot of the 1995 Jumanji. In Jumanji: Welcome To The Jungle, the four stars play avatar characters for their teen counterparts within an old video game that they get trapped inside once they start to play it. The teens must reach the end to escape Jumanji.
The popularity of Robin William's Jumanji definitely helped the star power of Jonas, Black, Hart, Gillan, and Johnson in turning Jumanji: Welcome to the Jungle into a hit, and it helped that Sony Pictures released it as a holiday action film. Overall Jumanji: Welcome to the Jungle received very favorable reviews, which helped spark more public interest and led to it staying at the top of the box office for four consecutive weeks, according to Box Office Mojo. Jumanji: Welcome to the Jungle became one of Sony Pictures' highest grossing films of all-time, only falling third to Spiderman: Far From Home and Skyfall.
2. The Fate Of The Furious ($1.2 Billion)
The Fate of the Furious, also known as Fast and Furious 8, follows Dominic Toretto (Diesel) as he's pulled back into a life of crime by cyberterrorist Cipher played by Charlize Theron. It's the second film in the franchise to not include Paul Walker, who tragically died before filming was complete on Fast and Furious 7. It was also the third Fast and Furious film to not include Jordana Brewster as Mia Toretto. In The Fate of the Furious, Dwayne Johnson reprises his role as Luke Hobbs, who once again joins the team to help save Dom.
Upon the films' release, The Fate of the Furious broke numerous box office records, including becoming the biggest global opening until Avengers: Infinity War (which was then beat by Avengers: Endgame). By the release of The Fate of the Furious, the Fast and Furious franchise had become a global success that shows no signs of stopping anytime soon.
1. Furious 7 ($1.5 Billion)
In Furious 7, after receiving amnesty for helping DSS Hobbs (Dwayne Johnson) in Fast and Furious 6, Dom (Diesel), Brian (Walker), Letty (Michelle Rodriguez), Roman (Tyrese Gibson) and crew try to retire. However, Deckard Shaw (Jason Statham) wants revenge after they put his brother Owen Shaw (Luke Evans) in a coma during the previous film.
When Furious 7 was released, the franchise had amassed huge global box office gains, with the two previous Fast and Furious films grossing over $600 million worldwide each. Fast and Furious found its global fanbase, but this one was even more special to the series as it marked the end of Paul Walker's involvement in Fast and Furious, and it acted as sort of a goodbye and tribute to the actor.
Dwayne Johnson has plenty of upcoming projects that have massive block office appeal, such as the sequel to The Jungle Cruise, or the highly anticipated DC Comics' Black Adam. With a strong action portfolio, and more high profile projects coming, Dwayne Johnson will continue to dominate the box office for years to come.
Your Daily Blend of Entertainment News
Spent most of my life in various parts of Illinois, including attending college in Evanston. I have been a life long lover of pop culture, especially television, turned that passion into writing about all things entertainment related. When I'm not writing about pop culture, I can be found channeling Gordon Ramsay by kicking people out the kitchen.