6 Movies That Would Be Perfect To Open Theaters Again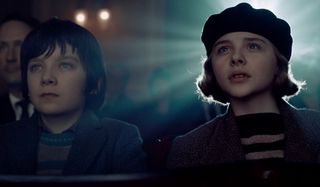 Right about now, everyone's missing the warmth and comfort (and freedom) of being able to go to a movie theater. While home viewing set ups are quite sophisticated in their own way, you can bet people are going to flock back to the multiplex once the all clear is given, and everyone feels safe enough to enjoy the magic of cinema the way it was intended. For those eager folks, there are six movies that would be perfect to use to re-open theatrical operations.
Should you be one of those people ready to buy tickets for opening weekend, and if you're reading this story we're betting you'd fall into that group rather nicely, rejoice! This list of upcoming releases would make perfect titles to reopen the cinema business, and help usher you back into the idea of sharing a movie with like-minded strangers such as yourself.
So put together a YouTube playlist of the following trailers, and get pumped for the future.
Tenet
It'd be easy to say that we'd want No Time To Die to be waiting for us at the movies once the doors are open. But, if we're being honest, it feels only fair that director Christopher Nolan's latest non-007 Bond movie be able to open up first. Not to mention, Tenet's mysteries are probably going to take more time to unpack than the new James Bond movie.
With the usual blend of mind-bending mystery, out of this world action, and fine apparel that a Nolan movie brings to the table being represented, Tenet feels like a perfect dose of escapism and excitement to help folks get back into the theatrical groove. As some are already thinking that this just might be the first blockbuster to open when theaters reopen, it wouldn't be a bad idea to live up to that particular hype.
Bill & Ted Face The Music
Fans have been waiting for decades to see Bill & Ted Face The Music become a reality, and 2020 is the year that this joyous occasion has been pegged to occur. As pretty much everyone loves the pair of musical bros that Alex Winter and Keanu Reeves brought to life on two previous occasions, their new quest to find the song to unite the world is destined to be an event. So imagine, if you will, if it were to happen on that first day when movie theaters open their doors.
Popcorn is popping, the lines are a little longer than usual, and fans are smiling as they make their way to their seats. And that first movie that shows itself on the day we're all together again just happens to be a lighthearted comedy that praises universal solidarity, through the magic of music. Bill & Ted Face The Music could be a monster hit under such circumstances, as everyone will be in the mood for something cheerful and life affirming once the lights are back on again.
Mulan
Right before major theater chains had to shut down, the world was already anticipating the release of Disney's live-action remake to the animated classic Mulan. With the film's premiere already eliciting a response from critics and the select audience that got to see it, director Niki Caro's reimagining of this iconic movie feels like a great option to welcome back audiences around the world to their local theater.
Another good reason for Mulan to be part of the first wave of international theatrical releases is the fact that it's already been advertised and anticipated as an upcoming blockbuster. Finally setting this film loose upon an eager public would be a shrewd way to jumpstart the engines at the box office, as people are already expecting it as one of the earliest Disney releases on the 2020 release calendar, once the all clear is given.
First Cow
A24's frontier epic First Cow was already being heralded as a warm movie with a lot of heart, and a captivating bovine lead in its title. Now, director Kelly Reichardt's story of two men trying to bring something delicious and pleasing to the world of the Oregon Territory only feels right to be submitted for re-opening the theatrical season, as it's a good chance for simpler, more human stories such as this one to warm hearts at the box office.
With the studio waiting for theaters to open up again, eschewing the tactic a lot of indie films have taken by releasing their films online for an early rental, A24 truly believes in First Cow being a theatrical experience. That faith deserves to be rewarded, and audiences equally deserve a chance to fall in love with Eve, the cow that's been taking the internet by storm, on the big screen.
Wonder Woman 1984
Admit it: no matter how you feel about comic book movies and their place in the box office market, you're going to love being able to see them larger than life on a theater screen once again. In that case, you're going to want to go for something that looks to be quite the spectacle. Wonder Woman 1984 feels like it would fit that bill perfectly fine, with its super flashy '80s style and the colorful palette the film seems to be indulging in.
It's not that we're trying to knock any of the competition, as any other comic movie would be fantastic to welcome the masses into theaters. But Marvel Studios is, and always has been, on a tighter schedule; while DC Comics movies are a bit more freewheeling in this new post-Justice League era. Not to mention with home audiences still getting their fill of Birds of Prey, the vivid action of Gal Gadot's return with Wonder Woman 1984 feels like a great bookend to pre and post shutdown cinema.
Hamilton
Ok, so this last one is a bit of a stretch, as we're not expecting the filmed version of Lin-Manuel Miranda's Hamilton to be in theaters for some time. Disney didn't spend $75 million just to buy the rights to this long-awaited baby, only to dump it into theaters on some random Tuesday. However, since Disney has been pretty adaptive with the modern climate of entertainment enjoyment, it only seems reasonable to expect that if they really wanted to, they could position this film to debut right when the world needs it.
Reopening the movie theater industry isn't going to be an easy feat, nor will it be something you can just release any old movie into. So why not warm up public interest in cinemas again, with a bona fide blockbuster that's already got folks amped up to go to the movies? Everyone wants to see Hamilton, and movie theaters want everyone to come back to their establishments for a nice and welcomed escape. This film would bridge the gap between those desires, and make history yet again in the process.
It will be a beautiful day when movie theaters open up again, allowing patrons to reacquaint themselves with the joys of getting out of the house for some quality entertainment. And when that day comes, you know there's just going to be something new waiting for you to discuss, whether you enjoy it or not. And wouldn't it be nice if one of the six films above was there among those options, making your first trip back all the more special?
Of course, you're going to have to pick one to be your first. Which is why we're including a poll below, to see which of the six films above is the most popular option for your chosen cinematic welcome back. Don't forget to leave some comments as to why you voted the way you did, as sharing those feelings will go a long way to imagining what the movie world might look like once everything's turned back on again.
This poll is no longer available.
Senior Movies Contributor
CinemaBlend's James Bond (expert). Also versed in Large Scale Aggressors, time travel, and Guillermo del Toro. He fights for The User.
Your Daily Blend of Entertainment News
Thank you for signing up to CinemaBlend. You will receive a verification email shortly.
There was a problem. Please refresh the page and try again.