What To Watch On Netflix If You Love Westerns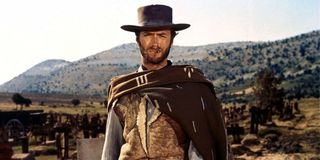 CinemaBlend is partnering with PIA VPN to bring you fresh content to stay in and stream with each day. We're also offering a special 76% discounted rate for a limited time only. You can sign up for the package with PIA here.
If you really think about it, superhero movies are not so different from westerns, considering either kind of film depicts a battle between good and evil involving highly skilled law enforcers in fancy outfits. Not to mention, both have been the dominant genre in Hollywood at one time in history. The biggest difference now is that you can only find so many really good westerns in cinema or on TV, such as The Hateful Eight or Longmire, and not nearly as easily as you can find a superhero program to stream.
That is not so much the case for Netflix which, while harboring a plentiful selection of superhero films and TV series, it is outweighed by content more appealing to a fan of the western genre at an unusually high margin. From timeless classics of a traditional 19th-century setting to modern day crime dramas of a similar tone, you can spend hours indulging in a glorious binge of epic shootouts, acoustic guitars strumming a foreboding tune, and a fair share of 10-gallon hats with their library of good 'ol stories, some of which are exclusive to the streaming service.
So, where does one start when seeking out such golden opportunity? Let me draw you a map of the best westerns on Netflix, with these 12 recommended movies and TV shows as your best choices.
True Grit (1969)
A teenage girl (Kim Darby) seeks revenge on her father's murderer, enlisting the help of a washed-up, eye-patched US Marshal (John Wayne) and the unexpected assistance of Texas Ranger La Beouf (Glen Campbell) to track him down through Native American territory in 1880.
Why It's A Good Option for Fans Of Westerns: While I personally have a soft spot for Joel and Ethan Coen's 2010 adaptation of Charles Portis' 1968 novel, few westerns are as iconic as this crowd pleasing adventure story that earned "The Duke" his sole Oscar win in 1970.
Stream it on Netflix here
The Ballad Of Buster Scruggs (2018)
Speaking of the Coen Brothers, Joel and Ethan returned to the western genre with this Netflix original collection six tales set in the Old West, including one of a traveling entertainment promoter, another about a pair of bull-headed bounty hunters, and one of a gunman who likes to sing.
Why It's A Good Option for Fans Of Westerns: Even those who would not claim classic cowboy tales as their primary cup of tea can be whisked into this anthology that incorporates a unique mix of traditional western themes with startling violence, offbeat comedy, and even an Oscar-nominated musical number - all of which is easy to be expected of from the brotherly directing duo behind both The Big Lebowski and No Country for Old Men.
Stream it on Netflix here
Longmire (2012-2017)
A widowed Wyoming sheriff (Robert Taylor) has nothing but the daily battle in his county to help him suppress the pain of losing his late wife, otherwise hidden behind a dry, arrogant wit and that mischievous grin of his.
Why It's A Good Option for Fans Of Westerns: For those used to a daily binge of crime procedurals who want to try something a little more unique, this modern day redemption tale based on the novels of author Craig Johnson, which originally ran for its three seasons on A&E before it was picked it up by the streaming service for the following three, might just do the trick by awakening the western-lover in you.
Stream it on Netflix here
The Hateful Eight (2015)
A deadly snowstorm forces eight despicable, distrustful, and downright dirty personalities (sworn criminals and crooked law enforcers alike) to hole up together in a misnamed "haberdashery" in post-Civil War Wyoming.
Why It's A Good Option for Fans Of Westerns: While it may be bit of a slow burn, Quentin Tarantino's 19th Century twist on his own film debut, Reservoir Dogs, (featuring a killer ensemble from Samuel L. Jackson, Kurt Russell, and the Oscar-nominated Jennifer Jason Leigh) is a refreshing revival of cinema that really shows what made the West so wild, cementing the filmmaker as this era's Sergio Leone.
Stream it on Netflix here
Stream the four-part extended version on Netflix here
The Good The Bad And The Ugly (1966)
For those who do not know who Sergio Leone is, he directed this classic which follows a well-mannered bounty hunter (Clint Eastwood), a devoted hitman (Lee Van Cleef), and a bumbling outlaw (Eli Wallach) each in a pursuit for buried treasure during the Civil War.
Why It's A Good Option for Fans Of Westerns: From its instantly recognizable main theme music by Oscar-winning composer Ennio Morricone to the spine-tingling climax, the final and most acclaimed installment of Leone's "Dollars" Trilogy is, arguably, the granddaddy of all Spaghetti westerns.
Stream it on Netflix here
Hell Or High Water (2016)
In an effort to save their family ranch, troubled family man Toby Howard (Chris Pine) and his loose-cannon, convict brother Tanner (Ben Foster) pull a string of violent bank robberies whilst outrunning a Texas Ranger nearing retirement (Jeff Bridges) and his Native American-descendent partner (Gil Birmingham).
Why It's A Good Option for Fans Of Westerns: Nominated for four Academy Awards, including Best Picture, this intense thriller from writer Taylor Sheridan is a brilliant and brutal tale with powerful commentary on justice and dysfunction amid brotherhood by blood or by proximity.
Stream it on Netflix here
Hap And Leonard (2016-2018)
In the late 1980s, hippie ex-con Hap Collins (James Purefoy) and his openly gay Vietnam veteran buddy Leonard Pine (Michael Kenneth Williams) go on a seemingly easy search for treasure in the Deep South, where they instead run into some deep trouble.
Why It's A Good Option for Fans Of Westerns: This darkly thrilling, yet savagely funny series adaptation of Joe R. Lansdale's novel, which ran for three seasons, could be interpreted as a contemporary update of The Good, the Bad, and the Ugly if you considered its involvement of an unlikely partnership in search of hidden loot… not to mention a great deal of gunfights and other mayhem.
Stream it on Netflix here
Once Upon A Time In The West (1968)
In yet another reference to Sergio Leone, the master of Spaghetti westerns also directs this tale of a nameless, harmonica-playing stranger (Charles Bronson) and a feared outlaw (Jason Robards) go after a vicious hired gun (Henry Ford) whom a vengeful widow (Claudio Cardinale) has also set her sights on.
Why It's A Good Option for Fans Of Westerns: This is yet another Leone classic that puts a trio of Hollywood heavyweights together in a battle of wits and bullets, this time in support the film's true hero: Italian femme fatale Cardinale.
Stream it on Netflix here
Hell On Wheels (2011-2016)
A former Confederate soldier (Anson Mount, which has got to be the most perfect name for an actor in a western series) joins the development of the Transcontinental Railroad in an effort to find and punish the Union soldiers who murdered his wife.
Why It's A Good Option for Fans Of Westerns: AMC's second attempt at a period drama, also starring musician/actor Common as a former slave, is one mean depiction of the early years following the Civil War over the course of five seasons that may be a drama, but is at least an authentic portrayal of America's uncivilized path to civilization.
Stream it on Netflix here.
Hostiles (2018)
To further that previously stated point is this drama about a respected US Calvary Captain (Christian Bale) tasked with aiding his sworn enemy the ill chief of the Cheyenne tribe (Wes Studi) through unsettled territory crawling with natives out for blood... his.
Why It's A Good Option for Fans Of Westerns: Acclaimed filmmaker Scott Cooper directs and writes the screenplay for this brilliantly acted, mercilessly violent period piece that captures racial tension of the post-Civil War environment greater than most westerns rarely dare to go.
Stream it on Netflix here
Godless (2017)
A feared outlaw (Jeff Daniels) seems to have met his unexpected match when the search for his former apprentice (Jack O'Connell) leads him to discovery an old mining town inhabited almost entirely by women.
Why It's A Good Option for Fans Of Westerns: Academy Award-nominated screenwriter Scott Frank created this Netflix original miniseries told over the course of seven chapter that puts a whole new spin on the typically male-dominated Western world by setting it in a place where women reign and manage to kick some serious ass.
Stream it on Netflix here
Dirty Harry (1971)
A hardened lieutenant rebels against the orders of his superiors in order to catch a maniacal, Zodiac-esque murderer taunting the police with his threats by issuing his own signature, and unrelentingly violent, brand of justice.
Why It's A Good Option for Fans Of Westerns: While this cop drama, my personal pick of the greatest ever made, is not a traditional western by its modern-day time setting, it does take place in the West (San Francisco, California) and stars one of the most recognizable gunslingers in cinematic history, Clint Eastwood, as the iconic, .44 Magnum carrying "Dirty Harry" Callahan.
Stream it on Netflix here
Jason has been writing since he was able to pick up a washable marker, with which he wrote his debut illustrated children's story, later transitioning to a short-lived comic book series and (very) amateur filmmaking before finally settling on pursuing a career in writing about movies in lieu of making them. Look for his name in just about any article related to Batman.