Sebastian Stan Reflects On Avengers: Endgame's Box Office Success And What It Meant To Him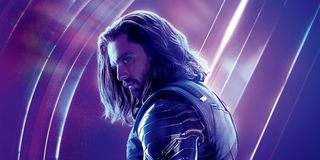 When Avengers: Endgame hit theaters last year, it smashed box office records left and right. It wasn't exactly a surprise that the MCU movie was a hit, but the extent to which it achieved success was pretty amazing -- even to one of the film's stars, Sebastian Stan, who recently gave fans some insight into what it felt like.
Just ten days after its release in April 2019, Avengers: Endgame surpassed James Cameron's iconic Titanic in worldwide gross. Then, in July 2019, it officially became the highest-grossing film of all time, surpassing James Cameron's other box office behemoth, Avatar, not adjusting for inflation. The film's $2.79 billion gross was obviously exciting for Kevin Feige and co., but the milestone was also a huge moment for members of the film's cast and crew.
Sebastian Stan, who recently appeared on a live chat on Variety's Instagram Account, discussed what it felt like to be a part of such an historic moment:
Avengers: Endgame's success was definitely a testament to the MCU's devoted fanbase and their long-standing connection with the series. Though there will be plenty of other Marvel movies to come (eventually), Endgame certainly felt like an epic conclusion to Phase 3, even if it technically wasn't.
Sure, some fans took issue with the way certain plot points were resolved (and the way others left us feeling a little confused). Yet it was still a moment for all fans to come together and reflect on how far the franchise has come.
Now that he's helped make history, there's still plenty of reasons for Sebastian Stan to look forward to the future. Though Falcon and the Winter Soldier has suffered a couple of production setbacks and is currently on hold for the foreseeable future, we will eventually get to see is Bucky Barnes team up with Sam Wilson on Disney+.
And it sounds like he could be game for another Avengers movie eventually, too. If that film eventually comes, it will have a steep hill to climb to beat its predecessor at the box office. But if anything, devoted Marvel fans have shown they're up for the challenge.
Your Daily Blend of Entertainment News
Your Daily Blend of Entertainment News
Thank you for signing up to CinemaBlend. You will receive a verification email shortly.
There was a problem. Please refresh the page and try again.