Bob Iger Reveals The Biggest Obstacle To Re-Opening Disney World And Disneyland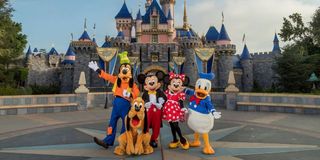 After weeks of social distancing and constant uncertainty, we're all wondering when we can start to resume our pre-coronavirus lifestyles. Depending on who you ask, the answers vary -- and that's especially true when the topic of entertainment comes up. It's one thing to go back to the grocery store, but packing into an amusement park is entirely different. That fact seems to be very much on the mind of Bob Iger, who's offered some insight into the challenges of reopening Disneyland and Disney World.
Disney first began shuttering its parks and resorts on March 14, after guidelines in California urged against mass gatherings. While the plan was for the parks to initially remain closed through the end of that month, the rapid spread of coronavirus throughout the United States led to the parks being closed through June 30, at the earliest. It hasn't been easy for anyone involved and has led to confusion for visitors and stress for the parks' 43,000 furloughed employees.
It's also got to be a trying time for Disney leadership, who are dealing with an unprecedented situation that affects everything from the parks' 50th anniversary celebration to their bottom line. Like many other businesses and attractions, Disney execs have to weigh the financial costs of remaining closed with the risks of opening too early. After Governor Gavin Newsom announced the formation of a special task force to reopen California's economy, one of its members -- Bob Iger -- spoke specifically to the future of Disney's theme parks. When asked what it would take for Disneyland and Disney World to reopen, Iger told ABC7 News:
What will it take to make people feel safe enough to go back to amusement parks? Bob Iger seems to be following the advice of many health experts, who've stressed the importance of testing and tracing as we enter into a new normal:
With the right safety measures in place, it seems reasonable to imagine that Disney's leadership could start to think about reopening. That means that visitors can likely expect to see some big changes at the parks -- including a smaller capacity and more security to prevent potentially sick patrons from entering the premises. Still, despite any additional inconveniences, fans will likely be glad to finally get back to the Happiest Place on Earth when that day arrives.
Your Daily Blend of Entertainment News