Tom Holland Reveals The Funny Story Behind His Recent Drinking And How Ryan Reynolds Fueled It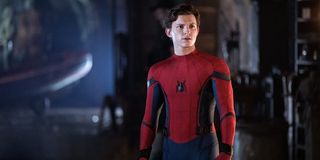 With his breakout success in the Spider-Man and Avengers franchises, as well as his latest work on Pixar's Onward, Tom Holland has been everywhere. But, lately, it sounds like he's taking it easy, playing video games and writing movie scripts with his friends.
Now the actor has admitted to Jimmy Kimmel on Jimmy Kimmel Live that he's been trying to stop drinking alcohol. However, by some serendipitous way, Ryan Reynolds found a way to re-fuel Tom Holland's drinking habit. Here's what Holland had to say:
Ryan Reynolds, of course, has become increasingly notorious for his Aviation Gin company's ads. They've been spot on every time, doing things in a very Ryan Reynolds-like way, usually involving a subtle joke or funny prank. Most notably, his ad making fun of the controversial Peloton ad was especially funny.
This is not the first time Tom Holland has mentioned enjoying alcohol. While Sony and Marvel were negotiating a new deal over the Spider-Man franchise, Tom Holland admitted to helping save the deal while being drunk. He said he hoped to take Bob Iger to the same pub where he was imbibing sometime.
This also isn't the only time an Avenger has admitted to enjoying a drink every now and then. Chris Evans, who co-starred with Stanley Tucci in Captain America: The First Avenger, said Stanley Tucci would make martinis for the cast in his trailer during production.
Tom Holland has a handful of projects that are on the way in the near future, including Cherry. While his character Peter Parker might be mild-mannered, his role as Nico Walker in the movie Cherry is anything but. Tom Holland is teaming back up with the Russo Brothers for this movie. It's about an Army medic suffering from post-traumatic stress who ends up robbing banks.
Tom Holland will also be reprising his role as Spider-Man in a yet-to-be-titled sequel. Tom Holland said he's not sure when production on that will start on that project. While in Berlin, he was working on set for his movie Uncharted, but production was shut down and delayed, resulting in the cast and crew all being sent home.
It's hard to say if Ryan Reynolds knew that Tom Holland was trying to stop drinking for a week. But if he did know, that's one timely prank, but I'm going to guess that he had no idea. Keep checking in with CinemaBlend for more updates concerning both actors.
Your Daily Blend of Entertainment News
Your Daily Blend of Entertainment News
Thank you for signing up to CinemaBlend. You will receive a verification email shortly.
There was a problem. Please refresh the page and try again.