Tom Hanks Knows People Are Gonna Have Thoughts About Him Starring In Another WWII Movie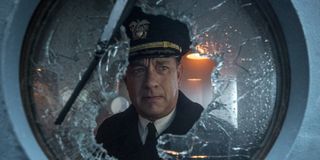 Tom Hanks is an American Hollywood icon with a large breadth of work that ranges from comedy to drama to live action and animated films. He's been at this game for a while, from his earliest work with Splash to the heartfelt A Beautiful Day in the Neighborhood or Toy Story.
During his long career, Tom Hanks has also made a significant amount of historical dramas, most notably his amazing work on Saving Private Ryan, but also Charlie Wilson's War and Bridge of Spies. Now, in an article he penned in Empire, Tom Hanks writes about his latest project Greyhound, and yeah, he's well aware you might be getting tired of him taking on historical roles. Here's what he said:
Tom Hanks is just as self-aware as he is funny. For a long time, he's cultivated an image as wholesome and good and perhaps even "America's Dad." And he knows this about himself, which is why he has never taken on the role of the bad guy.
In his piece, he makes the case for why he was driven to write and act in Greyhound, a movie that follows U.S. captain Ernest Krause as he crosses the North Atlantic while being hunted by Nazi U-Boats in the early days of World War II. Tom Hanks believes war history points to something deeper, saying:
Tom Hanks has certainly had his own "I don't know" moments in the past few months. The public has closely followed the personal health journey of Hanks and his wife Rita Wilson. He was in isolation that he wrote his piece about Greyhound and his drive to make it. Luckily, Hanks and his wife have since recovered and returned home.
While some may have wondered why Tom Hanks would return to a World War II drama, I'd imagine many of his history and war movie fans are chomping at the bit to see Greyhound sooner rather than later. And, if his writing and the new trailer are any indicator, it's possible it could be a solid wartime drama. It's slated for theatrical release on June 12, 2020.
Your Daily Blend of Entertainment News