Fast And The Furious' Tyrese Gibson Explains How Paul Walker's Family Has Supported The Franchise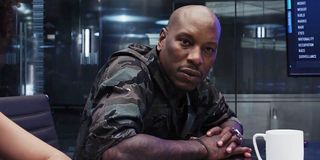 For years, the Fast & Furious franchise has kept its foot on the gas and become one of the most recognizable film series in the world. However, for the past several years, it's been without one of its key stars – Paul Walker. The late actor's untimely death in 2013 casted doubt on the future of movies, but the series has continued to churn out successful sequels. Some may still wonder how Walker's family feels about Fast & Furious moving on from Walker and his character but, according to Tyrese Gibson, they've been more than supportive.
Tyrese Gibson says that Paul Walker's family gave the cast and crew their blessing to continue the story and to do so for Walker's sake:
Tyrese Gibson's comments to Maxim should be encouraging for a number of fans to hear, and the Walker family's feelings are understandable. Paul Walker was instrumental in building the Fast & Furious franchise into what it is today. In his loved one's eyes, halting that would likely be a disservice to his memory.
The family also been instrumental in helping to keep Paul Walker's character, Brian O'Connor alive on screen. For Furious 7 (Walker's last film), his brothers, Caleb and Cody, served as stand-ins to help film the remainder of his scenes. The two have since offered to appear in another film should the need arise.
To say the Fast & Furious team was devastated by Paul Walker's death would be an understatement. Having worked with him for so long, the cast had grown very close to him. This was especially true for Tyrese Gibson, who visited the site of Walker's automobile accident shortly after his death. Today, Gibson still pays tribute to his late co-star on different occasions.
Franchise lead Vin Diesel is also sentimental when it comes to Paul Walker and preserving his memory. He and his producing team made it a priority to give Paul Walker and his character a worthy send-off in Furious 7. And for him continuing the franchise is his way of keeping a promise to Walker. Years ago, Diesel told his friend that he would aim for ten installments in the series before ending it, and Diesel is hoping to see that pact through.
It's definitely still strange not seeing Paul Walker riding alongside his crew on the big screen, but we can take comfort knowing that his family and castmates are aiming to keep his memory alive. You can see what lies ahead for the Dominic Toretto and his team when F9 hits theaters on April 2, 2021.
Your Daily Blend of Entertainment News
Covering superheroes, sci-fi, comedy, and almost anything else in film and TV. I eat more pizza than the Teenage Mutant Ninja Turtles.
Your Daily Blend of Entertainment News
Thank you for signing up to CinemaBlend. You will receive a verification email shortly.
There was a problem. Please refresh the page and try again.