Silver & Black Director Offers Hopeful Update On The Spider-Man Spinoff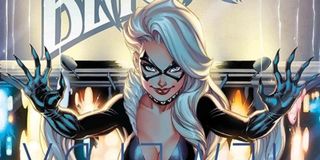 For a while now, Sony has had plans to create its own Spider-Man shared universe. First on that list was Venom, which did well for itself at the box office and is already moving ahead with a sequel, Venom: Let There Be Carnage. But the success of that film still spurs a big question: Is Sony moving forward with their proposed Silver & Black movie?
Spidey fans eager to hear updates on this spin-off film should listen up because The Secret Life of Bees director Gina Prince-Blythewood recently shared her thoughts on her involvement with a Silver & Black movie and where the project currently stands. Here's what she said:
Gina Prince-Blythewood's comments to The Hollywood Reporter are interesting, to say the least. Even though production is at a stand-still, it sounds like there's a slight possibility it could see the light of day in some shape or form, whether it becomces two films or a streaming show on Disney+, alongside other Marvel shows like The Falcon and the Winter Soldier. Putting Silver Sable and Black Cat in their own limited series would likely help flesh the characters out more, but I can see why Gina Prince-Blythewood would also want to see them on the silver screen instead.
Sony announced plans for the Silver & Black team-up movie in 2017, with Gina Prince-Blythewood helming the project. Back then, it seemed like the studio wanted to move fast, as it the project was scheduled to be released sometime in 2019. Of course, that never happened and the production was put on an indefinite hiatus.
While we don't know officially what this movie would be about, some earlier reports said it would follow Silver Sable, a mercenary from Symkaria, as she hunted down Black Cat. Black Cat would be the key to the movie's main antagonist, and the two antiheroines would eventually team up against that villain.
It's hard to say if anything will come of Silver & Black but, based on Gina Prince-Blythewood's remarks, it doesn't sound like it's entirely dead in the water, yet. If anything, it seems like Sony is taking the time to make the best project it can for the best medium. Or, considering Venom's success, perhaps Sony is waiting to see how well its sequel will do before pulling the trigger on other projects. It's all fan speculation at this point, but it's good to know something might still be brewing in a mad scientist lab somewhere. In the meantime, Morbius -- the next installment in Sony's Spider-Man franchise -- is scheduled to be released on March 19, 2021 ahead of Venom: Let There Be Carnage, which drops on June 25, 2021.
Your Daily Blend of Entertainment News