The Falcon and the Winter Soldier's Sebastian Stan Says The Show Is 'Very Much' Like A Certain MCU Film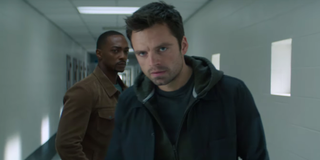 The Falcon and the Winter Soldier marks the first of several Marvel live-action series produced exclusively for Disney+. In terms of sheer scale, the six-episode series isn't nearly as massive of a project as the MCU films, but series star Sebastian Stan says the show is "very much" like one specific MCU film.
Set sometime after the events of Avengers: Endgame, The Falcon and the Winter Soldier will follow the titular characters as they embark on a new adventure in a post-Blip universe. In an interview with The Hollywood Reporter, Sebastian Stan was asked whether The Falcon and the Winter Soldier was shot like a TV or movie. While the show is still very much a TV production, Stan did compare it to a past MCU film. Here's what he had to say about shooting the Disney+ series:
Based on Sebastian Stan's comments to The Hollywood Reporter, that definitely sounds like a great combination of movie and TV's best elements. I'm personally looking forward to the show's exploration of Sam and Bucky as people outside of the heroics and action sequences. However, it's good to know that the Disney+ series will maintain a movie feel so as to carry on the intrinsic connection between Marvel's shows and movies.
The Falcon and the Winter Soldier had nearly wrapped filming, but the limited Disney+ series shut down production in March. Disney and Marvel have already shifted the release date schedules of upcoming MCU movies like Black Widow, The Eternals, and Doctor Strange in the Multiverse of Madness.
While The Falcon and the Winter Soldier is still scheduled to premiere on the streaming service in August, I can only guess that its release date will probably be pushed back if the shutdowns continue through the summer. That said, there's currently no official word on whether or not the series will be delayed.
Stay tuned to CinemaBlend for updates. In the meantime, be sure to check out our guide for all the big TV finales coming up soon, as well as our 2020 summer premiere schedule.
Your Daily Blend of Entertainment News