Scarlett Johansson Was Actually Second Choice To Play Black Widow, But Doesn't Regret It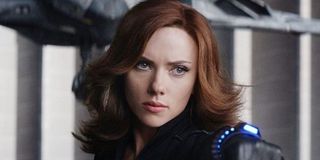 Scarlett Johansson made a splash when she debuted as Natasha Romanoff/Black Widow in Iron Man 2 back in 2010. Since then, she's become an endearing part of the Marvel Cinematic Universe, which made it that much more tragic when the character met her end in Avengers: Endgame. While Johansson quickly supplanted herself as one of the franchise's first heroes, she wasn't the first actress in mind for the role, and she's alright with that.
Fans may know by now that Emily Blunt was originally cast as Black Widow in Iron Man 2 but was forced to drop out when contract obligations required her to appear in Gulliver's Travels. Even though Scarlett Johansson is well aware that she wasn't Marvel Studios' first choice, she's taken that fact in stride and has turned it into a positive:
That's certainly a good way to look at the situation. Going off her recent interview with Parade, it's more than evident that Scarlet Johansson holds no hard feelings about being picked second. It sounds more like she's just happy to have been picked at all, and Marvel Studios' decision to do so has definitely paid off in the long run.
Johansson isn't alone in not being the first choice for an MCU role. Unlike Johansson, Don Cheadle wasn't even the first to portray his character (James Rhodes) on screen. He was offered the War Machine role after Marvel parted ways with Terrence Howard.
And believe it or not, Robert Downey Jr. wasn't Marvel's first choice to play Tony Stark, as the actor's reputation, at the time, made the studio uneasy about hiring him. Yet Iron Man director Jon Favreau fought for him, and the rest is cinematic history.
Like Cheadle and Downey, Scarlett Johansson was a major talent acquisition for Marvel Studios. Audiences were quickly impressed with Johansson's physical commitment to the role, but it was her embodiment of Nat's humor, vulnerability and trauma that earned her a place in moviegoers' hearts. And after a decade of being a part of the series, Johansson will now get to headline a Black Widow solo film that she co-produced.
Things don't always turn out the way we expect them to, and we don't always get things when or how we'd like them. Nevertheless, it might do us all some good to take a page out of Scarlett Johansson's book and try to find the bright side of an unusual situation. Because in the end, things could work out quite well.
You can see Scarlett Johansson's Natasha Romanoff return to the big screen when Black Widow hits theaters on November 6.
Your Daily Blend of Entertainment News
Covering superheroes, sci-fi, comedy, and almost anything else in film and TV. I eat more pizza than the Teenage Mutant Ninja Turtles.
Your Daily Blend of Entertainment News
Thank you for signing up to CinemaBlend. You will receive a verification email shortly.
There was a problem. Please refresh the page and try again.