Of Course Dude Bro Party Massacre 3 Has The Strangest Trailer We've Ever Seen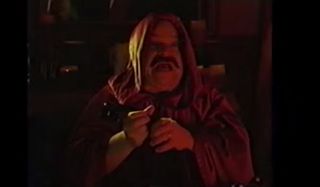 When you sit down to watch the trailer for a movie called Dude Bro Party Massacre 3, especially when there are no parts 1 or 2, you know you're in for more than a few WTF moments. But when you actually check out this trailer, which you can now do below, all you can do is shake your head and ask, what the fuck?
The cinematic mayhem you just witnessed is the brainchild of the maniacs behind 5 Second Films. If you're not familiar with their madness, you should take a few moments to acquaint yourself with them. They deliver exactly what the name implies, comedy sketches that only take five ticks of the second hand. But now they've managed to break their self-imposed time limit and create the frat slasher throwback of which you just witnessed a small fraction.
When a serial killer with the awesome name Motherface murders his twin brother, Brock, weird loner Brent Chirino (Alec Owen) must infiltrate a popular college frat to investigate the murder. That's all of the specific plot details out there right now, but that sounds like a good enough place to launch into some of the insane chaos you saw above. I certainly don't need any more to be completely and totally sold on this. Hell, they had me at the title, which is something I would have rented every weekend at my local video store until I wore out their shitty VHS copy.
What makes Dude Bro Party Massacre 3 even crazier are some of the names in the cast. Many of the core 5 Second Films crew is present and accounted for, but perusing the IMDb page, you'll run across the likes of Freak and Geeks star John Frances Daley, musician Andrew W.K., and Larry King, because why the hell not. Adult film star Nina Hartley shows up, as do The Room's Greg Sestero and comedian Patton Oswalt, who you can see below as part of the countdown to this trailer.
Most of these folks don't actually show up in the trailer, even though you'd think they'd want to tease the hell out of them. Although, if you watch real close, you can see a flash of what appears to be Oswalt wearing a cloak and looking like a mustachioed wizard. He seems like the kind of guy who would be interested in playing a wizard in a movie called Dude Bro Party Massacre 3.
We don't have a specific date, but Dude Bro Party Massacre 3 should hit sometime in 2015.
Your Daily Blend of Entertainment News
Thank you for signing up to CinemaBlend. You will receive a verification email shortly.
There was a problem. Please refresh the page and try again.